SONS OF DEWITT COLONY TEXAS
© 1997-2003, Wallace L. McKeehan, All Rights Reserved
Biographies here are DeWitt Colonists (surnames beginning O-Z) and residents of the region prior to statehood in 1846. The listing includes biographies of 1828 Residents, The Battle of Gonzales-Old 18, Gonzales Alamo Relief Force, Gonzales Town Residents and Citizens-Free State of Lavaca.
---
PETTUS. William Albert and Edward Craddock Pettus received grants of 2 and 1 sitio, respectively, in 1831 through petition and direct from land commissioner Navarro. Notes in land records indicate that William received his grant because he had "fought Indians and helped keep quiet in the country. He also helped DeWitt and had given him and poor people both money and property." It was noted that Edward Pettus had been in the country since 1822, his father was very poor and had suffered hardships. Both grants were on the San Marcos River in northern Guadalupe County. It is unclear to what extent each of the Pettus family members lived in the DeWitt Colony prior to independence. William was the son of Samuel Overton Pettus and Jane Freeman. William A. Pettus was born in MecklenburgCo, VA in 1787 and counted among the Old Three Hundred first Austin colonists. He was near Huntsville, AL in 1815 where he probably married an Elizabeth Patrick. With his brother, Freeman Pettus (b. MecklenburgCo, VA 1781), and a group which included the James L. Bailey family, William Pettus arrived in Texas on the vessel Revenge in 1822. Pettus was known as Uncle Buck, received grants in current Wharton, Fort Bend and Waller counties and was listed in the 1826 census of the Austin Colony as a farmer and stock raiser with wife, two sons, a servant and eight slaves. The family lived on Oyster Creek and San Felipe until 1832 when they moved to current AustinCo. William Pettus served on the ayuntamiento of San Felipe 1828-1830 and was involved in security of the area against Indian attack. With Patrick Jack, he was an agitator leading to the altercation with Col. Bradburn at Anahuac in 1832 and a member of the San Felipe committee of vigilance and safety. Pettus was a supplier for the Texian army in 1835. At San Jacinto he was with the rear guad at Harrisburg. Pettus was involved in the Houston and Brazos Railroad in 1840 and the Archive War, an attempt by Houston to move the state archives from Austin to Washington-on-the-Brazos. William Pettus died at Washington-on-the-Brazos on 27 Jul 1844. There is no evidence he ever developed his grant in the DeWitt Colony.
John Freeman Pettus (b. 4 Oct 1808, MadisonCo, VA) has been listed in most older sources as the son of Freeman and Elizabeth Craddock Pettus, who also are listed as parents of Samuel Overton and Edward Craddock Pettus. More recent evidence shows that John Freeman Pettus was the son of William Pettus (contributed by descendant Brenda Perkins). An archival petition for land states "John Pettus hijo mayor y emancipado de William Pettus ante U. con el mayor respeto, hago presente que ir el año de 1822 emigre a este pais con mi Sr. padre....Villa de Austin á 27 de Agosto de 1830 John F. Pettus." However, Edward C. Pettus is thought to be a son of Freeman Pettus, thus a cousin rather than brother of John Freeman Pettus. Freeman Pettus, with wife Tabitha was the guardian for a Martha Craddock in Alabama, and it is suspected that Craddock was the surname of Tabitha, mother of Edward Craddock Pettus. The John F. Pettus family migrated from Virginia to Alabama and came to Texas in the spring of 1822 along with William Pettus. The Pettus' were among the original "Old 300" Austin colonists. and received titles to land in current Colorado, Fayette, Matagorda and Brazoria counties in 1824. Edward C. and John Freeman were members of Capt. Baker's company in the Battle of San Jacinto, serving as 2nd sargent and 2nd Lt., respectively. Both also served in Capt. York's Company at the Battle of Bexar. Edward Pettus is said to have been in the lead in the burning of San Felipe as it was abandoned by Capt. Baker's unit fleeing the Mexican army from the Alamo to San Jacinto. Edward served in 1837 as Lt. in a ranger unit charged to protect Austin County. Another brother, Samuel O. Pettus (wife Martha and child May), served as head of a company in the Siege and Battle of Bexar. John Freeman Pettus married Sarah York (b. 1819 Alabama) on 29 Dec 1836 in AustinCo. Samuel O. Pettus was married to Sarah's sister, Margaret/Martha York. A Samuel Overton Pettus from Virginia, who joined the New Orleans Greys as a private under Capt. Thomas Breece, was promoted to Captain by Col. Fannin in the renamed San Antonio Greys and was killed in the Goliad Massacre in 1836.
In 1840 Freeman Pettus is recorded with ownership of 4,444 acres, two slaves, 100 cattle, and twenty-five horses in AustinCo and also held a lot in San Felipe de Austin. He was an AustinCo grand juror in the spring of 1845. The 1850 census of DeWittCo lists household no. 173 as John F. Pettus, 42, M, Farmer, Virginia; Sarah Pettus, 32, F, Alabama; William A. Pettus, 11, M, Texas; Sarah B. Pettus, 8, F, Texas; Martha W. Pettus, 5, F, Texas; Altha Pettus, 3, F, Texas; John M(ilam) Pettus, 1, M, Texas with assets of $7000. John Freeman Pettus died in Charco, GoliadCo, TX 3 Jan 1878 and is buried there with wife Sarah (1819-1894) and his mother, Elizabeth Cartwright (1790-1873). John Freeman had daughters who married a Hodges, a James Lincoln and a Lott. They are said to have had 7 children and may have had sons J.Y. and J.E. Pettus. Pettus, Texas in northern Bee County is named in honor of John Freeman Pettus.
---
PINCHBACK. James R. Pinchback enlisted in the Texan Army 15 Feb 1836 and fought in infantry Company A of the 1st regiment under Capt. William Wood. He was issued one third league of land by the Gonzales county land board in 1838 and apparently moved there. In 1855 John Pinchback of ColoradoCo, believed to be a brother, sold property to Jasper Gilbert which was in DeWittCo on the west side of the Guadalupe River near the Richard Chisholm tract.
The following is a narrative from L.W. Kemp's research on the San Jacinto Veterans:
Arrived in Texas from Georgia. In the Headright Certificate issued to him February 1, 1838 by the Board of Land Commissioners of Gonzales County it is stated that he arrived in Texas February 15, 1836, but William Fairfax Gray stated that he arrived on about February 10th. Mr. Gray in his GRAY'S DIARY stated that he and his companions were travelling on horses from Nacogdoches to Washington, Texas. They stopped on the night of February 11, 1836 at Widow Anderson's. "Soon after our arrival a foot traveler, a young man from Georgia, who is going to join a volunteer from that state now in Texas, came in and partook of our supper. He left Nacogdoches about the time we did, and has kept up with us, generally sleeping and eating with us. His baggage consists of a stout coat and saddle bags. There we occasionally relieve him of by carrying for him. He stops for nothing but pushes right ahead, through rain, mud, and water courses. Today he swam the stream that our horses waded. He did not know the ford that the Mexicans showed us. He will make a fine soldier if he lives to reach the army." On February 14th at Washington he wrote -"The foot passenger who has accompanied us for the last six days, whose name is James Pinchback, this morning enlisted in Sherman's Company of volunteers for the war."
---
PORTER. Alexander Porter arrived in the DeWitt Colony 20 Feb 1831 married with a family of two receiving a sitio of land on Mustang Creek in current LavacaCo. He is thought to have come with families in the contract with the Tennessee-Texas Land Company.
---
RAYMOND. Samuel B. Raymond was a veteran of the Battle of San Jacinto having enrolled in Capt. Sherman's Company of volunteers from Kentucky 18 Dec 1835. During assembly of the Texan Army at Gonzales, he was promoted to 2nd Lt. on 13 Mar 1836. On 2 Dec 1839, he was granted a 640 acre bounty for service at San Jacinto and lived at least a part of his life around Gonzales after the battle.
---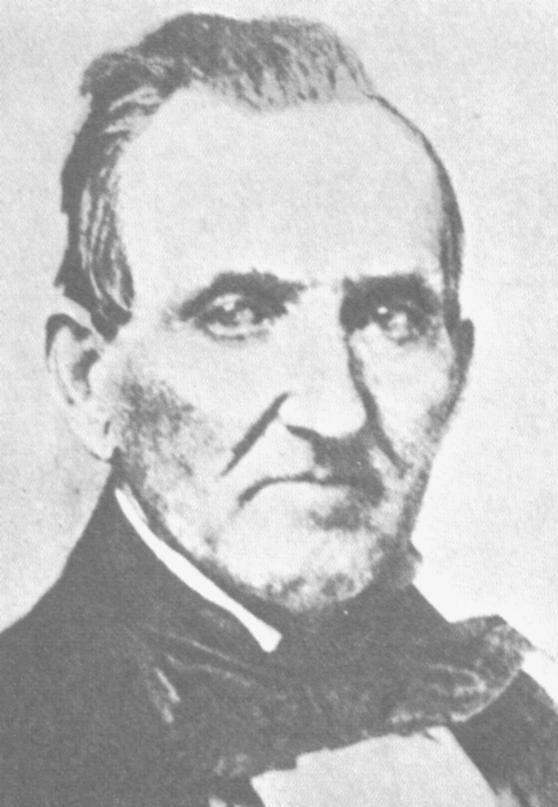 ROBINSON. James W. Robinson was born about 1800 by some records in Ohio and others in HamiltonCo, Indiana. He is thought to be the son of Samuel and Margaret Newell Robinson. In Indiana, Robinson practiced law and married Mary Isdell in 1820, but is said to have deserted the family of five children upon emigration to Arkansas in 1828 where he married Sarah Snider with which he had a son William N. Robinson. Robinson first settled and practiced law in Nacogdoches where he received title to a league of land in the Vehlein Colony, current San JacintoCo. As a representative from Nacogdoches, he was involved in outlining plans for a provisional government for Texas in the consultation held in San Felipe in Nov 1835 and elected lieutenant governor together with Henry Smith as governor of the provisional organization. After a dispute of Smith with the council of the provisional government, Robinson was declared governor, but Smith refused to vacate his position claiming a quorum was not present. For a time, both operated as governor..
After San Jacinto where he served in Capt. William Smith's Company J Cavalry, 2nd Regiment, he settled in current Gonzales County and later LavacaCo of the former DeWitt Colony where he resumed the practice of law and was elected one of the first district judges of the Republic of Texas which made him a member of the Supreme Court. He served in the 4th Congress of the Republic. Robinson was legal counsel for Col. Philip Howard, husband of Sarah Creath McSherry Hibbins Stinnett, in his many court battles to protect and distribute the estates of multiple times widowed wife Sarah's former families. Robinson was wounded by Comanches in the Council House Fight in San Antonio in Mar 1840. He was captured and imprisoned in Mexico City in the Woll invasion and capture of San Antonio in 1842. While a prisoner, Santa Anna took notice of his proposal for peace between Texas and Mexico and released him to present it to President Houston who was in his second term as President of the Republic. In Mar 1843, Robinson discussed the proposition with President Houston at Washington some credit him with an armistice between Texas and Mexico resulting in release of prisoners. Robinson was listed on the taxrolls of LavacaCo in 1846. In 1850, he moved to San Diego, CA where he continued the practice of law and public service until he died in Oct 1857. He was involved in promotion of a railroad connecting California and Texas. His will provided for distribution of his estate between descendants of children from both marriages who were dead when he died and was not settled until 1903 among over 73 grandchildren and heirs.
---
ROBISON. Joel Walter Robison. John C. Robison.
---
SCOTT. According to land grant records, Jonathan Scott arrived in the colony 20 Jul 1830 as a single man and received a quarter sitio of land on Rocky Creek west of Hallettsville in current Lavaca County. He owned 6 lots in the west outer Gonzales town tract between the San Marcos River and Water St. He served in Capt. Adam Zumwalt's Company of Lavaca River minutemen in the Battle of Salado in Sept 1842 in which the Army of the Republic drove Gen. Woll's Mexican forces who had captured San Antonio back to the Rio Grande River. He was in the Texan force that pursued Gen. Woll's troops to the border, but returned to San Antonio to be discharged on 7 Jan 1842.
---
SMITH. Isham Smith. Nancy Elizabeth Hodges. Tom, James, Harbort, William Wesley, Stroud, David, Elizabeth, Mary Jane Smith.
---
SMITH. Robert Smith arrived in the DeWitt Colony with a family of five on 20 Feb 1831 with families with the Tennessee-Texas Land Company contract. He received a sitio of land on the San Marcos River and Wolf Creek in current CaldwellCo.
---
SOWELL. John Newton Sr., Andrew Jackson, Asa Jarmon Lee, John Newton Jr., Lewis Dean, Sarah Carpenter, William A. Biographies of the Sowell families by author Dorcas Baumgartner in the History of Gonzales County Texas describe the families in detail.
---
STEWART. John Stewart went to Texas in 1823 with Austin and the "Old Three Hundred." His father Casey Stewart, his mother and two younger brothers, James Stewart and Beverly Stewart, were from Alabama. Other members of the family who traveled with them were John Stewart's mother's grandfather James Curtis Sr. and his three sons and two daughters. James Curtis Jr. was John Stewart's grandfather, a daughter married Bartlett Simms, and James Curtis Jr.'s daughter, Nancy Curtis Oliver, married John Oliver and then G.W. Cottle, who was killed in the Alamo. Casey Stewart and his wife died not long after arriving in Texas. Their sons James and John were awarded father Casey Stewart's land grant in Bastrop County where they lived for a short while. John and Beverly Stewart in the late 1840's or early 1850's moved to Gonzales County where each bought land near Waelder. John and Beverly Stewart married sisters Abrigail Burleson and Elizabeth Burleson (the younger), respectively. Their brother James Stewart remained in Bastrop.
The children of John and Abrigail Burleson Stewart were: Susan E., Abrigail, John W., Samuel, Beverly, Helen and Joseph [In the 1850 census, the family was living in the Peach Creek district of GonzalesCo: Stewart, Beverly, 34, m, $150, Ala.; Stewart, Elizabeth, 22, f, Ala; Stewart, John, 5, m, Texas; Stewart, Mary, 3, f, Texas; Stewart, Margarett, 11/12, f, Texas]. John and Abrigal lived to be elderly, but Beverly died in middle life leaving his wife Elizabeth with the following children: Monroe, Beverly, William, Taylor, James and Edward. According to family records, John and James Stewart and their grandfather, James Curtis Jr., fought at the Battle of San Jacinto. James Curtis was said to have been the oldest man there. He was an avowed patriot and joined the battle to avenge the death of his son-in-law Washington Cottle. Curtis was a scout for General Sam Houston and his many escapades as an Indian fighter, hunter and frontiersman were related in many publications concerning early Texas.
Although James Stewart did not appear at first on the official roster, on 11 Mar 1848 a legislative act recognized that he was a part of Capt. Jesse Billingsley's Infantry Company C, 1st Regiment of Texas Volunteers and he was awarded service bounty of 640 acres. Records show that James Curtis Jr. served in the same unit. John Stewart is not listed on the rosters of participants.
Samuel Stewart, son of John Stewart, joined the Confederate army when the Civil War began. He enlisted in Captain J.Z. Miller's Company of Allen's Texas Regiment and returned home in 1863. That same year he married Martha Jane Weir of Fayette County, Texas and lived on land they purchased near Waelder not far from where his father had lived. During the war Samuel's health was impaired and he died in 1873, leaving his wife with the following children: John (m. Doolie); Cordie (m. Sam Johnson); and William, better known as "Babe" Stewart, lived out his life at Waelder where he was a businessman and farmer. Mattie Stewart, another daughter of Samuel and Martha Jane, lived with her family near Waelder until she married James S. Patterson. James S. went to Texas from Kentucky when he was seventeen. He had several brothers and uncles and many cousins who lived in and around Gonzales County. He lived with the Warren Patterson family whose wife was Mary Ann Weir [Warren Washington Patterson and Mary Ann Weir were the second great grandparents of WLM, the author of Sons of DeWitt Colony Texas]. Mattie's mother, Martha Jane, and Mary Ann were sisters. After Warren Patterson died, Mary Ann married Samuel Adams. Several years after Mattie and James S. Patterson married they lived in Gonzales County. Mattie's health required that they move to a drier climate so in 1901 they moved to West Texas and made their home at Abilene. Their children were: Bertha, Ila, Tecumseh, May, William E. and James Sherman. Helen Grace Pettit. (From The History of Gonzales County, Texas. Reprinted by permission of the Gonzales County Historical Commission).
---
SUTHERLAND. George Sutherland came to Texas in 1830 from near Tuscambia or Decatur, Alabama and settled on the Navidad River in Jackson Municipality. Although his activities centered in the Austin Colony and primarily in current JacksonCo, he interacted significantly with the DeWitt Colony region and may have lived or owned land there at one time. Sutherland came with the families of Thomas and William Menefee, Capt. William J.E. Heard and Thomas Reed. He was the son of John Sutherland born in Virginia in 1787 or 1788. His wife was Frances (Fanny) Menefee, sister of Thomas and William Menefee, the latter of whom was a signer of the Texas Declaration of Independence. George Sutherland's brother, Dr. John Sutherland, joined him later in 1835. Dr. John Sutherland administered to the sick in the Alamo garrison, lived for a time with the Almeron Dickinson family in San Antonio and served as a scout and courier as the Alamo was besieged. George and Frances Sutherland's son, William DePriest Sutherland was a member of the Alamo garrison and died there 6 Mar 1836. George Sutherland was early a leader and representative of local committees in the resistance to the centralistas. He was a delegate to the Consultations of 1832, 1833 and 1835, but did not attend the latter because of activities in the field. He was a veteran of San Jacinto serving in Capt. Moseley Baker's Infantry D Company, 1st Volunteer Regiment, served in Congresses of the Republic and participated in the campaigns against the Vasquez and Woll invasions in 1842. Sutherland was a farmer and also had a mercantile business at Santa Anna, later renamed Texana, in current JacksonCo. He died in JacksonCo in 1855.
---
TATE. Elijah Tate arrived in the DeWitt Colony as a single man in Feb 1829 and received title to a quarter sitio of land on 15 Jun 1832 according to colony land records. His tract was on the west bank of the San Marcos River north of Gonzales town near the current Gonzales-CaldwellCo line. He was born in 1796 in FauquierCo VA and served in the War of 1812 for which he received land for service in Missouri. He may have been the son of William Tate and Sally Jett who married in FauqierCo in 1796. On 19 Feb 1835, Elijah Tate married Sally Grogan Sowell, the widow of William Sowell. They had three children. Tate died sometime before 1850.
---
THOMPSON. James Thompson in the DeWitt Colony on 1 Dec 1830 with a family of 9 according to land records. He received title on 24 Apr 1831 for a sitio of land on the east bank of the Guadalupe just south of the town tract adjacent to the Burkett-Zumwalt-DeWitt cluster of sites on the town tract. Although not conclusive, this is thought to be the James B. Thompson who served at San Jacinto in Capt. William H. Smith's Company J Cavalry, 2nd Regiment of Texan Volunteers. He enlisted on 5 Mar 1836 and was discharged 6 Jun 1836 from Peter B. Dexter's Company. He received one third league of bounty land for service in 1838 approved by the BexarCo land commissioners.
---
THREADGILL. Joshua Threadgill was a veteran of the Battle of San Jacinto having served in Capt. Robert Calder's Infantry Company K, 1st Regiment. According to muster rolls, he enlisted 23 Feb to 28 May 1836 and appears on the rolls of Capt. Thomas Stewart's Company 15 Jul 1836. On 5 Mar 1841 he is listed in Matagorda County. In the 1850 census of GonzalesCo he is shown living in the household of Capt. Augustus H. Jones: "Thredgill, Joshua, 42, m, N.C." indicating he was born in North Carolina in 1808.
---
TINNEY. According to descendant Tory Crook, this is Ambrose Fenney listed as arriving in the DeWitt Colony on 20 Mar 1830 with a family of 4 (2 male children) receiving title to a sitio of land on the west branch of Plum Creek in current CaldwellCo on 22 Jun 1832 (surveyed 25 Jul 1833 by Byrd Lockhart). The listed arrival date is identical to that for Daniel and Joseph McCoy Jr. Margaret (Peggy) McCoy and Ambrose Tinney had children John, Griffin (b. 23 Sep 1834), Addison B. (b. abt 1837) and Jacob (b. abt 1840). John (b. 14 Mar 1830 in MO) and a son who died before the 1850 census arrived in the DeWitt Colony with the Ambrose Tinney family. The marriage record of 30 Oct 1828 of an Ambrose "Tena" and Peggy McCoy is in St. CharlesCo, MO records. Ambrose Tinney died before 1845 and Margaret McCoy Tinney later married Alexander Morris in 1848 in GonzalesCo, TX, but later divorced. They had children George Washington, Isabel and Alexander Jr. The 1850 census of CaldwellCo lists household: MORRIS: Alexander 28 m PA; Margaret 35 f MO; TINNEY, John 20 m MO; Griffin 17 m MO; Austin 13 m TX; Jacob 10 m TX; MORRIS: George W. 2 m TX; Isabella 6/12 f TX
---
TOM. William and Mary Files Tom and children arrived in Texas at Washington on the Brazos in Feb 1835. William and son John Files Tom participated in the Battle of Bexar and San Jacinto where John was seriously wounded and listed as killed. William and John moved to Seguin in GuadalupeCo about 1846 where William Tom was elected sheriff. John Tom served as sherriff of GuadalupeCo for four years in 1856. William and Tom and second wife Kissiah Hines are interred in the State Cemetery at Austin.
The following story of young John Files Tom is related in Walraven's The Magnificient Barbarians concerning his desire to accompany his father in defense of Gonzales and Bexar:
No, she told her stepson, he couldn't go to war. He had no warm clothing. Young John Files Tom was upset and disappointed over this because his father was shouldering his rifle and preparing to march away with Stephen F. Austin to attack the Mexicans at San Antonio. As the oldest son, John felt he should be in the war, too, though he was only sixteen. His father, William, said it was all right with him, but he would have to get his stepmother's permission to go. That's when a neighbor girl came to the rescue. She donated her wool knit stockings to the cause. And that's how part of John Tom's uniform in the Texas Army came to be girls' stockings. He and his father arrived in Gonzales October 10, 1835, a week after the opening skirmish of the revolution. They followed Austin, James Bowie and James W. Fannin, Jr., along with ninety other men, to San Antonio.
---
TUMLINSON. Andrew, David C., James, John Jackson, Joseph and Littleton F. Tumlinson, members of the families of two brothers John Jackson and James Stevens, son of Jonathan Tumlinson (Tumblinson) of North Carolina, received land grants in the DeWitt Colony.
---
VOLLENTINE. Henry Vollentine (Valentine), born circa 1807, migrated to Texas about 1834 and served in the Texas army under Captain Dimmitt at Goliad. He married in Jackson County, Texas Mary Ann May, daughter of John and Mary Ann Riley May who also arrived in the same area in 1834 from Missouri. Mary Ann Vollentine died before 1845 and left three sons, James, William and John. The league and labor of land that Henry Vollentine received in 1838 were in that part of Gonzales County that was later a part of Lavaca County. In the early 1850's Henry served as county commissioner of Lavaca County when there occurred a dispute over the location of the county seat. Henry Vollentine died in March, 1878.
Children James (1836-June 6, 1922 St. Joseph Cemetery, Yoakum, Texas) married Emily Jane "Emma" Goodson December 30, 1863 and had ten children: Mary "Mamie" married S.J. Guthrie; Henry A.; Willie; Geneva married Sylvester Hinds; Arthur; Frances "Fannie" married Will Hinds; Susie; James "Jim" married Minnie Buesing; May married O.P. Talk; and Earle married Alice Pearson and Rose Estarak. William married Mary Ellen Hagan October 1, 1858 and had two children: Henry Pious who married Lucy Jane Stacy and Elizabeth "Lizzie" who married Charles Humphries. William died February 27,1863. John married Mary Ann Hasher October 9,1865 and had three children: Mary married Joseph Ryan; Henrietta married David Ryan; and Louisa. John died August 13, 187 1. On May 19,1845 Henry Vollentine married Mariah Brown in Gonzales County. Henry and Mariah had ten children: Edward, Henry, Francis, Jacob, Levinia, Charles, Mary Louise, Elizabeth and Ann "Nannie." Edward (1847-September 18,1913 Gordon, Nebraska) married Mary A. Irwin April 7, 1868 and had five children: Walter married Gertrude Leach; Blanche married Charles Beckman; Alexander married Lila Breen; William; and Mary Lou married Thomas Murray. Edward and Mary moved to northwestern Nebraska in the 1880's with members of Mary's family. Henry (1848-September 19, 1926 Santa Anna, Texas) married Sarah Elizabeth Frances "Fannie" Stacy August 31,1867 in Lavaca County, later moved to Coleman County and had fourteen children: Mary; Elizabeth married J.R. Hewitt; Lillie married S,W. Batton; Viola; William; Emma; Lucy married W.E. Baxter; Lena, Lela married R.E. Adams; James; Ruby; and Lula. Francis "Frank" (1851-December 29, 1913 Lavaca County) married Elizabeth "Lizzie" Stubbs November 1, 1871 in Travis County and had eight children: John; Maud married J.B. Middlebrook and Marion "Pat" Elder; Guy; Joseph; Frederick married Julia Becka; Claud "Buck" married Vera Meissner; and two others, names unknown. Jacob "Jake" (1853-1932 Beeville, Texas), buried in St. Mary's Cemetery, Lavaca County, married Mary "Mollie" Jane Blackburn June 7, 1876 and had five children: Emma married Thomas Peterson; Margaret married C.B. Ballard; Mary; David; and an unknown child. Elizabeth (1854-February 18, 1924 Houston, Texas) married James Patrick Ryan June 16, 1877 and had twelve children: Mary Frances "Minnie" married E.P. May; James married Susie Terry; Joseph; William; Charles "Gus"; Louivinia "Lula" married Stephen Dunn; Elizabeth "Jessie" married Hans Voite; Martin married Mattie Daniels; Hubert married Nettie Mitchell; Maud married Phil Corey; Margaret; Theresa "Jean" married William Thompson. Louvinia age five and Charles age four died within a week of each other in 1860, and in 1861 Henry and Mariah had another son and named him Charles, also. Charles married Frances Olivia Tyler and they had six children: John married Amanda Lawrence; Alice married Ed Bennett and J.S. Parker; Ollie "Jack" married Louise Smith; Mattie married G.A. "Tony" Birchfield; Ernest married Dovie Frame; Pearl; and two unknown children. Frances died December 30, 1908 and was buried in Pearl Cemetery, Coryell County. Charles then married Nancy Reavis Huff who died August 18, 1943 at Hamilton, Texas. Charles died May 2, 1943 at Hamilton. Mary Louise married Patrick Dunn October 5, 1886 and had four children: Elizabeth married Ed Baskin; Maude married C.P.A. Schnare; Oscar married Marie Dunn; Charles; and Mary L. Mary Louise died November 30, 1947 and was buried in Dilley, Texas. Ann "Nannie" married Charles Samuel Smothers July 15, 1886 and had three children: Ora married Will Frels; Brian; and an unknown child. Ann died February 28, 1925. Mrs. Jacqueline McClinton (From The History of Gonzales County, Texas. Reprinted by permission of the Gonzales County Historical Commission).
---
WILLIAMS. Ezekial Williams was the first alcalde of Gonzales, one of the Old Gonzales 18 who confronted the centralista forces over confiscation of the Gonzales cannon and appointed a Captain in the Regular Texas Republican Army at the 3rd independence consultation at San Felipe in 1835. From the History of Gonzales County, Texas:
Ezekial Williams. According to the list of original settlers in DeWitt's Colony, Ezekiel Williams arrived in Gonzales in January, 1829. He may have been from the northeastern states as he had relatives in Maryland and Delaware. When he arrived, he was a single man and was entitled to one-fourth league of land (1109 3/4 acres). In 1829 he participated in an expedition against the Indians under the command of Captain Abner Kuykendall. Ezekiel Williams lived in DeWitt's Colony over two years before he received his land grant. The grant was dated May 1, 1831, signed by Green DeWitt and written in Spanish on very thin paper similar to onion skin. Early in 1832 Ezekiel served as commissary between Green DeWitt and Ramon Musquiz, the political chief, and in November, 1832 he was elected to serve as alcalde of Gonzales until January, 1833. He was appointed April 18, 1834 and assumed his duties as judge of the colony April 21, 1834. In 1835 Indians attacked a group of French and Mexican traders about fifteen miles from DeWitt's Colony on Sandies Creek. Some nine volunteers including Ezekiel from DeWitt's Colony under the leadership of Doctor James Miller set out to punish the Indians. On January 29, 1838 and again on February 15, 1841, he was bonded by the Republic of Texas and served as county clerk of Gonzales County. For three days in July, 1840 Ezekiel served as clerk for the board of examining commissioners of the land office in Gonzales County. This board was to detect fraudulent land certificates. Ezekiel was paid $5.00 a day as specified by an act of the Congress of Texas. He wrote a note on the back of the document asking that Rich Roman be paid the money. Ezekial Williams died December 13, 1844 in Gonzales, Texas and left no will. There were two heirs in Texas and others in Maryland and Delaware. (Reprinted by permission of the Gonzales County Historical Commission).
Author John Henry Brown in History of Texas describes Williams in reference to the alcalde's response to inquiries by Jefe-Politico Garza about participation of the Ayuntamiento and DeWitt Colonists in the first Texas independence Consultation of 1832: The Alcalde of Gonzales was Ezekiel Williams, a bachelor and a worthy, law-abiding citizen, averse to turmoil and bloodshed......The Alcalde was ever recognized as a kind-hearted man of truth till his death which occurred after long service as county clerk under the Republic---many years later. He could not tell a lie. Hence used the word---"official" to qualify his negation. But the convention itself was not "official" in a technical sense; yet in a fundamental sense it was an official assemblage sprung from the people, under which Henry S. Brown and Claiborne Stinnett were elected by and represented the people of DeWitt's colony in the convention.
---
WILLIAMS. Malkijah Williams also spelled Malkyah and referred to as "Lige" Williams in some accounts arrived in the DeWitt Colony on 1 Aug 1830 as a single man and received title to a quarter sitio on 20 Nov 1831 according to colony land records. William's tract was on the west bank of the Lavaca River on the current border of Lavaca and Jackson counties and except for that of John Jones, the southernmost grant in the DeWitt Colony. The record of his marriage to Cynthia Ann Burns in 1837 is among the earliest marriage records in current JacksonCo archives (Malkyah Williams and Cynthis Ann Burns). Cynthia also written Cynthianne and "Synthia" in some records was born 7 July 1813 and was the daughter of Arthur Burns, one of the earliest settlers in the DeWitt Colony. The Williams lived in LavacaCo and according to some Cynthia helped Evaline DeWitt design and make the "Come and Take It" flag of Gonzales.
---
WILSON. According to Mier prisoner Bigfoot Wallace in his memoirs to author A.J. Sowell (Life of Bigfoot Wallace), James Charles Wilson was a British subject, the British consul in Mexico obtained permission for his release prior to the executions at Salado, but he refused special treatment and drew beans along with the other prisoners. Wilson drew white and survived. He escaped after the drawing and executions. Wilson was born in Yorkshire, England on 24 Aug 1816, attended Oxford University and came to Texas in 1837. He was in Capt. Reese's company on the Sommervell Expedition and in Capt. Fisher's company at Mier where he was captured. He returned to Brazoria, Texas and later represented Calhoun, Jackson, Matagorda and Wharton counties in the 3rd Texas legislature and served also in the 4th legislative session. Wilson was also an evangelist in the Methodist church. He made his final home in Gonzales County where he died 7 Feb 1853 and is buried in the Askey Cemetery. Wilson County, TX was named in his honor.
---
WINTERS. James Washington Jr. and William Carver were born in GilesCo, Tennessee and came from Memphis, TN to Texas with parents, James Washington and Rhoda (Creel/Beal?) Winters, with siblings Bridges, Caroline, Grant Fannin, Jones, John F., Nancy, Polly, Sarah, Benjamin F., Ellen, Willis Billington, Taylor and Susan. The family first settled in Vehleins Colony in current MontgomeryCo where James Sr., John F. and James W. obtained land. The area was Winters Bayou in the Big Thicket twelve miles below present Huntsville.The town of Old Waverly stands on their land. Father James Sr. and brothers John F., James W. and William C. were on their way to the Battle of Bexar which was over before they arrived. The brothers were on the field at San Jacinto in Capt. Ware's 2nd Infantry Company, 2nd Regiment of Volunteers. William Carver was severely wounded in the battle according to an affidavit signed by Capt. Ware. William Winters married twice and had eleven children by the second wife. William lived in several areas of Texas in ventures with his brothers, but in later years he settled in Hopkinsville, GonzalesCo, where he died in 1860.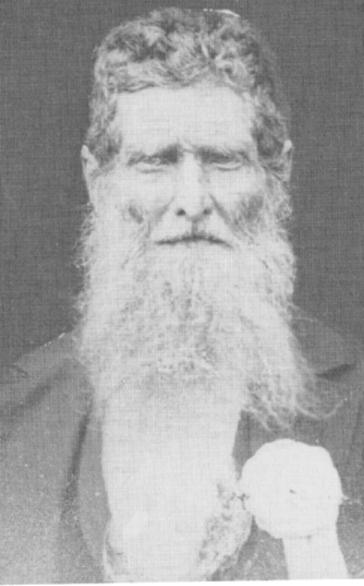 James Washington Winters Jr. (1817-1903) (m. Percy Tullis from MS) participated in the Battle of Salado and was with the Somerville expedition, returning with Sommerville without continuing on the Mier Expedition. James Winters lived for a time in Prairie Lea, CaldwellCo where he owned a mercantile business and in Moulton, LavacaCo where he had a store. After the loss by the CSA in the Civil War in which he participated, Winters moved to Tuxpan, Mexico where he farmed and ran a sugar mill. After the death of two children and his wife, he returned to Beeville, TX and settled in FrioCo where he died near Bigfoot on 14 Nov 1903. After the death of first wife Percy ca. 1875, Winters married Elizabeth Wier and was active in the Texas Veterans Association.. He is buried in the Brummett Cemetery, three miles northeast of Bigfoot. James W. Winters Jr. left a short memoir of his service leading up to and the battle of San Jacinto. [Photo: From The Heroes of San Jacinto by Dixon and Kemp, most likely taken at a Texans Veterans gathering evidenced by the pin]
---
WOOD. James T. Wood was born in South Carolina about 1797-1862, the son of James Wood and Ann Elizabeth (Nancy) Lipscomb of Spartanburg, SC (married 1784). James Wood Sr. came to Spartanburg in 1789 and bought land from William Bostick, probably the uncle of Sion R. Bostick, and died there in 1799. James T. Wood married Elizabeth Morris, daughter of Spencer Morris. The Wood family (listed as eight) came to Texas together with the Morris family as part of the Tennessee-Texas Land Company on 20 Feb 1831 and was granted a sitio of land in current LavacaCo on Rocky Creek on the old La Bahia Road according to land records. Wood was one of the petitioners for DeWittCo as a judicial district, signed the petition to create CaldwellCo and served as one of the county's first commissioners. He was also instrumental in forming San SabaCo. in 1853 and served as commissioner there until his death in 1862.
Elizabeth Morris Wood lived with her husband in WashingtonCo in 1838 where they appear on tax rolls. They later moved to the Kimber Barton league in DeWittCo. With a sale of land to Joseph Stevens in 1847, the family established a burial ground which is now Stevens Cemetery in DeWittCo. In 1846 the family moved on the Spencer Morris league in CaldwellCo. In 1853, the family moved to San SabaCo where Elizabeth also died in 1888.
Contributed in large part by descendants Joyce Wood Wells and Tom Wood.
---
WOODS. Zadock, Leander, Norman B., Montraville, Henry Gonzalvo. The Woods family were early Austin Colonists from Missouri pioneering the current FayetteCo area whose interactions were often more with DeWitt Colonists and Gonzales than San Felipe and other areas of the Austin Colony. The story of Zadock Woods, who at 69 was the oldest volunteer at the Battle of Salado and Dawson Massacre, the escape of his son Gonsalvo Woods, along with future DeWitt resident Alsey Miller, and the wounding and death of his son in Perote Prison in some form is included in all eyewitness reports of the events and with modifications and embellishments by storytellers through the years.
---
ZUMWALT. The complete biography of Capt."Black" Adam Zumwalt Jr. who came to the Dewitt Colony from Missouri with the extended Burket, Kent and Zumwalt families from Missouri in 1829 can be found under Adam Zumwalt Jr. 1795-1872. Also see Abraham Zumwalt, Capt. Adam Zumwalt's brother-in-law and brother-in-law and uncle of David Burket and Mary Ann Zumwalt Burket, respectively, a member of the group who received a land grant, but sold it and returned to Missouri in 1836.
---
---
SONS OF DEWITT COLONY TEXAS
© 1997-2003, Wallace L. McKeehan, All Rights Reserved