SONS OF DEWITT COLONY TEXAS
© 1997-2007, Wallace L. McKeehan, All Rights Reserved
David Burket-Index | DeWitt Colony Expansion | Burket Land Grant
Children of David and Mary Ann Zumwalt Burket
Edna | Nathaniel Boone | Isaiah | Mahala | John Henry | Barthalomew Howard | Sarah Ann
Since the stable and last homeplace of David and Mary Ann Zumwalt was on the Guadalupe River near Hochheim and that in turn was passed to youngest daughter Sarah Ann Burkett and Little Berry Green, a large number of Burkett and Green descendants cluster and are buried at Hochheim, DeWittCo, TX. The three oldest children Edna, Nathan, Isaiah and possibly a Delilah who died young were born in Missouri. Maxine Burkett Seltzer in The History of the Burkett-Gilliam Generations lists two children not mentioned by other sources who were not included in the distribution of the Burkett estate. They are Katie Elizabeth Burkett (1834-1884) and Lela Burkett (b. 1842, possibly m. a Freeman). According to Seltzer, Katie Elizabeth Burkett was born 24 May 1834 in GonzalesCo and died 18 Nov 1884 in Hochheim, DeWittCo, TX. She married J.L. Crawford (1834-1912; m. 1. Deliah Weeks) bef. 7 Dec 1845. James Leslie Crawford was the son of James A. (1800-1861) and Rachel Morris (1806-1879) Crawford. The Crawfords are known for donation of the 5 acre plot for the Hochheim Cemetery and school. All are buried in the Hochheim Cemetery. J.L. and Katie Burkett Crawford had children L.E. (b. 1854; m. Mary Jane), Addie (1863-1869), Minnie (1868-1895; m. Lawrence), Annie L. (1873-1919), J. Wiley (1874-1927), Elizabeth Jane (1880-1912), Ethel Lee Crawford (1881-1881) and Thomas E. (1849-1939).
---
Edna Burket (abt 1819 HowardCo, MO-aft Nov 1850 TX) married Simon Wesley Cockrell (b. abt 1811 KY, son of John R. Cockrell) on 12 Feb 1838. The marriage is recorded in WashingtonCo records although family legends refer to a marriage in Hochheim, DeWittCo, TX. It is thought that Edna was dead in 1845 when the Burkett estate was partitioned and Simon Cockrell received a portion for his wife. However, the 1850 Federal Census for CaldwellCo lists family 91: Cockeral, Simon 36 KY; Edney 31 MO; Mary Ann 12 TX; William W. 10 TX; Francis M. 6 TX; Ophelia C. 3 TX. Simon and Edna had children Mary Ann (b. 1838), William (Bill) W. (1840-1923), Francis (Frank) M. (b. 1844), Ophelia C. (b. 1847) and Polly (See Children of Edna & Simon Cockrell). Simon Cockrell is thought to be the individual of the same name who was wounded at the Battle of Salado and whose narrow escape from death at the hands of Córdova's Indians is the subject of multiple personal accounts of the battle.
In 1837, Simon Cockrell received 320 acres bounty land in GuadalupeCo for service to the Republic of TX 3 Jul to 3 Oct 1836. He received 640 acres bounty for service in VictoriaCo. For 1847-1848, he is listed on the Texas Ranger muster rolls serving 25 Oct 1847 to 3 Oct 1848. He is on numerous land transfers in Lockhart, CaldwellCo between 1850-1853. In 1861, he was a Pvt. in the 9th Cavalry, FayetteCo, TX under Capt. R.N. Butler, Texas Troop, CSA. Family stories described him as born in 1811 in KY. He had dark eyes and hair and was 5 feet 8 inches tall. His father was believed to be John R. Cockrell. Ray's Austin Colony Pioneers refers to the Cockrell's as early settlers in the Austin Colony, ending up around Flatonia on the west side of the Colorado. They are referred to as old Tennesseans from around Nashville related to the empresario Sterling Robertson. It points out that S.W. and J.A. Cockell (Cockrill) lived in WashingtonCo in the days of the Republic. S.W. married Edna Burkitt and J.A. married C.R. White. Simon Wesley Cockrell was a notorious character in Burket family legends. A letter written in 1927 from Mary Ann Roseanna Green Rae (granddaughter of David and Mary Ann Zumwalt Burket) to sister Margaret Mahala Green Braud/Woodrome tells the following story:
"Dear Sister: ------The half-breed Indian who married her <Mary Ann Zumwalt Burket> daughter, Edna, gave her more trouble than the rest. Edna married him through fear. He had sworn to kill grandfather and her brothers too if she did not marry him, therefore she was afraid. Grandmother begged her not to marry him, not to give her pure young life to this brute of a man. She said, 'Mother, I know he will kill my father and all my brothers so I will give my life to save theirs, you need them, mother.' He took her to old Squire Moore. His house was the first between us and Hochheim on the right side of the road. It was still there when I was married. Aunt Edna was a beautiful woman, so mother and grandmother said, fair complexion, brown eyes, jet black hair hung in curls. Mother had one of her curls of hair. It was nearly a yard long. Aunt Edna had three girls and two boys by this half-breed. The boys names were Frank and Bill. The girls names were Mary Ann, Ophelia and Polly. Polly was the baby and was buried when Edna was. Grandmother talked to me so much about them and never did she talk without shedding tears. This was her greatest sorrow. Ophelia was a sweet girl, the exact image of her mother. After Aunt Edna's death, grandmother kept the children two years, then Cockrell came and got them and took them to the Indian camp. They had many hardships to go through, he took little Ophelia off and told them at camp he was going to kill her but he put her down in he road some miles from Lockhart. Dr. Herff of San Antonio, was driving home from a patient and found her crying in the road. She was five then. Dr. Herff asked her about her mother. She told him she had no mother, that her mother was dead. Then he asked about her father and she said, 'My pa don't want me, he said he would kill me if he found me again.' Dr. Herff put her in the buggy and took her home with him in San Antonio. They asked her many questions. She did not know her father's name, but she knew Grandmother Burkett. The doctor and his wife had no children so they adopted Ophelia and was sending her to school. Our uncle John Steen took a load of turkeys to San Antonio on Christmas to sell them. When he drove up to Dr. Herff's to inquire if he wanted to buy one, this little girl came out and Uncle John recognized her. She climbed up on the wagon wheel. Uncle says, 'Doctor, where on earth did you get this child?' The doctor told him he had picked her up on the road eight miles out from San Antonio. Uncle finished the sale of his turks, came home and got grandma and Aunt Mahala and took them out there and they both knew the child. But as the old people had learned to love her, they thought it best to let her stay. The Herffs gave her a fine education and at the age of 20 married young Dr. Thomas. At birth of her first child, she died. A little boy was left to the old people to raise. I can remember her. She came to stay with us a while before she married. Grandmother, mother and aunt Mahala gave her a fine quilt apiece to take back with her. Mother gave her her mother's hair, it was so like her own. This took place before your birth, dear sister, just before we left Moulton the last time. ------"
---
Nathaniel Boone Burkett (1820 MontgomeryCo, MO-1898 Yoakum, DeWittCo, TX) who left his unfinished memoirs Early Days in Texas, married 28 Jan 1847 Catherine Bunting (1830-1917). They had 14 children.
Nathan Burkett was involved in pursuit of Cordova from Nacogdoches to the border in 1838. He served in Capt. Mathew Caldwell's Ranger Company and with Capt. Cameron's Victoria "Cowboys." He was with Cameron's troup at the confrontation with Gen. Canales at Lipantitlan in 1842. He fought in the Battle of Salado and was with Capts. Caldwell and Hays in the pursuit of Woll's army to the border and numerous other encounters with Indians. In 1863, Burkett served as private with the Texas Troops, CSA under Capt. J.F. Spears. Family legend says that Nathan was one of the first two men to be baptized by immersion into the Baptist faith in the Guadalupe River. He is buried in the Burkett Cemetery which is on private land on Nathan's portion of the original David Burkett league.
---
The Burkett Cemetery and the Strange Blue Lights of Moulton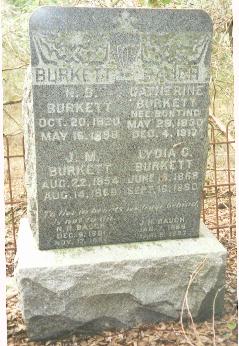 Lying practically on the current Lavaca and Fayette County line on the Burket League is the Burkett Cemetery where Nathan Boone Burkett (see unfinished memoirs Early Days in Texas) and Catherine Bunting lie on their original homeplace deeded them when DeWitt Colonist father David Burket died in 1845. The cemetery is on private land owned by Dr. Kunik of Houston as of 1996. A Dr. Meyer owns the adjacent ranch through which the cemetery can be accessed on foot with difficulty. The site is on W. Wiedeman Road (LavacaCo Road 284) southwest of Flatonia off Hwy 95 which runs down the Lavaca and GonzalesCo line, then one fork veers due south. At a 90 degree due east turn in the road which becomes County Road 283, the cemetery is about 200 yards from the road and a little off to the right of a ravine running due south with the road before it turns. County Road 283 joins Hwy 95 north of Moulton. Not knowing exactly where the spot was in my first search for it, whether the site was still recognizable among the brush or whether intact markers were still standing, I first scouted the direct route from the road before bringing along wife and daughter. The barbed wire fence was tight and well nigh impassable over, under or between because of the interwoven sorts of briars and vines. After attempting unsuccessfully to go under and between, I finally tried over at an appropriate spot that looked a little sagging, but nevertheless tearing the seat of my britches on the way over (for a short time the hard to find site was marked by a patch from my jeans). I hiked at least several hundred yards through the fields of rock hard clods, cow patties and cactus and an occasional rattler, with no sign of any cemetery. Backtracking to the car, finishing off the seat of my jeans going back over the fence at nearly the same spot, we approached the nearest house about 200 yards down and off the road. After facing a couple of menacing dogs whose barks fortunately were much worse than their bites, we met Ms. Lucille Schonfeld, who treating us cautiously at first, then warmed rapidly when she learned we were interested in ancestors lying out in the cemetery. Ms. Schonfeld, although born in this country and living here all her life, spoke with a clearly detectable and delightful Czech or German accent, a not uncommon occurrence in this part of the country. Indeed a pleasant reminder of the maintenance of the cultural heritage and diversity, despite removal for many years from the old countries, for which this part of Texas is known and proud. This despite the story passed down from Nathan Boone Burkett's brother, John Henry Burkett, that he sold out his part of the Burkett League and moved to Coleman County in 1882 because "he was surrounded by Bohemians." Ms. Schonfeld has permission of Dr. Kunik to show sincere visitors to the cemetery. She graciously escorted us to the site, which was grown over with dense brush, and would have taken a while to find without a guide among the twists and turns through two ravines among the sometimes head high Johnson grass.
The N.B. Burkett marker, listing six persons is the largest in the cemetery, is enclosed in a rusting fence (see photograph below). Ms. Schonfeld, a delightful host who stayed with us the entire excursion, related that most visitors in the area are not interested in the cemetery and markers, but the local legend about sighting periodically a strange ghostly bluelight that flies over the cemetery at night. She confirmed the authenticity of the legend as witnessed by herself. She showed us the site of a well that had been filled in which is assumed to be at or near the old Burkett homeplace. There is also an old windmill and water tank nearby that she believes is "very old.".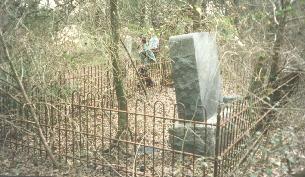 The Burkett Cemetery is listed in Volume I of LavacaCo Cemeteries. The following burials are listed: J.H. Baugh, N. H. Baugh, Catherine Burkett, J. M. Burkett, Lydia C. Burkett, N. B. Burkett, Nicy Ellen Burkett, Alexander Humphreys, and Josiah Powers. The Baughs were infant sons of Nathan Boone Burkett's daughter Mary Jane (Mollie) and Loving Harvey Baugh who are believed to have lived nearby. James Moses Burkett (1854-1868) and Lydia Caroline (1868-1890) were children of Nathan Boone Burkett. Nicey Ellen was an infant daughter of Bart Burkett. Alexander Humphreys was the father of Mary Carroll Humphreys who married Isaiah Burkett. The last burial reported in a survey in 1981 was in 1917. On 9 Dec 1896, deedbook 25, pg. 466-471, shows that T.A. Leazer, John A. Leazer, Nancy L. Leazer, J.F. Leazer, Rhoda Leazer, W.S. Leazer, Rachel Leazer, Bart Burkett, Mary Jane Burkett, David Burkett, Melissa J. Burkett, William Burket, Laura Burkett, W.O. Harwell, M.A. Harwell, C.H. Howard, C.E. Howard, J.H. Burkett, L.L. Burkett, F.H. Hardin, N.E. Hardin, N.B. Burkett, J.D. Burkett, Josephine Newton and J.G. Newton came together to sell to Albert. A. Cherry the area of the Burket League on which the cemetery and the old Nathan Boone Burkett homeplace stood and possibly plots owned by others involved in the sale. According to Mr. Glenn Cherry, descendant of Albert Cherry, the Cherrys and Burketts must have been close friends for he was passed down in family records several photos of the Burkett family including a copy of Nathan Boone Burkett and Boys. A.A. Cherry purchased the historic Eggleston House and property in Gonzales from William Ponton Eggleston in 1869--Wallace L. McKeehan, Sons of DeWitt Colony Texas. [N.B. Correspondent Bill Kempton wrote that he visited the cemetery in the 80's in search of Elizabeth Cooper Moore, the first wife of Josiah Powers who preceded him in death. He located the broken marker of Josiah Powers, but not his wife who he believes may be buried there. About 10 ft to the east of the Burkett marker are those of Jesse Cooper and wife Emily (marker added in 1985). Both Josiah Powers and Jesse Cooper came to the area in the mid 19th century and were unrelated to the Burketts.]
---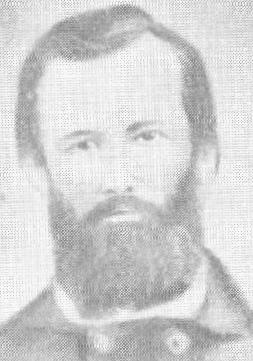 Isaiah Burkett (1825 CallowayCo, MO-1862 Springfield, IL) married 30 Nov 1854 Mary Caroline Humphreys and had 4 children. In 1861, Isaiah enlisted in the army of the CSA with other men from Moulton area. He was in Company I, 24th Regiment Texas Cavalry, Wilke's 2nd Texas Lancers, 2nd Regiment, 2nd Regiment Carter's Brigade. He was captured by Union Forces in 1862 at Ft. Donaldson, TN, imprisoned in Cairo, IL where he died of pneumonia after a march to Camp Butler Prison in Springfield. He never saw his youngest son Thomas Jefferson. Mary Humphreys Burkett taught school arriving on horseback everyday accompanied by children Martha, Nancy and Tom. Family sources say widow Mary later married Dr. C.M. Hall or C.M. Hale of Flatonia. The story goes Bartholomew Burkett was able to retain custody of both Isaiah's children and those of a second husband after Mary's death.
---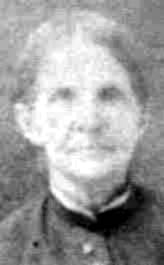 Mahala Burkett (1 Sep 1830 Old Mexican Municipality, Coahuila y Tejas-25 Nov 1881) married first a Manning and then in 29 Apr 1850 DeWittCo, TX John Rumley Steen (1825-1910). They had 13 children. According to family lore Mahala was born at Matagorda Bay, TX on the way to Gonzales after arrival of the David Burket family on the coast from MO. Some records list her as born in MO. Memoirs and land records indicate that the family was settled in the DeWitt Colony near Gonzales by the time of her birth. Mahala was clearly the first of the David Burket children born in Texas. She and husband are buried in the Steen Cemetery on County Rd. 336 off Hwy. 183 near the Guadalupe River in GonzalesCo, TX. (Photo is thought to be Mahala Burkett)
---
John Rumley Steen (October 30, 1825 June 11, 1910) went to Gonzales County circa 1850 and married Mabelle [Mahala] Burkett (September 1, 1830-December 25, 1881). They settled in the southern edge of the county in an area still known as Steen Flat. John's brother Enoch settled in another part of the county. John Rumley's parents were William (1783-1846) and Mary Rumley Steen (1792-1846) who lived in Mississippi. His grandparents were William and Nancy Lusk Steen who emigrated from Ireland to South Carolina. Linda Steen Norris (Reprinted by permission of the Gonzales County Historical Commission).
---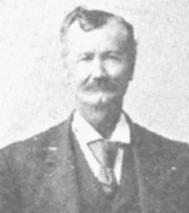 John Henry Burkett (5 Jan 1833 Old Mexican Municipality, Coahuila y Tejas-8 Mar 1894 ColemanCo, TX) married first 17 Aug 1852 DeWittCo, TX Elizabeth Caroline Leazer (1834-1883) then 14 Feb 1893 in DeWittCo, TX Sarah Elizabeth Mahaffey (d. 1894). John H. and Caroline Burkett had 11 children. John Henry, along with three brothers, enlisted in the Army of the CSA in LavacaCo in 1862. With brothers Isaiah (in some records Isaac) and Bartholomew, John Henry Burkett joined the 24th Regiment of the Texas Dismounted Cavalry in LavacaCo on 16 Mar 1862 under Capt. B.F. Fly. He was captured with his brother Isaiah along with most of the regiment in TN. John Henry escaped, but was recaptured in Arkansas, spent time in prison at Little Rock and on 23 Jun 1864 was shipped to the Rock Island Barracks, Rock Island, IL. He was sent to New Orleans in 1865 to be exchanged for Union prisoners at Red River Landing, LA. Overall he was imprisoned there for 3 years. His brother Isaiah died in the IL prison of pneumonia due to exposure.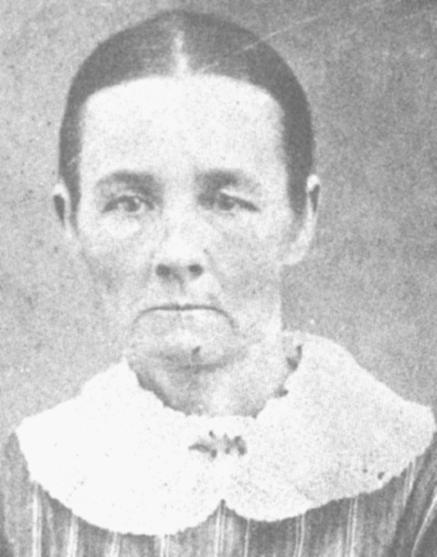 The family ranched their inherited land, then sold 216.25 acres in LavacaCo, TX on 29 Jul 1882 to M. Novak for $2800 and moved to ColemanCo. Daughter Nancy Eudora Burkett wrote in 1960 from DeLeon, Texas
I was only seven years old when Dad sold out and left South Texas. He was surrounded by Bohemians and sold to one M. Novak. Their customs were strange to the settlers from the States, and few of them spoke English. He bought sheep, goats and horses and loaded two wagons. Dad drove one, Mother drove the other one. He shipped the furniture to Coleman. Then we took off. It was a slow go as the sheep had to eat as we went along. Dad would go ahead and pitch camp and Mother would prepare the meals on an outside fire and wait for the boys to bring up the herd and bed them down. It took three months to make the trip. We finally got to our place and pitched camp west of present Burkett. Dad and brother Dave hauled lumber twenty miles to build our house. Dad was a carpenter by trade. We landed in August, and a cousin. Joseph, son of Uncle Barth, that came with us took down with typhoid fever and Mother took care of him till he died. Then Mother, Dave and Kate all took down with it. Mother was buried on Christmas Day on the coldest day they ever saw, in the Cousin Bill Wesley Cemetery in Coleman County. Her gravestone reads: Elisabeth C. Burkett. (Might have been New Years Day instead of Christmas Day).
On 29 Aug 1882, John Burkett bought 1280 acres of land from Max Mass in ColemanCo for $1408, $704 in cash and the balance on credit. This plot was 20 miles northeast of Coleman and 3 miles southeast of Burkett on the south side of Pecan Bayou. As mentioned above in 1883, typhoid fever struck the family taking cousin Josiah Burkett who planned to travel back to his home in LavacaCo and Elizabeth Caroline Burkett who nursed him and others. Sons Arthur David and Kate (Catherine) recovered. Elizabeth Caroline Leazer was the daughter of John William and Dovie Minerva Walker Leazer who came to Texas from North Carolina about 1847. Her youngest sister, Mary Jane, married Bartholomew (Bart) Burkett. In 1893, John Henry returned to DeWittCo, TX to marry the widow of Gid Mahaffey, a school teacher with 3 children. ColemanCo records indicate she left John Henry Burkett before his death and was not mentioned in his estate. The Cemetery referred to above by Eudora became to be known as the Burkett Cemetery after the death and burial of John H. Burkett in 1894. Son David erected a fence around the private plot where several Burketts are buried. In 1976 the site was on the Knox Ranch, also known as the Will Gould Place, at the west end of Sunset or Burkett Road.
---
Margaret Burkett (1836 GonzalesCo, TX-1849). According to the 1850 census, Margaret was blind. She was included in the 1845 distribution of the Burkett estate.
---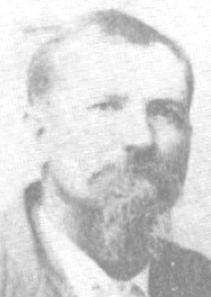 Bartholomew Howard Burkett (12 Jul 1838 LavacaCo, TX-28 Jan 1901 GonzalesCo, TX) married 13 Jun 1860 Mary Jane Leazer (1844-1920) (sister of Caroline Leazer, wife of John Henry above). They had 11 children. The couple lived in Moulton in early years after marriage, then moved to Dreyer, GonzalesCo. Bart Burkett served Company I, 24th Texas Cavalry, Wilkes Regiment 2nd Lancers, 2nd Regiment Carter's Brigade, which later became Company I, Granbury's Consolidated Texas Brigade. He and several members of the family are buried in Hochheim Cemetery, DeWittCo, TX. The Leazer sisters (sometimes spelled Leasure in records) were children of John William and Dovie Minerva Walker Leazer of Charlotte, NC and CrawfordCo, PA, respectively. The elder Leazers are buried in Old Moulton Cemetery, LavacaCo. Granddaughter Ruby Fisher relates in her genealogy of the family:
The widows of the Civil War victims suffered much and it was a publicized fact that my grandfather, Bart Burkett gave the gleanings of his crops and much aid to them during this difficult time in the area where he owned his land and later when he returned from the war he continued to assist whenever possible. He was a quiet, soft spoken man with much integrity and perseverance and he rode a horse well, so it was natural for him to volunteer for the Cavalry. He taught my father, Berry Harris Burkett to ride well and thus all his life he had a great respect and love for the best breed of horses and at one time in his life when I was about ten years of age, my father owned a pedigreed stallion named Stein. Well I remember the Pedigree Certificate with Stein's picture in the center of it which was framed and hanging over the mantle of our fireplace. Grandfather Bartholomew was a very religious man scrupulously faithful to his church and belief which was of the Baptist faith. Although my aunt Mahala, Sarah Ann and Emma Burkett were given the advantage of boarding schools, the soil cultivation left little time for schooling for Bart's sons.lt amazed me of the knowledge that my father had acquired of the laws of our government since his education had been limited. However he was an avid reader and acquainted with a vast knowledge of the history of our beloved America. His penmanship was beautiful and his inner thoughts when revealed were on a high level of moral soundness, although a man of few words when spoken had the ring of great eloquence. He was a man capable of deep feelings and had a great respect and reverence for his father, Bartholomew Howard Burkett and at his death a great part of his life was silenced with grief and soon thereafter left the land of his childhood days to new territory with new hopes and dreams.
After Bart Burkett's death in 1901, his property was partitioned among is heirs. Widow Mary Jane conveyed her part in 1918 to daughter and son-in-law B.C. and Eudora Burkett Neighbors with whom she lived until her death in 1920.
---
---
David Burket-Index | DeWitt Colony Expansion | Burket Land Grant
SONS OF DEWITT COLONY TEXAS
© 1997-2007, Wallace L. McKeehan, All Rights Reserved