SONS OF DEWITT COLONY TEXAS
© 1997-2014, Wallace L. McKeehan, All Rights Reserved
Biographies here are DeWitt Colonists (surnames beginning A-G) and residents of the region prior to statehood in 1846. This index includes biographies of 1828 Residents, The Battle of Gonzales-Old 18, Gonzales Alamo Relief Force, Gonzales Town Residents and Citizens-Free State of Lavaca.
---
ALEXANDER. Caleb P. Alexander was a partner along with Caleb Brock and Joseph and John McKean who went together with William Matthews to form the Tennessee-Texas Land Company which brought at least 17 families to the DeWitt Colony. In DeWitt Colony land records he is listed as arriving married with a family of 25 on 26 Feb 1830 and receiving title on 5 May 1831. Survey records do not appear and records indicate the title or grant along with that of Caleb Brock was "set aside by decree of court in 1843." The large number listed as family likely include servants although the number may in some way been related to the land contract to bring families to the DeWitt Colony. According to testimony by John McKean in 1837, Alexander and Brock failed to fulfill their part of the contract. In 1845 while living in ShelbyCo, TX, Alexander released all rights to land obtained under the Tennessee-Texas Company contract to John C. McKean for the sum of $5000.
---
ASHBY. John Miller Ashby. Sarah Ann Ashby. Martha Francis Ashby. Mary Harris Ashby. Benjamin Thomas Ashby. Sowel Harris Ashby. Francis "Fannie" Bertram Ashby. Jane Isabelle Ashby. William Wayne Ashby. Euphremia Texas Davis Ashby. Dorathea E. Ashby. John Henry Pertle Ashby
---
BARNETT. George W. Barnett, signer of the Texas Declaration of Independence as a delegate from the Municipality of Washington at Washington on the Brazos in March 1836, moved to GonzalesCo in 1846 and was killed in an Indian fight in 1848, 15 miles west of Gonzales. He is buried in the Old Cemetery at Gonzales.
---
BARTON. Kimber W. Barton arrived in the DeWitt Colony with a family of 3 on 15 Mar 1839 according to land records. He received a sitio of land on the east bank of the Guadalupe River in current DeWitt County. McCoys and Cuero Creeks ran through his tract. The Barton family was from Ohio and Illinois. In RandolphCo, IL in 1817, Kimber's sister, Catherine Wise Barton, married Charles Lockhart, a surveyor along with his brother Byrd Lockhart in the DeWitt Colony. Letters from Catherine Barton Lockhart from the colony were to her mother in Franklin Furnace, OH. Barton was voter in the election of representatives from Gonzales for the Texas Consultation of 1835.
---
BENNET Major Valentine Bennet, Miles Squier and Bathsheba Gipson Bennet, The Kibbe Family.
---
BLAIR. George Blair. Sarah Lockhart Fulton. James Fulton, Margaret Blair, William Blair, Susannah (Susan), Sarah Ann, George, Jr. Travis Blair.
---
BOSTICK. This gallant Texas hero, Sion Record Bostick, was the grandson of James Bostick, a soldier who fought in the American Revolution from North Carolina. This Revolutionary soldier and wife Comfort Bostick were parents of eight children, one of whom was Levi. Levi and his wife Martha Hill were the parents of nine children and Sion Record Bostick was their eighth child. He was born in Montgomery, Alabama December 7, 1819. In 1829 when Sion was ten years of age, they moved to Texas and first settled in Austin County, being colonists of Stephen F. Austin's colony. Later they moved to Colorado County nine miles up the Colorado River above the present town of Columbus. Since trouble with Mexico was brewing during Sion R. Bostick's teenage years and hostilities began between the settlers and Mexico, young Sion was in the midst of the activity. The seventeen-year-old lad with five other men captured Santa Anna near San Jacinto and took him to General Sam Houston who lay wounded under a tree on the battlefield. He related the capture in a biographical sketch written for the Texas Historical Association Quarterly. In addition to his service at San Jacinto, Sion Bostick was in the Texas army at Gonzales and Bexar in 1835, stood against the Comanche Indians at the Battle of Plum Creek, was an American soldier in the Mexican War of 1846 and was a Confederate soldier in Hood's Brigade in the Civil War in the 1860's. He married Susan Townsend April 4, 1839. She was born November 22, 1823 in Georgia, daughter of Asa Townsend and Rebecca Harper Townsend whose ancestors were Light Townsend and his wife Deliliah who arrived in America before the Revolutionary War. Susan died February 27, 1860 and was buried with her parents in Borden Cemetery of Colorado County. Sion Record Bostick died October, 15, 1902 and was buried in San Saba.
Sion and Susan Bostick had seven children. Their sixth child Hannah Elizabeth Bostick (March 28, 1853) married William Anderson Meneley and lived in Gonzales County. William A. Meneley was thirty-two years old and Hannah Elizabeth was seventeen years when their marriage took place. They had ten children: Susan Amanda, Sion William, Mary Catherine, Laura Allen, Mittie Ursula, Mattie Artelia, Abbie Auxine, Nora Lazittia, Johnny Carl and Hannah Elizabeth. Susan Amanda was born February 3, 1872 in Colorado County and died August 10, 1904 near Gilmer, Texas, was buried in Upshear County, married Bruce L. Gibson March 25, 1891 and had four children, Lee, Bertha, Fred Monroe and Aubrey Hugh; Sion William; Mary Catherine "Kate" was born September 18, 1875, married J.H. Hartman and lived at Skidmore, Texas; Laura Allen was born December 27, 1877 and married Robert Whitten in 1897; Mittie Ursula was born May 3, 1880 and married John F. May December 23, 1897; Mattie Artelia was born May 7, 1882, died September 19, 1885 and was buried in the Saturn Cemetery next to her father with no marker; Abbie Auxine was born November 25, 1884, married Jesse Sidney Gibson December 19, 1900 and their ten children were Frank Nixon, Pearl, Velma, Ola Belle, Carl Lewis, Faye, Eva Lavern, Doris, Abbie and Hoyt Sidney; Nora Lazittia (November 15, 1877) married George R. Wier; Johnny Carl (July 10, 1890 - May 14, 1942) married Margaret Susie Carleton May 29, 1910 in Gonzales County and their children were Joe C., Margaret Elizabeth, John, Allen Lee, May, Sarah, Nora, Rebecca Edith, Roberta and David; and Hannah Elizabeth "Lizzie" (June 21, 1893) married Gilbert J. Clements. William Anderson Meneley and Hannah Elizabeth Bostick Meneley were divorced and February 7, 1909 he married Mrs. Ester Christian Barnett. He died the following December. Hannah married H.E. Watson and lived in Houston until her death June 23, 1943. She was buried in Forest Park Cemetery, Garden of Gethsemane Section. Mrs. David Walshak (From The History of Gonzales County, Texas. Reprinted by permission of the Gonzales County Historical Commission).
---
BRILL. According to author Andrew Sowell in Rangers and Pioneers of Texas, Solomon Brill, along with the Kings, McCullochs, Sowells, Nichols, Milford Day, Callahan, Turners and others "settled the place" meaning what is now Seguin in GuadalupeCo. Sowell mentions that he served under Mathew Caldwell in the Battle of Salado. He is listed in Company B, Muster roll of 11/1/1837 - 1/1/1838 under the name S.W. Brill, Private at Camp Johnson Oct 23 1836.
An article in the Seguin Enterprise of 5 Feb 1937 by Willie Mae Weinert, regional historian of many years, describes Solomon Brill and the legends surrounding him:
Another veteran of the Texas Revolution who came to Seguin soon after the Battle of San Jacinto, was Solomon Brill. When he first came here he was a house guest of Juan N. Seguin for whom this town is named. It is likely that for this reason he was selected by Juan Seguin to help gather the remains of officers killed at the Alamo. As stated before Mr. Brill, with several men from our town---then called walnut Springs ---were commissioned by Juan N. Seguin, the military commander of the Bexar District, to perform this last service for the martyrs of the Alamo. Mr. Brill was an expert casket maker, and he with his helpers constructed this walnut casket and in it they placed the five skulls and other bones which they believed to be those of leaders, because of metal insignia adjacent to these bones. This casket was buried twenty paces from the southeast corner of the Alamo. Until Mr. Brill's death in 1891, he kept the secret of the exact location, and at that time he confided to his son-in-law the above stated facts. It is likely that for some particular reason the location of this burial spot was kept a secret. Juan Seguin in after years deserted the Texas cause. He believed injustice and discrimination had been heaped upon him because of his nationality. He lived in Mexico after the year 1842. If Mr. Brill contributed no other service to the Republic of Texas, he should have a warm spot in the memory of all Texans. Mr. Brill received bounty certificate No.2952 for 1280 acres of land for having served in the Army of Texas from October 25 1835, to October 17, 1836. In 1842 he was a member of Captain Mathew Caldwell's company in the Battle of Salado Creek near San Antonio. Mr Brill married Hepsibah Day, daughter of Jonathan and Sarah Emery (Hembree) Day. He was a charter member of the Texas Veterans Association, on having attended the first meeting in Houston in 1873. Mrs James Damon of Seguin has a framed collection of his veteran badges and a certificate of membership signed by Moses Austin Bryan as secretary of the association when it was organized. In this same frame is a certificate of membership in the Texas Veterans' Association for Mrs Hepsibah Day Brill, wife of Solomon Brill. It is evident from this, that the wife of a veteran was also eligible for membership. Mr. Brill was born in Poughkeepsie New York, and had attended a medical school in New York. At the time of the epidemic of yellow fever in the early eighteen-thirty's, Mr..Brill volunteered to come, to New Orleans for service in the work against the terrible scourge. it was here that he not only gave his service as a physician but became an expert in the making of caskets. (This may also be a reason for his selection by Juan Seguin to make the casket for the martyrs of the Alamo.) New Orleans had so few to render aid to the dead and dying that those there learned to perform many different kinds of work. At New Orleans he enlisted with company who came out to help Texas fight for her independence. Mr. Brill and his wife are buried in marked graves, three miles east of Sequin, in sight of State Highway 3-A (renamed 90-A). There is a concrete wall which encloses the family burial grounds south of highway. This land was a part of the original grant to Solomon Brill and is still in the possession of his descendants. [Article in the files of the DAR Library at the Alamo in San Antonio]
The GuadalupeCo Tax Roll of 1846 lists: BRILL, S. W. Personal Property 31 head of cattle worth $155. Total Value $155, Poll Tax $1.00 State Tax $1.31 County Tax $00.61 1/2.
In 1847: 10 horses $100 each, 42 cattle $155 Total Value $1055; 1848: 2 horses $60, 50 cattle $200; 1851: One lot in Seguin.; 1852: 52 Acres and one lot in Seguin; 1854: 52 Acres 9 horses 1 wagon.
[Information contributed by descendant Utah Carroll Rogers]
---
BROCK. Caleb Brock was a partner with Caleb P. Alexander and Joseph and John McKean in the Tennessee-Texas Land Company contract to bring families from Tennessee to the DeWitt Colony in 1830. He is listed in DeWitt Colony land records as having arrived married with a family of 15 on 26 Feb 1830 and receiving title on 5 May 1831. The large family probably indicates that slaves were associated with the household. Survey records do not appear and records indicate the title or grant along with that of Caleb Alexander was "set aside by decree of court in 1843." According to testimony by John McKean in 1837, Alexander and Brock failed to fulfill their part of the contract.
---
BURNAM. William Owen Burnam was born 7 Nov 1813 in Duck River, Tennessee, the son of Jesse and Temperance Nalls Burnam. The Jesse Burnam family was one of the earliest Old 300 Austin colonists coming to Texas in 1821, first settling at Pecan Point and then Clear Creek. The family then moved to the Coles settlement and built the first house in the current town of Independence. The family subsequently moved across the Colorado River to LaGrange in FayetteCo. Jesse Burnam was born in Kentucky in 1792, an Indian fighter and veteran of the War of 1812. He owned a store and ran a ferry at the point where Houston's Republican Army crossed the Colorado on the way to San Jacinto. In 1854, Jesse Burnam filed a statement that Capt. William Patton under orders of Gen. Houston sank his ferry, burned his store and burned his residence which was a great distance from the line of march. Burnam valued his loss at $35000 and never forgave the act believing Houston ordered the destruction out of personal malice. Jesse Burnam had known children John Hickerson Burnam, Polly Burnam (m. William Townsend) and William Owen Burnam. A glimpse into his life and the conditions in early Texas is given in a truncated transcript of some of the experiences of Jesse Burnam.
William Owen Burnam participated in the Siege of Bexar in 1835 and the Grass Fight. He served from 1 Mar to 30 May 1836 in Capt. Heard's Infantry Company F, 1st Regiment at San Jacinto. A brother, John Hickerson Burnam, served in the same unit. William fought in the Battle of Plum Creek on 12 Aug 1840 and the Battle of Salado 18 Sep 1842. On 1 Aug 1838 in ColoradoCo, TX, Burnam married Caroline Zumwalt, a twin daughter of DeWitt Colonist, "Red" Adam Zumwalt. The family was listed in the 1850 census of GonzalesCo on the Guadalupe River as : Burnam, Wm., 35, m, $4,000 assets, Tenn; Burnam, Caraline, 30, f, Ky; Burnam, Sarah, 6, f, Texas; Burnam, Mary, 4, f, Texas; Burnam, John, 2, m, Texas. They had an additional daughter, Nancy Caton (m. George Cleveland). William Owen Burnam died 10 Mar 1874. According to Dixon and Kemp he and brother John died in Mexico.
---
CALLISON. Samuel Callison, the son of James Callison Sr., married a daughter of Robert Box, probably in Texas. Their children were: Louisa Isabella Callison (March 9, 1842 possibly Houston County - November 11, 1891 Sayers, Bexar County, Texas); Viney Callison; James Crockett Callison; and John Callison. James Callison traveling with the Robert Box family moved from Tennessee with his sons through Alabama, Mississippi and into Texas to Anderson County. James H. Callison died at Goliad under Colonel Fannin.
The immigrant ancestor of Samuel Callison was probably the Quaker, James Callison, who arrived in America about 1763-65. On August 5, 1765 a James Callison was received on certificate from Ballyhagen, Armah County, Ireland in a Quaker monthly meeting at Burlington, New Jersey. In 1766 James Callison was residing in August County, Virginia near relatives, James and Isabelle Callison. He received several grants of land in Greenbrier County, Virginia and about 1791 James Callison and his family moved to Grainger County, Tennessee where he obtained a tract of 600 acres. He died there in 1808. James was married twice, and his wife at the time of his death was Elizabeth Young, whom he married in Grainger County July 17, 1800. His will named his heirs as wife Elizabeth and children Anthony, Issac, James, Jesse, Samuel, Elisha, Abigail, Mary, Rebecca, Ann and Ruth. James Callison Jr. was administrator of the estate. James Callison Jr. married Anne Gillespie January 21, 1794; she died at an early age.
In 1840 Samuel Callison was living in Houston County where he had 300 acres under complete title and 4428 acres of land under survey based on a grant. He was listed on the roll of registered voters in Texas in 1846 and was living in Houston County. Samuel's wife died young, leaving him with four young children. He then married Martha Yarbrough, sister of Lucinda Yarbrough, circa 1845. Lucinda Yarbrough was the wife of John Andrew Box with whom the Callisons had traveled from Tennessee. The 1860 census listed Samuel as a farmer with 4500 acres of land in Gonzales County. Children of Samuel Callison and Martha Yarbrough were Martha, George, Robert, Franklin, Thomas, Mary, Nancy, Pate and Adam. On February 7, 1853 he received a claim for services rendered in Captain Anderson Bailey's Company in 1835 and 1836 amounting to $57.00. Samuel Callison received a bounty landgrant for 320 acres of land June 26, 1854 for service from November 5, 1835 to January 9, 1836. He also received a bounty warrant for 320 acres for service from April 1 to July 24, 1836. Little was known of Samuel Callison's life but he went to Texas, became a citizen and fought for the Republic. He was an example of the men that made Texas their home. Joyce Speer Moore (From The History of Gonzales County, Texas. Reprinted by permission of the Gonzales County Historical Commission).
---
CARDWELL. Crockett Cardwell, born January 20, 1812 near McAfee in Mercer County, Kentucky came to Texas in 1833 when he was 21 years of age and joined Green DeWitt's Colony. He married Ann Eliza White in Gonzales on April 16, 1846. They had two children; John William who died at eight years of age and Mary Evelyn who was born December 23, 1855 and later married Arthur Burns. Crockett's father, Major Jack Cardwell was of English stock and a Kentucky pioneer. He fought the British under Andrew Jackson at New Orleans in 1812. On July 13, 1846 Crockett Cardwell was elected to serve as one of the first DeWitt County commissioners. Cardwell owned and operated several general merchandise stores and is known as one of the earliest merchants in Texas. The locations of these stores were old Indianola, Port Lavaca, Halletsville, and the home store which was four miles north of Cuero. Cardwell purchased the home store property from Captain Daniel Boone Friar on September 28, 1849. This location maintained the Cardwell home, store, the first post office for the territory, a tavern, and the stage coach stop between Indianola and San Antonio. The ownership and operation of the store chain covered a long and interesting period in the life of Crockett Cardwell. He made regular trips to New York, Cincinnati and other eastern markets to buy goods. Cardwell saw a definite need for meat in the north and was fully aware of the abundance of cattle in South Texas. This supply/demand situation sparked a keen interest for Cardwell and he began his pursuit for a man who could help fulfill his entrepreneurial spirit. This man was Thornton Chisholm. On April 1, 1866, Chisholm and thirty men drove Cardwell's 1800 head of cattle north; thus the Chisholm Trail. Mrs. Carey James (From The History of DeWitt County, Texas. Reprinted by permission of Curtis Media Company)
---
JOHN CASTLEMAN. Massacre of the Traders at Castleman's on the San Marcos 1825.
---
CHISHOLM. Richard H. Chisholm. Richard A. Chisholm. Lourena Chisholm.
---
COE. Phillip Coe. Elizabeth Ann Parker. Sarah, Martha Ann, Jane, Philip Houston, Delilah, Eliza, Harriet, Georgiana, Gabriel H. Coe
---
COTTLE. Isaac, Jonathan Cottle, Almond, George Washington
---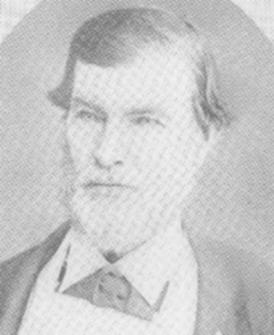 CUNNINGHAM. From Dixon and Kemp, The Heroes of San Jacinto. Leander Calvin Cunningham was born in the eastern part of Tennessee, July 10, 1810, youngest of the nine children of James and Margaret (Cunningham) Cunningham. The family moved to Alabama in 1815 and at Hanceville, Cullman County, Alabama, Leander C. Cunningham was admitted to the bar. He came to Texas in 1833, as is stated in the Headright Certificate issued to him by the Bastrop County Board, and settled at Bastrop, where he was one of the first, if not the first, practitioner of law. His father settled at Bastrop in 1837 and there the father died in 1844. Mr. Cunningham was a member of Captain Jesse Billingsley's Company of "Mina (Bastrop) Volunteers" at San Jacinto, and on June 6, 1838, he was issued Donation Certificate No. 293 for 640 acres of land for having participated in the battle. At the same time he received Bounty Certificate No. 3713 for 320 acres of land for having served in the army from March 1 to June 1, 1836.
After the revolution Mr. Cunningham engaged in the mercantile business. He later served three terms as county judge of Bastrop County. In 1860 he moved to Alleyton, Colorado County, where he engaged in the commission business. He purchased many Confederate bonds, and in consequence was wrecked financially. In 1866 he moved to Columbus. In 1874 he became the first agent at Waelder, Gonzales County, for the Southern Pacific Railroad, holding that position for fourteen years. Judge Cunningham was married in 1888 at Bastrop to Mrs. Ann (Sloan) Slaughter, widow of Mr. Slaughter and daughter of Bryan and Nan (King) Sloan. Mrs. Cunningham was born near Frankfort, Kentucky, and died at Waelder, June 19, 1895. Judge Cunningham died at the home of his daughter, Mrs. J. G. Walker, in Seguin, December 24, 1896. He was a member of the Texas Veteran's Association. His remains were shipped to Waelder and placed in the cemetery there by the side of those of his wife. Children of Judge and Mrs. Cunningham were Ann Dursilla, who died at the age of eight; James Louis, who was married to Henrietta Manlove; Andrew David, who was never married; Maria Caroline, who was married to Dr. J. G. Walker of Seguin; Harriett, who was married to Ibzan W. Middlebrook of Columbus; and Virginia Frances Cunningham who was married to Benjamin M. Baker of Columbus.
---
DALE. Elijah Valentine Dale was born in Jackson County, Georgia, February 14, 18O7. He arrived in Texas in February, 1836, and according to the information contained in Service Record No. 826 enrolled in Captain C. W. Vickery's Company at Matagorda, February 22, 1836, and was transferred to Captain William Wood's Company April 11th. Captain Vickery and most of his men of his company left Texas on their return to Mississippi March 3, 1836. This was the reason for Mr. Dale's transfer. Mr. Dale was issued Donation Certificate No. 3944 for 1230 acres of land for serving in the army from February 22, 1836, to July 9, 1837. In Service Record No. 7826 it is stated that when discharged he was a member of Captain David Y. Pyron's Company. He was issued Donation Certificate No. 1218 for 640 acres of and November 14, 1845, for having participated in the battle of San Jacinto. He received a Headright Certificate for one-third of a league of land from the Brazoria County Board of Land Commissioners in 1838.
Mr. Dale was a member of the Somervell Expedition in 1842 and as a soldier in the United States Army in the Mexican War. The following is a copy of a petition signed at Pleasanton, Texas, December 5, 1859, by Mr. Dale. The original is in the files of the Memorials and Petitions, Archives, Texas State Library, Austin:
"To the Hon Legislature of the State of Texas. The undersigned Your petitioner would state that he emigrated to this country in February 1836 since which time he has been a citizen of Texas. That he entered the Texas service in 1836 February under Captain Vickry and continued in the army of Texas; being present in the battle of San Jacinto; until the month of June or July, 1837, when he was discharged by the Sec of War Wm. S. Fisher. That he again in Sept 1839 entered the service under Col Neal and was discharged in December following. That he was again in the service in the famous Somerville Campaign in 1842. And again in 1846 went with the western regiment under Col. J. C. Hays and was present at the battle of Monterey Mexico. That he was a single man at the time of his emigration and as such received as his head right one third League of land. That he afterwards married in Texas and thinks he is entitled to an augmentation of his headright to a League and labor of land. Your petitioner would therefore humbly pray your Hon body to consider with kindness the justice of this his petition and if consistent with precedent and with the policy of our country grant to Your petitioner the desired relief and your petitioner as in duty bound will ever pray &c."
Mr. Dale was married to Jane Johnson at Seguin, Texas August 7, 1855. Mrs. Dale, born at Mount Healthy, Hamilton County, Ohio, August 3, 1821, died at Seguin, Texas, December 14, 1890. Mr. Dale died at Seguin June 17, 1896, while a member of the Texas Veterans Association. Children of Mr. and Mrs. Dale were Samuel, Lillie and Jarvis. From The Files of L.W. Kemp.
---
DARST. Richard Brownfield Darst. Robert and Eleanor Wiseman.
---
DAVIS. According to author John Henry Brown in History of Texas, Abner C. Davis was an early resident of DeWitt Colony. He enlisted in Capt. Sherman's Company on 27 Feb 1836 and fought in the Battle of San Jacinto in Capt. William Wood's Infantry Company A, 1st Regiment Volunteers. He died at Washington-on-the-Brazos soon after the battle. W.P. Smith was administrator of his estate from 12 Dec 1836.
According to L.W. Kemp's files on Veterans of San Jacinto, Davis died in Victoria while still on active duty in 1836. A daughter filed a petition in behalf of his estate:
"To the Honble. the Senate & House of Representatives of the State of Texas Your petitioner, Mary White, a citizen of Grayson County, Texas, (formerly of Tennessee) respectfully represents that her son Abner C. Davis went from Tennessee to Texas in January 1836 and in the month of February of the same year enlisted in the Texas Army to serve during the war -- That he was a member of Capt: Woods company -- was in the battle of San Jacinto; was taken sick in camp during the summer of 1836, and died at Victoria whilst in service. That in the year 1837 one Doct William P. Smith, at that time a citizen of Washington County Texas, obtained letters of administration on his estate and drew his (said Davis's) head right of 1/3 league and by order by the Probate Court of said Washington County sold the same, to pay a debt alleged to be due him by said Davis, for medical services rendered before his enlistment. That the appraisers of said Estate reported under oath, two hundred dollars as due from the Republic of Texas, to said Davis for services whilst in the Army -- and which amount nor any portion of the same was ever collected. That your petitioner, as sole heir to said estate, nor any other person, has ever received any other lands, either as bounty or donation--or pay of any kind for the services of said Davis. That said Abner had a horse which she has reason to believe was used in the service. That according to the Laws and usages of Texas, the heirs of said Davis are entitled, in addition to the head right of 1/3 league Bounty and donation land, and also pay for his services. That a Bill for Bounty and donation is now before the Legislature, and she prays your honorable Body, for a Bill granting pay, in land or money, to such amount as in your judgment may be due for service, and as in duty bound she will ever &c."
---
DAVIS. Daniel Davis. George Washington Davis.
---
DENNIS. Thomas Mason Dennis was a private in Capt. Billingsley's Infantry Company C, 1st Regiment at the Battle of San Jacinto and is thought to have lived in the DeWitt Colony region at some time after the battle. He was born in Georgia in 1808 and arrived in Texas in 1835. He was county clerk of MatagordaCo in 1840. According to files of L.W. Kemp:
.....his home in 1860 was in Gonzales County. He moved to the town of Rockport in 1871 and later to Karnes County. Mr. Dennis died in Gonzales County in October 1877 while visiting relatives there. His will signed October 12, 1877 was opened for probate in Karnes County November 6, 1877. He left his property to his brother Pollard M. Dennis of Monroe County, Alabama, and to the heirs of his deceased sister, Leacy L. Mangum of Gonzales County. Some of the heirs were Francis C. Passmore, Joseph M. Mangum and Mary J. Beasley."
---
DICKINSON. Dr. Samuel Burling Dickinson was a resident of DeWitt County sometime in the Republic years prior to 1842. He was a descendant of John Howland and Elizabeth Tilley came over on the Mayflower, born in central New York State and educated as a medical doctor there at Fairfield University. His predominantly Quaker family had resided at Oyster Bay on Long Island for nearly 200 years. In search of adventure as a young man, he came all the way down the Mississippi from New York State to the Fayette county area of Mississippi in the early 1830's to practice medicine among the planter gentry in that region. At 6 feet 3 inches tall, he met his bride, Caroline Kinnison, who was only 4 feet 10 inche, the daughter of a plantation owner who had settled there during Spanish rule.. Dr. Sam resided in the vicinity of the Homochitto River near Natchez when he encountered the widely reported passions of the Texians in the Mississippi Valley. Free Texas land was advertised in handbills for those who would serve the revolution. Though his young wife was with child in 1835, he signed onto a schooner at New Orleans headed to Texas to offer his services to the cause of Texian independence. The letter that he penned aboard the schooner Lively was reminiscent of his ancestors compact concerning their intentions in the new world.

Upon arrival at Brazoria, Dr. Sam met with Stephen F. Austin, William Wharton and Branch Archer who decided to send him and a Mr. J.M. Wolfe back east to raise funds for the independence effort. Dickinson was apparently the secretary of the group, and was one of the first medical doctors to reach Velasco in December 1835. Dr. Sam met with Austin in Philadelphia and perhaps again in New York. He is believed to have recruited men for Fannin's army in New Orleans and brought them back to Texas to fight signing a pact with them on board ship to fight for the Republic. It is unclear how successful he was as a fundraiser, but in early 1836 he was granted a parcel of land in Brazoria. However, he moved to the southern Dewitt colony/Lavaca county area between old Clinton on the Guadalupe River and Sweet Home/Hallettsville. When the Native war whoop came down the Guadalupe Valley in 1842 and with the threat of a new Mexican invasion, he took Caroline and his family to Austin County where he bought 400 acres of land from Jared Groce near Hempstead. He soon pulled up stakes and moved to east Texas at Marshall where he bought land and helped found the First Methodist Church. He hired attorney Isaac Van Zandt to try to recover his promised expenses from Texas for his fundraising travels back east. H may have gotten some compensation ($300) about 1856 from the State. After returning to DeWitt County in about 1847, he lived around Sweet Home and Hallettsville into the late 1850's when he purchased a ranch between Terryville and Yoakum. He was a circuit rider preacher and may have run for political office in the late 1850's. Dr. Sam died about 1881 and was buried at the Hebron cemetery at old Terryville. His wife, Caroline, lived until 1926 and being the oldest person in Texas when she died at age 107 and was buried at the County Line Cemetery (north of Terryville) on land donated by the Dickinsons. The old Dickinson ranch immediately east of the County Line cemetery was still owned by the Dickinson family in the mid 1990's. The Dickinsons had more than 10 children and left many descendants. At Terryville, the Goodes, Hargroves, Greenes, Davises and many other old families were among kinfolk and friends. Dr. Sam's son, Preston buried at Hebron served in the Confederate service at Fort Esperanza south of Port Lavaca and then moved to action in Galveston when the Yankees advanced up the coast. He contracted pneumonia and lasted only a couple of years after the war. Information from Jim Skelton, 2nd greatgrandson of Preston Dickinson.
---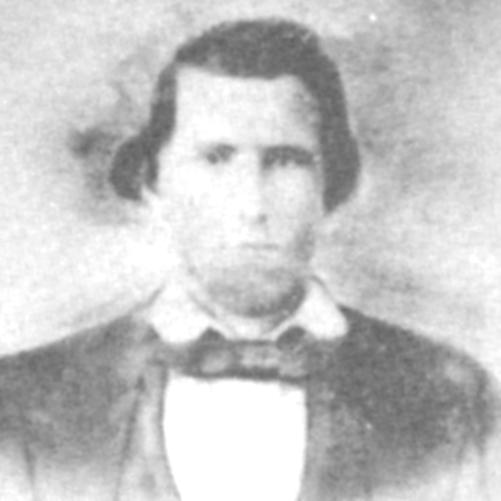 DIKES. Miles G. Dikes arrived single in the DeWitt Colony on 28 Dec 1829 according to land records and received a quarter sitio in northern Caldwell County on Plum Creek adjacent to the Byrd Lockhart league on which the town of Lockhart was later built Miles G. Dikes born in Georgia in 1804 was the son of George Parker Dikes and Judy Beauchamp and the grandson of Stephen Dikes and Betty Parker, natives of Maryland. He came to Texas December 28, 1829 as one of DeWitt's colonists and received a land grant in what was later Caldwell County but settled in the township of Gonzales. In 1839 Miles Dikes married Eaditha Hodges in Gonzales. In 1846 Eaditha Dikes' father James Hodges deeded six hundred acres of land as a wedding present to her. In 1848 she sold the land and bought 592 acres south of the Guadalupe River. A portion of this land was still owned by the family in 1984. In 1974 the Dikes heirs were honored as one of the Texas Land Heritage families who for a century or more had continuous ownership and operation of the land as a family enterprise. Miles and Eaditha Hodges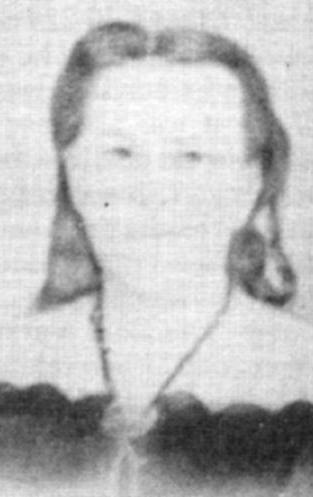 Dikes were the parents of two sons, Lovic and James Wesley. Lovic died in 1859 at age nineteen while a student in the Gonzales College. James Wesley Dikes married Nancy Cleveland in 1859 in Gonzales. She was the daughter of Colonel Larkin Cleveland and his wife Catherine who were Mississippians. To them were born three sons, James, Samuel and Benjamin Larkin who was born September 25, 1864. In Gonzales February 17, 1892 Benjamin Dikes married Sarah Frances Hunt, daughter of James Monroe Hunt and Martha Ann Wells. To them were born nine children: James, Eunice, Edith, Earl, Lillian, Lindsey, Ruth, Beatrice and Corinne. Located on the Dikes estate near the town of Cost was the Dikes Cemetery. It was established in the 1850's by Miles Dikes and spanned five and possibly six generations. It was situated just south of the historic spot where the first shot for Texas independence was fired October 2, 1835. In 1970 the Texas Historical Commission granted an historical marker for the cemetery. It was still in use in 1984 with twenty-four marked graves, a serene and beautiful site overlooking the Guadalupe River valley. In 1853 Miles Dikes sold 320 acres of land in Comal County. In the deed he reserved the mineral rights and since that was before the discovery of oil, it was assumed that there were prospects of gold or silver. In 1968 Shell Oil Company began investigating titles in that area, discovered the deed and as a result the oil company leased the mineral rights from the Dikes heirs. Through the Dikeses, Parkers, Beauchamps, Dixons and other related families, their ancestry has been traced back to the revolution and colonial period and thus to England and the Magna Charta era of 1215 and then back to the European continent and the year 747. Beatrice Dikes Smith (From The History of Gonzales County, Texas. Reprinted by permission of the Gonzales County Historical Commission).
According to Dikes descendant, Jan Romaine, Miles G. Dikes had a brother Mark Washington Dikes, born 10 Mar 1812 in FranklinCo, AL, died 10 Feb 1892, and was on the on the 1850 census of WashingtonCo, TX, buried in Salt Creek Cemetery, BrownCo., TX.. According to Stephen F. Austin's Register of Families, their father George Parker Dikes and another brother, Lovick Pinkham Dikes, who moved to Texas in Mar 1831. Archives of the General Land Office of Texas indicate that Levi B. (another brother) obtained property in the Vehlein Colony, PolkCo, Texas in 1835. Mark Washington Dikes is believed to have arrived in the DeWitt Colony from Alabama in 1830.
---
DOOLITTLE. Beriah (Berry) Doolittle was born about 1809 in MadisonCo, New York and emigrated to Texas in 1834. According to records of L.W. Kemp, Berry was five feet eight inches in height, dark complexion, dark eyes and brown hair and a clothier by trade. A Land Bounty Certificate stated Berry Doolittle served faithfully and honorably in the Army of the Republic of Texas for the term of 3 months from the 1st day of March 1836 until the 13th day of May 1836 and received an Honorable Discharge. Berry Doolittle married Susannah Blair, daughter of George Blair and Sarah Lockhart, the daughter of Byrd and Sarah Lockhart. They had children George William (m. Mary E. Hume, daughter of Charles and Sarah Hume), Amanda Matilda (m. Samuel Stevens, son of Odediah and Mary C. Stevens) and Mary Jane (m. Albert W. Darst, son of Richard Brownfield Darst and Margaret Elizabeth Hodges). Berry Doolittle is thought to be buried near Lockhart in Caldwell County.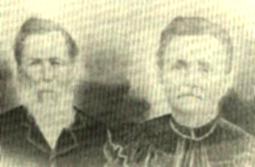 (Photo: Amanda Matilda Doolittle and Samuel Stevens, provided by Nancy Stevens Page) Berry Doolittle died in 1846 in DewittCo. On 12 Nov 1866 the heirs of Berry Doolittle received, by an Act by the Legislature of the State of Texas through the State Department, one league and one labor of land. Witnesses who testified on the behalf of Berry Doolittle were John M.Swisher, Alfred Kelso and Mrs. Margaret Barton. Berry Doolittle served in the 1st Regiment of Texian Volunteers, Company H under Capt. William Hill at San Jacinto. On 17 Aug 1849, he was issued bounty certificate no. 539 for 320 acres by John D. Pitts, adjutant general, for service. The tract was surveyed by George B. Erath and described as "48 miles about the forks of Little River." Information provided by descendants Julie & Kenny Karm.
According to Chamblee researcher D'Ann Stoddard, Amanda Matilda Doolittle is listed in the 1860 census of GonzalesCo, TX with Sanford H. Chamblee whom she married in Gonzales, 2 May 1860. Sanford H. Chamblee had children with Susan Masters of DeKalbCo, AL and after the marriage with Amanda, Sanford went on to marry Martha C. Bond and live in San AugustineCo, TX where he appears in regional records. The reason for the split with Sanford Chamblee and union with Samuel Stevens is unclear.
---
EDGAR. Joseph Smith Edgar enlisted in Capt. Peyton Splane's Company on 26 Feb 1836 and served in Capt. Robert Calder's Infantry Company K, 1st Regiment Texas Volunteers, at the Battle of San Jacinto and through 26 May 1836. He was born in Maury County, Tennessee, the son of James and Selah Witherington Edgar, and came to Texas in 1835, later followed by his parents and 8 brothers and sisters. According to Dixon and Kemp in Heroes of San Jacinto he died in 1837 at the home of Capt. James G. Swisher in Washington County, TX.
James Edgar was born September 10, 1790. He married Selah Witherington and they had nine sons and one daughter. The children were all born in Tennessee. Their first born was Joseph Smith Edgar, who was the first of the family to come to Texas at the age of nineteen. He was in the Battle of San Jacinto but died before he had located his colonization land grant of a third of a league of land. He died in 1836. James and Selah's second son, John Edgar who was born in 1820, came to Texas about 1850 to clear his brothers grant, which was located in northeastern DeWitt County. John was married three times. His first wife was Molly Brown, second was the widow Knox, and the third was the widow Ellen DeLooch. The widow Knox was a Culpepper by birth. She had a son, Thad, that John Edgar raised. John Edgar died on September 12, 1906 and is buried in the Edgar family cemetery. His first wife, Molly, is also buried in the family cemetery. Henry B. Edgar was born in December of 1821. He married Alice Morton and they had two daughters, Jane and Bammy. Henry B. then married the widow Jane (Brown) Davis. Their children were: Henry B., Eliza, Sarah, Kate, Kitty and John L. Edgar. Henry B. Edgar died July 22, 1908 and is buried in Hillside Cemetery in Cuero. Hyman Edgar was a veteran of the Civil War having served with Captain M.G. Jacobs in the Concrete Home Guard. He married Amanda Thorpe and they had six children: Paul, Perry, Thalia, Annretta, Kate, and Bertie Edgar. Arthur "Art" Edgar was the fifth child of James and Selah Edgar. He married Harriett Brown and their children were Perry and Lee Edgar. William Edgar was born 1824 and died in 1882. He had one son, William E. Edgar. William Edgar is buried in the Edgar family cemetery. James D. Edgar was born in 1826 and died in 1912. He married Martha Jane Hadley who was born in 1834 and died in 1910. They had two sons, Joseph Smith Edgar and Christopher "Kit" Edgar. James and Martha are buried in Hillside Cemetery in Cuero. B.F.W. Edgar II, who was born in 1901. Benjamin Franklin W. Edgar was a member of Company H., Texas State Troops, during the Civil War. Joshua Edgar married Martha Washington Woodward and they had two children: Joshua and Caledonia. Joshua and Martha are buried in the Edgar family cemetery but have no dates on their tombstones. Palina, the only daughter of James and Selah Edgar married Robert P. Carr, Civil War veteran under Captain M.G. Jacobs of the Concrete Home Guard. Palina and Robert had a son named Wesley Carl, and another son and daughter. James Edgar died April 29, 1869 and Selah Edgar died April 23, 1873. They are both buried in the Edgar family cemetery on property that is still in the Edgar family in 1990. There was also, a small community between Cuero and Yoakum, Texas which was named Edgar for the family. Patsy Goebel (From The History of DeWitt County, Texas. Reprinted by permission of Curtis Media Company)
---
FENNEL. According to Lewis and Kemp in Heroes of San Jacinto, George Fennell "arrived at Velasco December 20, 1835 as a member of Captain W. A. O. Wadsworth's Company of "Columbus Volunteers" of the Georgia Battalion. On page 6 of the army muster rolls at the General Land Office Mr. Fennell (Misspelled "Tennell") is shown as having deserted from Captain Wadsworth's Company. He enlisted in Captain William S. Fisher's Company of "Velasco Blues" and served in Capt. William S. Fisher's Company I, 1st Regiment at San Jacinto. In the 1932 edition of "Heroes," its is said that he moved to BrazoriaCo after the battle until Aug 1840. By 4 Nov 1854 he and wife Sarah Ross Fennel were in DeWittCo where they sold land in BrazoriaCo to Thomas K. Davis. However, in a later biography, author Kemp says that "Mr. Fennell probably left Texas shortly after receiving his discharge from the army since he did not apply for a headright or for the donation land due him for having participated in the battle of San Jacinto. Bounty Certificate No. 3963 for 320 acres of land was issued in his name for his services from March 16 to June 16, 1836 but it had previously been assigned to B. Clark." According to historian Ronald Howard Livingston, Thomas Kinchloe Davis lived in Brazoria County as did his brother-in-law, early Brazoria County settler George Tennille. It is possible that George Tennille was mistaken due to the similar spelling as San Jacinto veteran George Fennel or vice-versa. George Tennille moved from Brazoria County to DeWitt County and his son also named George was killed in the Sutton-Taylor feud.
---
FERRELL. John P. Ferrell was was a veteran of San Jacinto having served in Capt. Isaac N. Moreland's Company of the Regular Artillery Corp and is said to have been a resident of the DeWitt Colony at one time prior to the battle. He was born in Tennessee in 1819 and came to Texas in 1835. He enlisted at Nacogdoches 14 Jan 1836 and received land bounty for service by the WashingtonCo land commissioners. In 1873, Ferrell was living in Middleton Springs, BastropCo, died in AustinCo 1892 and is buried in the Thomas Cochran Cemetery near Buckhorn. He was issued a Headright Certificate on June 7, 1838 by the Washington County Board for one-third of a league of land. The certificate stated that he came to Texas in January 1836. On October 3, 1838 he was issued Donation Certificate No. 565 for 640 acres of land for participation in the Battle of San Jacinto. The records say he was in the army from February 27 to June 4, 1836. Ferrell was a member of the Texas Veterans Association. In 1874 he was in McDade, BastropCo. He died in AustinCo in 1892 and was buried in the Thomas Cochran cemetery near Buckhorn. He was a member of the Hubert Masonic Lodge No. 67, Chapel Hill, Texas in 1855 and 1856.
---
FLORES. A loyal Hispanic Texian from start to finish of the breech with the central Mexican government, Manuel Flores (abt 1808-1868) was born in San Antonio of parents José Antonio Flores de Abrego and María Antonia Rodríguez. A widower, he married María Josefa Courbiere in 1835. He was a member of the volunteer company under his brother-in-law, Juan N. Seguín, beginning with the Siege and Battle of Bexar in late 1835. At San Jacinto, Flores was first sargeant in Seguin's company and fought in the battle. In 1838 Flores established a ranch on the south side of the Guadalupe River across from Seguin, Texas, he joined the defense of San Antonio after the Vasquez invasion in the spring of 1842. In 1853 he moved to Atascosa County and established a ranch there where his wife died soon after. He married in 1858 Margarita Garza. Flores was a Mason in Alamo Lodge No. 44 and died on December 3, 1868. Flores is sometimes confused with the Mexican agent of the same name originally from Natchitoches, Louisiana who fought actively against the independence of Texas until his death at San Gabriels in 1839.
---
FOLEY. George Foley. Washington Green Lee Foley.
---
GILLEN. Michael Gillen is thought to have arrived in the DeWitt Colony with which were part of the Tennessee-Texas Land Company contract which included many other prominent DeWitt Colonists, several of which received neighboring land grants. Land grant records suggest that he arrived on 20 Feb 1831 received title on 22 Jun 1831 to a league on the San Marcos River between Almeron Dickinson and John Henry in current CaldwellCo. Gillen was born in Tennessee although some census records state he was born in Louisiana. He moved to LibertyCo in 1831 and then moved to St. Landry, Calcasieu Parish, Louisiana. Family bible records indicate that Gillen married a Martha Tarkington, his second wife and that they had seven children. Census records show nine children which may include those from his first wife. Gillen is listed in the 1830 census of TiptonCo, Tennessee with 1 male under 5, 1 male 5-10, 1 male 20-30, 1 female 5-10 and 1 female 20-30 in the family. The 1840 census of Calcasieu Parish, Louisiana, pg.76, lists Michael Gillen with 1 male under 5, 1 male 30-40 and 1 female 20-30 in the family. The 1850 census from the same Parish (pg. 373, dwelling 115, family 132 lists Micael Gilen 44, Planter, $200, born TN; Martha 35, born IN; Micael 11 born LA; Elisabeth 9 born LA; Celena 7 born LA; Jesse 5 born LA; Joseph 2 born LA. In the 1860 census CalcasieuPr. (P.O. Augusta, Sabine Pass, TX, dwelling 329, family 348) is listed Gillen, Michel 53, blacksmith with assets $1000; Martha 45; Elizabeth 19, Spinner; Salina 17, cook; Jessie 14; Charlotte 9; Rebecca 7; John 5, Martha 3. [Contributed in part by Opsie Burwell]
---
GOOD(E). Isham J. Goode and family are listed in the 1850 census of CaldwellCo: GOOD: Isham J. 36 m GA; Malissa 38 f SC; John H. 11 m TX; Martha Ann 9 f TX; William 8 m TX; Isham J. 6 m TX; BENNETT: C.D. 35 m NY. According to Harbert Davenport's Notes from an Unfinished Study of Fannin and his Men & Appendix: The Goliad Men, Good served in Capt. Wadsworth's company at Goliad and probably was with Capt. Ward at or on the way to Refugio, but somehow escaped capture and execution:
Isham J. Good was returned "AWOL" on Captain Wadsworth's muster roll, but was honorably discharged by Mirabeau B. Lamar, Secretary of War, on May 17, 1836, in consideration of "fidelity and valor" and "also the extreme sufferings which he has had to encounter in the service of Texas." He was eventually paid for his services from Dec. 23, 1835 to May 23, 1836 with no explanation of the "AWOL." He became an influential and respected citizen of Texas. [CMSR, No. 7606.] In December, 1851, he was a resident of Caldwell county, and made affidavit at Lockhart, on Dec. 15th, as to James H. Neeley's long residence in Texas and service in 1835 and 1836. [MDS, No. 34, File Box 69.] He was probably one of those who separated from Ward's command on the Guadalupe, and, in consequence, escaped.
Isham Good's homeplace was mentioned in eyewitness accounts as an assembly point for The Battle of Plum Creek in 1840. He received 1280 acres land bounty for service from 23 Dec 1835 to 11 May 1836 which was in ThrockmortonCo and patented to G.W. Gutshaw.
---
Next page 2 Surnames A-G
---
SONS OF DEWITT COLONY TEXAS
© 1997-2014, Wallace L. McKeehan, All Rights Reserved.