SONS OF DEWITT COLONY TEXAS
©1997-2012, Wallace L. McKeehan, All Rights Reserved

Alamo Defenders-Index
The DeWitt Colony Alamo Defenders
Gonzales Rangers A-E F-K L-Z
Surviving Couriers & Foragers
Alamo Widows & Mothers
Members of the Alamo Garrison
The following DeWitt Colonists died defending the Alamo, were in the garrison when it became under siege, and died there with their colleagues from the Gonzales Alamo Relief Force which forced its way into the garrison through surrounding Mexican lines.
---
Daniel Bourne, 26, born in 1810 in England, a resident of Gonzales and Private artilleryman in Capt. Carey's Company. Bourne and two brothers came to America from England and Daniel went on to the DeWitt Colony. He was in Capt. Parrott's artillery company and remained in Bexar in service of the company.
---
George Brown, 35, born 1801 in England, a resident of Gonzales and Private rifleman in the Alamo garrison. He came to TX from Yazoo, YazooCo, MS.
---
Jerry C. Day, 20, born 1816 in Missouri, was a Gonzales resident and Private rifleman in the Alamo garrison. He was the son of Jeremiah Day, a wagoner for the Texas army between 1836-1838 who signed the Goliad Declaration of Independence 20 Dec 1835. Son Jerry C. Day is referred to as Jeremiah C. Day in some records. Day participated in the Siege and Battle of Bexar in Dec 1835, was discharged from the service on 14 Jan 1836, but re-enlisted and joined the Alamo garrison. Service bounty of 320 acres was approved for his heirs 15 Oct 1845.
---
Almaron Dickinson (Dickerson) came to Texas from Tennessee. His exact birthplace and date are uncertain, one source says Pennsylvania, another Tennessee. Some sources list him as 26 when he died in the Alamo, others as 28 and still others as 36. He is said by one source to have been 21 when he married in TN in 1829. He was likely born between 1800 and 1810. Dickinson was a blacksmith, Mason and resident of Gonzales and artilleryman in the Alamo garrison. He and wife Susannah Wilkerson arrived in the DeWitt Colony in 1831 and received a league of land on the east bank of the San Marcos River below the Old Bexar Road in CaldwellCo on Callihan Creek, east of Plum Creek and current Lockhart town. The Dickinsons are thought to have arrived with a party which were part of the Tennessee-Texas Land Company contract which included many other prominent DeWitt Colonists, several of which received neighboring land grants. Dickinson also acquired property in inner Gonzales town in 1834 where he set up his blacksmith shop and went into partnership with George C. Kimble in a hat factory. Almeron Dickinson was among the 27 Gonzales men under Bart McClure who responded to an attack by Indians on traders at the Castleman place 15 miles west of Gonzales. Dickerson was among the original 18 defenders of the Gonzales cannon and was in charge of the cannon during the confrontation. In a letter of 4 Nov 1835 to Stephen F. Austin, Launcelot Smither describes a disturbing invasion and vandalism of the Dickinson home by volunteer troops in Gonzales preparing for the march to Bexar while Mrs. Susannah Dickinson was present. Dickinson was an aide to General Edward Burleson during the Siege of Bexar in early Dec 1835. After the battle his family joined him in Bexar where they set up residence in the Musquiz house on the southwest corner of Portero Street and the Main Plaza. The association and other records indicate that the Dickinsons were close friends of brothers Ramon and Francisco de Castenada Musquiz early on before they moved to San Antonio, possibly through their common bond as Masons and in actions aimed at obtaining artillery and other defense support for Gonzales and the DeWitt Colony.
Signed business records give insight into Dickinson's affairs in Gonzales and suggest that he was in the town in Dec 1835:
"One day after date I promise to pay John Hudson the sume of Forty three dollars and Eighty seven and one half cents for value received as witness my hand and seale this, the 3rd of August 1829." Another reads "One day after date I promise to pay J.C. & W. McKean one hundred and four dollars for value received. Witness my hand and sela this 15th day Decr 1834." Another says "On demand I promise to pay Malkijah Williams Twelve dollars and fifty cents for value received of him this the 10th day of August 1835." Another note read "One day after date I promise to pay Stephen Smith or bearer forty one Dollars & 30 Cents for value recd. Gonzales December 27 1835."
The Dickinsons while in the Musquiz home hospitably entertained guests and boarders, a tradition which Mrs. Dickinson maintained in later years both as a widow and with subsequent spouses. The Musquiz home with the Dickinsons as extended residents was obviously a meeting place for those concerned with the troubles with the central government of Mexico. Dr. John Sutherland, Davy Crockett and David Cummings were boarders at the Musquiz-Dickinson residence. When Mexican troops arrived in San Antonio on 23 Feb 1836, Dickinson moved the family into the Alamo from the Musquiz house. Alamo commander Travis' letter to Gen. Houston of 25 Feb 1836 says "Lieutenant Simmons of cavalry acting as infantry, and Captains Carey, Dickinson and Blair of the artillery, rendered essential service..." since the Alamo garrison came under siege on the 23rd of Feb. Lt. Dickinson's main role in the defense was thought to be with servicing and firing the 12 pound cannon during the siege. According to his surviving widow Susannah Dickinson who was present during the siege, near the end, Lt. Dickinson rushed into the chapel where she was hiding saying "Great God, Sue! The Mexicans are inside our walls! All is lost! If they spare you, love our child," he kissed Susannah and returned to the battle where he died and his body was burned with the rest of the defenders. Some reports suggest that he left his Masonic apron with Susannah and instructed her to display it appropriately if it would aid her survival.
---
Andrew Duvalt/Duvault, 32, born 1804 in Ireland, was a resident of Gonzales and Private rifleman in Capt. White's infantry company. He came to TX from Missouri, joined the service on 28 Oct 1835, participated in the Siege of Bexar and became an infantryman in the Bexar Guards. He was in Gonzales after 2 Feb 1836 and enrolled during the muster of the Gonzales Rangers in Feb 1836. Whether he returned to the Alamo prior to entry of the Gonzales relief force or accompanied them to the Alamo is uncertain. Duvalt is not listed on the Gonzales memorial among the immortal 32, but as a Gonzales resident who died there. In 1854 his heirs received 320 acres bounty land for service.
---
John Harris, 23, born 1813 in KY, a resident of Gonzales and Private rifleman in the Gonzales Rangers. John participated in the Siege of Bexar, received 640 acre bounty for the service and was a member of the Bexar Guards. He was at home in Gonzales when the Alamo was surrounded and was mustered into the Rangers on 23 Feb 1836. Similar to Duvalt, it is unclear whether he entered the Alamo with the Gonzales relief force or returned to the Alamo separately. He is listed in Citizens of the Republic of Texas as born 1813 in TN and the son of Sidon J. Harris. In Alamo Legacy, author Ron Jackson relates a family legend from a descendant of Siden B. Harris that says that Sideon B. Harris was an uncle of Alamo Defender John Harris. In this account, Harris was a cousin of Davy Crockett who came to Texas with him as a member of the Tennessee Mounted Volunteers.
---
William J. Lightfoot, is most commonly listed in Alamo biographies as 25, born 1811 in VA, a resident of Gonzales and 3rd Corporal in Capt. Carey's artillery. He participated in the Siege of Bexar in the same unit. A Lightfoot was listed as 3rd Corporal on the roster of the Alamo garrison under Lt. Col. James Clinton Neill before he left the Alamo command on 14 Feb 1836. Some sources erroneously suggest that Lightfoot was the son of Elijah and Rebecca Ligon Lightfoot. According to Joe Lee (HCR 62, Box 14, Evant, TX 76525), Elijah Lightfoot was born 28 Oct 1810, married Rebecca Ligon on 11 Oct 1831 and died in Pittsburg,Tex on 12 July 1891. Lightfoot researchers suspect that William J. Lightfoot and John William Lightfoot are the same person and a brother of brothers William Webster, Wilson T. and Henry L. Lightfoot who served in the Texas Revolution including the Battle of San Jacinto. Wilson T. Lightfoot was the executor of Alamo Defender William Lightfoot's estate. Brothers John William and Wilson T. Lightfoot were in Austins second colony in current Bastrop County in 1830 while their brother Elijah came to Texas much later. According to descendant Cynthia Orth, family bible record indicates that John William Lightfoot was born 8 Sep 1805. His parents, father named Henry Taylor Lightfoot, were in Washington or MercerCo, KY at the time. Wilson T. Lightfoot married Sara Scott in Ft. BendCo, TX in 1840. His widow married David Welch Brydson/Bryson 29 Jan 1852 and eventually moved to WashingtonCo. TX.
---
James McGee, born in Ireland and a Private rifleman in Capt. Blazeby's Company of the Alamo garrison is claimed as a resident of Gonzales in some records. He came to TX from New Orleans as a part of the New Orleans Greys. He took part in the Siege of Bexar under Capt. Blazeby where he was wounded.
---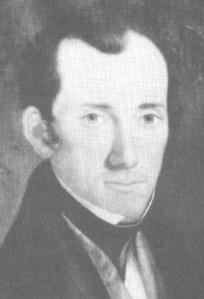 Amos Pollard, 32, born 29 Oct 1803 in Ashburnham, WorcesterCo, MA, was regimental surgeon for the Alamo garrison and commanded medical staff comprised of Dr. John W. Thompson, Dr. Edward F. Mitchison, Dr. William D. Howell, Dr. John Purdy Reynolds and medical student William Depriest Sutherland. Pollard was son of Jonas and Martha Martin Westminster Pollard. He received early schooling in Surrey, CheshireCo, NH and received his medical training at the Vermont Academy in Castletown, VT in 1825. He lived and practiced in Greenbush, NY and practiced 1828-1834 in Manhattan. He married Fanny Oeela and they had a daughter. He came to TX about 1834. He was appointed Surgeon of the Texas Army by Stephen F. Austin on 23 Oct 1835. He was at the Siege of Bexar caring for sick and wounded and was surgeon on the staff of Col. Neill thereafter. He is claimed in Gonzales histories as a resident and listed on the 1936 memorial to Alamo heroes in Gonzales. Some histories list him among the Gonzales relief force which entered the besieged Alamo. More recent evidence deduced from diverse period diaries and court records by researcher Ronald H. Livingston suggest Pollard came to Texas in 1833, received a land grant and was a resident of of the Municipality of Columbia in current Brazoria County prior to his military service.
---
Marcus E. Sewell, 31, born in England in 1805, a shoemaker, resident of Gonzales and Private rifleman in the Gonzales Rangers. It is believed he entered the Alamo on 1 Mar 1836 as part of the relief force, although he may have been in the garrison before the beginning of the siege. Sewell is not listed among the original immortal 32 on the memorial to the Gonzales relief force, but is listed among Gonzales residents who died in the Alamo. See Who Was Marcus Sewell by Frances Trimble.
---
William DePriest Sutherland, 17, was born 10 Aug 1818. Some records indicate he was born in Alabama where he is thought to have lived with his uncle in Tuscumbia after his parents left for Texas in 1830. However, according to researcher Don Ricketts of Danville, VA, he was born in AndersonCo, Tennessee (near Knoxville) where his grandfather John Sutherland operated a ferry over the Clinch River. This John was one of the first Trustees for the Town of Danville, Virginia. During the 1820's some of the family moved to Alabama and then to Texas. William DePriest Sutherland was named for Mary DePriest Sutherlin (frequently spelled this way in Virginia). Mary and her husband George Sutherlin came from GoochlandCo and settled here in what is now the City of Danville, Virginia in 1759. William DePriest had a second cousin there, Maj. William T. Sutherlin (b. 1822) who hosted the Confederate Cabinet in April of 1865. The building is now the Danville Museum of Fine Arts and History and is considered the Last Capitol of the Confederacy.
Sutherland was in Texas by 1835. He was a private in the Alamo garrison and died there. Although a resident of the Navidad River in current JacksonCo and not within the DeWitt Colony per se, because of proximity he and the Sutherland family interacted more with DeWitt Colonists and its main settlement Gonzales than the Austin Colony settlements at San Felipe and near the coast. William was the son of George and Frances Menefree Sutherland and nephew of John Sutherland, who was a courier and surgeon for the Alamo garrison. William Sutherland is thought to have joined his relatives in Texas after attending LaGrange College in Tuscumbia, AL where he remained after his parents left for Texas. He and his father attended the meeting at Millican's Gin on 17 Jul 1835 which called for resistance to the dictatorship of Santa Anna. William Sutherland's mother, Frances Menefee Sutherland, expressed her grief over sons death in a letter of 5 Jun 1836 to her sister Sarah Norment in Tennessee.
---
Alamo Defenders-Index
SONS OF DEWITT COLONY TEXAS
© 1997-2012, Wallace L. McKeehan, All Rights Reserved