SONS OF DEWITT COLONY TEXAS
© 1997-2008, Wallace L. McKeehan, All Rights Reserved.
The Smeathers/Smothers Families of DeWitt Colony and The Free State of Lavaca
See also "When the Dust Settled on the Patriarch's House"
SMEATHERS/SMOTHERS. William (I), John (I), Archibald(I), William (II), John (II), Archibald (II). The Smothers family was originally Smeathers indicated by signatures of literate members of the original family, although the spelling Smethers, Smithers and Smothers appears in some documents and then as Smothers in most later records in Texas. The spelling Smothers apparently became general after its use associated with grandson of William Smeathers, John B. Smothers (II) about the time of his marriage to Mary Hinch. It seems gradually adopted over time among the grandchildren and their descendants and became general in subsequent genealogical records, historic archives and markers both in Texas and back in Kentucky.
William Smeathers was probably among the very first of the "Old 300" who arrived with Stephen F. Austin in San Antonio in 1821. Some descendant accounts say that Smeathers visited Galveston Island in the early 1810's and in 1821 was with Austin and his men who visited the coast of Texas and located the sites for Austin's first colony. He was involved in the establishment of Fort Bend on the Brazos River while Austin returned to Natchitoches to meet his first colonists. Austin Colony records list his occupation as "Deerslayer," he voted in the election in 20 Apr 1824 when Baron de Bastrop was elected as Austin's deputy and land commissioner for the Austin Colony.
He is mentioned in a letter from John Botts from New Orleans 15 Dec 1824 to Stephen F. Austin, which states "Dear Sir I have Ritten before I Left home and about Mr. William Smethers I have sent him a Knife to Cut his throat if he Denies me Sending him the horse and you will be so Good as to Get the horse for setling my Improvement I will send out some Person or you must have it Rented out.........."
In a petition of 7 Jul 1824 to Austin Colony Land Commissioner Baron De Bastrop in San Felipe, William Smeathers states:
"Having come to said place with my family and chattels with the intention of locating myself in the colonial settlement permitted by the Superior Government of the Mexican Nation to Empresario Stephen F. Austin, I trust that admitting with my said family as one of the first settlers of said colony, you may be pleased to grant to me and put me in possession of the portion of land...."
On 16 Jul 1824, a document "noting merit of petitioner William Smithers, we have decided to grant and concede to him, William Smithers, and to his heirs and successors one league of land for stock raising on the Brazos River" was signed and certified by Baron de Bastrop and Austin. This tract was was located just southeast of current Richmond. The tract was surveyed by Horatio Chriesman, an official surveyor of Austin's colony. A deed, signed by Smeathers and Callaway, Westall, Estevan Austin and Samuel Williams, in Spanish of 25 Apr 1825 indicates Smeathers sold land on the Brazos to to J.T. Bell. A transaction of 28 May 1825 shows that "William Smithers" bought "un sitio y quatro" of land on the Brazos River from Noel F. Roberts. The document was signed William Smeathers.
William Smeathers bought a half league of land on Rocky Creek from Major James Kerr. The land was described as from league nine, class nine, bounded on the north by the John Smothers league, on the east by the Ashby league, on the south by the Mathew Caldwell league, and on the west by the other half of the Kerr league. In Jun 1835, William Smeathers sold this tract to Robert Handy, founder of Richmond on the Brazos River near Ft. Bend.
Smeathers was recorded on the 1824 and 1826 censuses of the Austin Colony in Austin and Bastrop Municipalities, respectively. In the 1826 census, a William Smeathers is listed as single and 40-50 years old (born between 1776 and 1786). In 1828 and 1829 in Nacogdoches records, he was noted in the DeWitt Colony. William Smeathers is listed in the 1828 census of the DeWitt Colony as age 55, a widower from Indiana in possession of 1 horse, 18 cattle and 20 hogs. A William Smeathers/Smithers is listed in the Ohio County Kentucky census as age 26-45 in 1810 (Obit 71) (OhioCo, KY is the suspected origin of some of the Smeathers who came to Texas), in 1826 as 40-50 years, and in the census of the Austin Colony 1828/29 as age 55. The 1837 obituary of William Smeathers written in Columbia, TX states he lived in Texas for 17 years and died at the age of 71 suggesting that he came to Texas in 1820 and was born in 1766. From the current research of descendants, it is believed that he left Kentucky in 1810, floated down the Ohio River to Galveston Island and hung around String Prairie for about a year. He shows up again in KY in 1811 in various records until about 1820 after which he appears as a witness at a hearing in Indiana.
Much of the archival literature including the Handbook of Texas biography and data on historic markers concerning William Smeathers/Smothers is based on descendant Laura Mercy Wright's papers presented to the DAR and Elsie M. Smothers' (a Smeathers in-law) research and writings. According to the most widely quoted accounts, William Smeathers' father was killed by Indians when he was 12 and his mother shortly thereafter. Elsie Smothers and others suggest that William Smeathers was born ca. 1760 in the Holston River area of Virginia, the son of Anna Marie Chrisman (b. 1735) and Jacob Smithers. The Holston River area was not formerly settled until after 1767 making it unlikely he was born there before that date. Current researchers have found no evidence for the identity of Smeathers' mother and believe the Chrisman relationship is an error. William Smeathers/Smithers/Smothers is said to have been a veteran of American Revolution battles, King's Mountain, Guilford Courthouse, Eutaw Springs, and Camden. These sources also contend that he was a member of the Kentucky "Corn Stalk" militia in 1803 and captain of a battalion of mounted spies along the Wabash River in the War of 1812. Recent research efforts of descendants have failed to verify these contentions. Birth dates suggest that William Smeathers of Texas was too young to have participated in the listed battles of the Revolutionary War. Discharge papers in the Hugh Potter Collection at the State Library in Kentucky show that William Smeathers was discharged 30 Oct 1812 before the Wabash battle in Nov. He was 100 miles from his Yellow Banks residence when discharged and was given 15 rations indicating it probably took him 5 days to get home. In CumberlandCo, VA records is an application for a Revolutionary War pension applied for by William Smothers, "a free man of color." Some current descendants research suggest that it is records of this William Smothers, particularly Revolutionary Service records which have been confused with William Smeathers who came to Texas. This service record was probably used by some descendants of William Smeathers as qualification for DAR membership.
According to descendant Nena Smothers, Smeathers built the first cabin in Kentucky on the Yellowbanks of the Ohio River, which became Owensboro and where there is a monument to him and a park named Bill Smothers Park in his memory. It is likely that William or son John Bate Smeathers named Yellow Bank creek and community west of Petersburg in LavacaCo after their home on the Ohio. Smeathers has also been cited on a marker for being helpful in erecting Ft. Vienna, later Calhoun, KY in the early 1780's. William Smeathers' sister, Mollie was raped by a riverboatman name Norris when William lived on the Yellowbanks of Kentucky. William killed the man and went to trial for murder. He was represented by a famous lawyer named Daviess which was also the name of the prosecutor. Smeathers was acquitted, but advised to leave the area for fear of safety for his life following the trial in 1809. This is believed to have prompted William to go to Texas where he was on Galveston Island for a month, living off eggs of the birds. William Smeathers was a very colorful man, a hunter and friend of Jim Bowie, but best of all was his subtle humour and his tales and jokes heard in family stories from generation to generation. He was a just and honest man, and fought for truth, justice and individual freedom. He helped establish Ft. Bend, TX where a historical monument is established on the west bank of the Brazos River, south bridge on US 90A at Richmond with his name inscribed:
Site of Ft. Bend. Built in November, 1821 by William Little, William Smithers, Charles Beard, Joseph Polly and Henry Holster. Its name was given to the county when created in 1837.
The Texas State Historical marker on US 77, 1 mile south of Halletsville, LavacaCo, TX:
"William Smothers (1760-1837). A veteran of the American Revolution, a native of Virginia, William Smothers was orphaned at 12 when Indians killed his father, and his mother died of shock. In the American Revolution, he fought at King's Mountain, Guilford Courthouse, Camden, and Eutaw Springs. He moved to Kentucky in 1781, built two forts near present Hartford, originally called "Smothers Station," and in 1798 founded an Ohio river port that later became Owensboro. He was a leader in civil affairs in early Kentucky, was a militia captain, and commanded troops in the War of 1812. Smothers Park in Owensboro is named in his honor. Smothers scouted in Texas before 1820, returned in 1821 with the exploring party of Stephen F. Austin, and helped build Fort Bend for the safety of the 'Old 300' settlers. In 1824 Mexico gave him a land grant; in 1826 he and two sons helped settle DeWitt's Colony, receiving land grants in the vicinity of this marker. Fearless and a skillful guide, he often hunted with his friend Jim Bowie. Reputedly he tomahawked bears in hand combat. Married twice, he was ancestor of many leading Texans. He died in 1837 after seeing a son and three grandsons help win the war for Texas Independence (1977)."
According to historian John Henry Brown, in addition to being among the first Austin Colonists and a resident of the DeWitt Colony in the census of 1828, William Smeathers (I) and son John Smeathers (I), whom he refers to with surname Smothers, were also among the first to settle the Lavaca River valley area of the DeWitt Colony near current Halletsville. The Elsie M. Smothers records say William Smothers had two wives, first a Nancy Cecilia of Virginia, then Mary Winters with which he had five daughters and two sons. The daughters remained in Indiana while sons John Bate and Archibald whose mother was Mary Winters joined him when he moved to the Lavaca River in the DeWitt Colony. The DeWitt Colony census of 1828 lists him as a widower, age 55 from Indiana and it is believed that that first wife Mary Winters died in Indiana before he arrived in Texas in 1826. Subsequent descendants' research suggest that Smeathers was married only once to Mary Winters. The first wife Nancy in earlier records was probably an error deduced from Virginia records of the colored Revolutionary War veteran named William Smothers. A petition filed by daughter Mary Smeathers Jones in Kentucky in 1847 for a fourth of her father's estate suggest that William Smeathers had four children. These are John Bate, Archibald Jacob, Betsey and Mary.
William Smothers was known as a fierce hater and fighter of Indians beginning from the time of the murder of his father and continued into his last years in actions against Indians which included scouting and hunting trips with James Bowie. Smothers died at his home on the Brazos River, Columbia, Texas on August 13, 1837. An obituary in the Telegraph and Texas Register, 19 Aug 1837 read:
"DIED. At Columbia, on the morning of the 13th inst., in the 71st year of his age, Mr. WM. SMEATHERS, who was one of the earliest pioneers of this country, having resided in Texas nearly 17 years, subject to all the privations of a new, and then wild, uncultivated country, and bravely maintaining himself single handed on a frontier against the assaults of numerous hordes of predatory savages, in many a hard fought fray. But his course has finished and he has gone to his final audit. In his death his country has lost a bold and hardy defender, and his family a kind parent."
[Some descendants believe that William Smeathers died at his son-in-law John Berry's home in Liberty, TX]
---
LAST TESTAMENT OF WILLIAM SMEATHERS AUGUST 5, 1837. I, William Smeathers, of Columbia County of Brazoria and Republick of Texas, being of sound mind though weak in body do make and publish this my last will and testament hereby revoking all former wills by me at any time heretofore made. And first I direct that my body be decently interred and then my funeral expenses be paid out of note of hand drawn in my favor by and on Francis Moore for one hundred dollars, dated June 16, 1837 and made payable to William Smithers or order on the first of October following without interest and that my son, Archibald Smeathers whom I hereby nominate and appoint my Executor be and is hereby authorized to collect the same and defray such expenses therefrom as my accrue in my sickness, death and burial and should any balance be left after defraying said expenses the residue shall go to my son Archibald above named as my Executor. I would also give and bequeath to my grandson, Andrew Jackson Berry, five hundred and thirty dollars to be paid by my executor out of the money and my estate by or note of hand draw in my favor for $530 payable to William Smeathers or on order on the 15th of June 1838. I give and bequeath to my grandson, John B. Berry, the sum of five hundred and sixty dollars due my estate by note for that amt. payable 16th June 1839. I give and bequeath to my son Archibald Smeathers eight hundred and fifty one dollars, 96 cents due to my estate as aforesaid by not of hand drawn in my favor for eight hundred and fifty one dollars and ninety six cents. Payable 16th of June 1840 as soon as collected. Also I give and bequeath one half League and Labore of Land selected by me on the Labacca River at Rocky Ford to my son Archibald Smeathers. John Berry, senr.; John Berry, Jr.; and Jackson Berry to be equally divided between them each paying respectively the same amt. of expense of office fees as the other in obtaining it. To my son Archibald Smeathers I give and bequeath my present Sorrel Riding Nag and my grandson John B. Berry I give and bequeath my hunting rifle gun. And lastly my express will and desire is and I do hereby ordain and appoint that if any difference or dispute question or controversy shall arise or happen concerning my gift bequest or any other matter or thing in this my will given or bequested that then no suits in law or equity or otherwise shall be brought, commensed or prosecuted for and concerning the same. But the whole shall be referred entirely to the award, order, and determination of any three person chosen by the parties concerned as arbitrators for and concerning the same. And what the arbitrators or umpire may or shall order direct or determine therein shall be binding and conclusive to and on all and every person and persons therein concerned. In witness whereof I the said William Smeathers have to this last will and testament set my hand and seal this 5th day of August One Thousand Eight hundred and Thirty Seven. /s/ George R. McKinsey Judge of Probate
Recorded Probate Book A Page 83 Republic of Texas, County of Brazoria August 28, AD 1839 (Transcribed from the original and provided by Nena Smothers)
---
According to Elsie Smothers (Morris, Ms. H.J., Citizens of the Republic of Texas. Texas State Genealogical Society, Dallas, TX, 1979), William Smeathers married first Nancy Cecilia Fitzpatrick of Virginia and second Mary Winters of Tennessee. As described above, current family researchers believe that the first wife was in error and the names may have been associated with the William Smothers that was entered in DAR records erroneously as William Smeathers of Texas. Mary Winters, the daughter of Moses and Elizabeth Head Winters, was born in 1769 in most likely WytheCo, VA and was probably the only wife of William Smeathers of Texas.. According to descendant Nena Smothers, William Smeathers and first wife are believed to have had four children:
(1) Betsy Smeathers (1792-abt 1818; m. John Berry abt 1811).
(2) John Bate Smeathers (I), Sr. (1793-1846) was an early immigrant and land grantee to the DeWitt Colony.
(3) Archibald Jacob Smeathers (1795-aft 1853) arrived in Texas after 1840, was born 1795 in Tennessee and died aft 1860. He was in BurlesonCo, TX in 1860. He married Margaret Ann Goodman (abt 1800-1826) on 22 Jul 22 1824 in DaviessCo IN. According to letters written in 1910 from Mary Jane Smothers Foster to John Smothers and Lucy Smothers Turk, daughter Mary Jane came to Texas from Indiana in 1853 at the age of 26 to join her father. Her mother died when she was 13 months old after which she lived with relatives and Mary Jane stated that she was Arch Smothers only child. She was born Sep 1825 in Indiana and died in SwisherCo, TX in Jul 1913 where she lived with her son Joseph Foster. Mary Jane married Alexander H. Foster on 13 Nov 1842 in DuboisCo, IN.
(4) Mary Smeathers/Smithers (b. 1796, TN by 1850 census; d. 7 Aug 1867, IL) Mary who went by the spelling Smithers, married Henry Jones in 1812 at the home of her half sister, Jane Smeathers Grass in SpencerCo, IN. They had 16 children.
The following have been listed in some records as additional daughters of William Smeathers of Texas, but are thought to be siblings:
(1) Mary (Molly) Smeathers (1779-1847; never married). According to census and a will in SpencerCo, IN, Mary raised a nephew which could be her own son due to a rape in 1809. In 1810 there is a one year old boy living with her. In her will, she gave custody of this boy to her sister Jane Smeathers Grass. In the 1850 census, the household of Jane Grass lists a 40 year old "idiotic" which is not present in the 1860 census. A son James Smeathers is mentioned in her will.
(2) Jane Smeathers (b. 1779-1781; m. Daniel Grass/Gross)
(3) Elizabeth Smeathers (b. 1781; m. George Statler). They had a daughter named Elizabeth Cecilia Statler.
He may have had additional siblings Jacob, James, John and Margaret indicated in censuses and wills.
---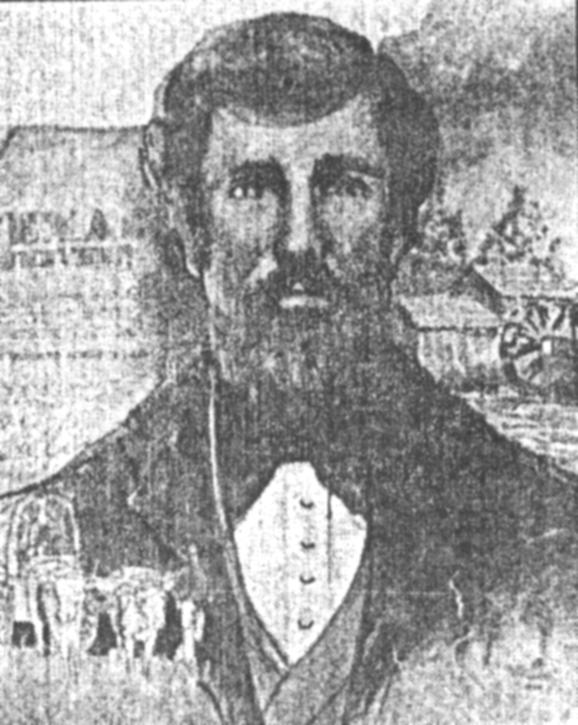 Betsy Smeathers and the Berry Family. Betsy Smeathers was born in 1792 in OhioCo, Kentucky and died abt 1818 in MonroeCo, Indiana. She married John Berry in OhioCo, KY abt 1811. [Drawing left: A likeness from The John Berry Newsletter, Virginia Wales, Ed., PO Box 617, Mertzon, TX]. John Berry served in the War of 1812, fought against Indians in Kentucky under General Harrison at the battles of Tippecanoe and the Thames. He served in under his father-in-law, William Smeathers in the Kentucky militia, Hopkins regiment. Betsy and John Berry had children Joseph, John Bate and Andrew Jackson Berry. Apparently Betsy Smeathers Berry died in Indiana. Berry remarried in July 1819 in Indiana to Gracie Treat who came to Texas with John Berry, William Smeathers and Archibald Jacob Smeathers. Gracie died in 1830 and Berry married Hanna Devoe in 1831 and had twelve more children, one of whom was named Joseph in memory of her son-in-law Joseph Berry, killed in the Battle of Mier. According to Andrew Jackson Sowell in Texas Indian Fighters, John Berry came to Texas in 1826, was a gunsmith by trade and received a land grant in the Robertson Colony. In Bastrop, Berry is said to have repaired Davy Crockett's fine Kentucky rifle which was broken on his way to the Alamo in 1836. Berry died in WilliamsonCo, TX 24 Dec 1866. John Bate Berry was patented 640 acres of land bounty in HamiltonCo, TX for service in the rear guard at San Jacinto, Apr 1836. Joseph Berry received bounty for service from 23 Apr to 1 Nov 1836 in the Texian Army, but arrived at San Jacinto too late to participate in the battle.
Andrew Jackson Berry served in the field in the battle. His burial site in Ross Cemetery, US 283 N in Baird, CallahanCo was marked with a Texas State marker in 1936: Born in Indiana May 16, 1816. Died at Baird, Texas July 31, 1899. Veteran of San Jacinto. Officer in the Confederate Army. According to Dixon and Kemp in The Heroes of San Jacinto:
Andrew Jackon Berry was born in Indiana May 16, 1816. He came to Texas with his parents in 1828. The date of his arrival in Texas is shown in the Headright Certificate issued to him for one third of a league of land by the Washington County Board. In Service Record No. 1041 it is certified that Mr. Berry served in the army from February 28 to June 1, 1836. He was a member of Captain Jesse Billingsley's Company of "Mina (Bastrop) Volunteers" and on July 29, 1847 was issued Donation Certificate No. 39 for 640 acres of land for having participated in the battle. Mr. Berry was twice married. In 1878 he was living with his wife Mrs. Nancy A. Berry in Angelina County. The date of the death of Mrs. Berry has not been ascertained by the compiler. He was a member the Texas Veterans Association. Mrs. Berry, widow of Andrew J. Berry, was born in Hempstead County Arkansas August 29, 1853 and came to Texas with her parents when two years old and settled in Robertson County. At the age of eighteen while visiting in Williamson County, she met Mr. Berry and they were married. He served full 4 years confederate army and became a Captain. After marrying 2nd time he lived in Williamson County 4 years. Moved to Callahan County May 25, 1881. Mr. Berry enlisted in Captain R. C. Hart's company for Williamson County, 27th Brigade, General E. S. C. Robertson, commanding, Texas Militia, Confederate Army in 1861. On August 7, 1863 he enrolled as Captain of Company A, 2d Regiment, 27th Brigade at Willow Springs, Bell County. Captain Berry died July 31, 1899 from injuries sustained when a team of horses ran away with the wagon in which he was riding. He was buried in the cemetery at Bell Plain, Callahan County. Bell Plain was the first seat of the county.
John Bate and Andrew participated in the Battle of Plum Creek 1842. J.B. and Joseph Berry joined the Somervell Expedition of 1842 and are listed on the muster roll of Capt. Reece's Company who continued on the Mier Expedition. Numerous Gonzales and Lavaca County men were in the same company (Henry Bridger, George W. Clark, Daniel Davis, J.H. Livergood, William P. Stapp, George Walton, Isaac Zumwalt).
According to eyewitness Joseph D. McCutchan in his diary of the affair:
"About seven o'clock PM [25 Dec 1842] the Texians came to a halt in the vicinity of Mier, separated from the town by the river Alcantro. From this position men were dispatched to find the most suitable ford, one of whom Joseph Berry fell from a precipice, or bluff, breaking his thigh about the middle. Berry was sent to a neigboring hut, which had ben vacated by its inhabitants, where he was left in charge of Doctor Sinixon and nine of his company---or mostly of his company---as a guard, among whom was his brother, Bate[s] Berry..........[After the most furious part of the Battle of Mier Christmas night and AM 26 Dec] about Eleven o'clock, a man by the name of Davis"---known as Walking Davis, and Bate[s] Berry, two of the guard left with Joseph Berry, came upon the position when pursued by a band of Mexicans. This guard was left there under the general instructions to send for them as soon as the main body should acquire a place of shelter, but in the hurry, confusion and excitement of the evening they were forgotten and thus neglected, untill after daylight on the morning of the 26th, when it had become to late to bring them over, or even inform them of the locality of the Texian forces. We can better imagine than express their feelings when thus cruelly abandoned. The appearance of these two men created no little surprise.

Their statement was to this effect: that about nine o'clock the enemy discovered their position, and immediately began an attack upon it by sending three hundred cavalry under Capt. Elduret [Aldrete] to dislodge them and ride them down. This body of cavalry was instantly repulsed by the nine rifles, which plaid upon them with distructive effect from holes hastily made in the old mud walls of the but in which Berry's guard had been placed. Greatly incensed at this audacity on the part of so weak a garrison, and determined not to be by them foiled, the enemy planted a cannon---six pounder---a short distance from the little mud fortress, but out of the range of its rifles, and commenced a cannonade. The first few shot[s] from the cannon passed far above the mark, but Berry's guard knew that a few more discharges would give them the proper range; and being well assured that those thin mud walls would afford no protection against a six pounder, they, at Berry's earnest persuasion resolved upon leaving it, to try, at all hazards, to join the main body. To surrender, they could not think of. Bates Berry was not willing to leave his brother, but his brother told him to go-saying, "Your presence here cannot avail me; you would give me no protection; if the[y] kill me, they would also you; and I am crippled, and they may not hurt me; but if you remain, they may kill us both. Your presence might make against me, while it can do me no good. Go, then! and if I die, live to revenge my death!" It was arranged that Sinixson, being naturally a cripple, should remain with Berry, and that the others, nine in number, should sally from the House, and make their way to their friends, or find an honorable death in struggling against the overwhelming numbers of the foe. One or two of them fell directly after leaving the house and several others were brought down. Richard Keene was so closely pursued that he took shelter in a house, where he was captured. Davis and Bates Berry had reached the middle of the Alcantro, when turning to discharge their rifles, which they had loaded as they ran, they discovered young Austin halt a short distance from the stream, turn upon his rapidly advancing foe, and level his rifle, which missed fire; but the noble young man never again turned his back upon his foe. Seeing that they would be upon him he clubbed his rifle, and the next instant he was surrounded by the enemy's cavalry. He there, arms in hand, consecrated that spot to all who breathe the air of freedom by bedewing it with the uncowered blood of a youthful freeman. Davis and Berry fortunately crossed the river at the foot of the street upon which their friends were posted, and thus by apparent chance they reached the main position of the Texian Army. During this time the battle was raging fiercely; there was no time even to congratulate Davis and Berry upon their escape, or to surmise as to what might have been the fate of their companions.

This mad rage continued, untill about one o'clock P. M. when the enemy ceased his fire and sent in a flag of truce. When the flag was seen advancing some few of the Texians wished to shoot it down; but Col. Fisher ordered the fire to cease, and the men not to molest the flag, saying, at the same time that "His name should not be sullied by an act of such barbarity." The flag arrived born by Doct. Sinixson, who had been left with Berry, and accompanied by Lieut. Elduret as interpreter, Col. Blanco, and one or two other Mexican officers. Col. Fisher demanded to know the occasion of the flag being sent, and was informed that "Genl. Ampudia, commander-in-chief of the Post of Mattamoras, demanded the surrender of the Texian forces, and in case of a refusal every Texian sbould be put to the sword." Fisher requested an hour for consideration, which was readily and willingly granted, for Col. Blanco knew that he had the Texians then. During the truce, Fisher visited Ampudia at his quarters. What he thare said and done is not known sufficiently to be recorded. But it is known that a solemn treaty was entered into between them. This treaty was read to the Texians by Lieut. Elduret, who had formerly lived in Texas, and was perhaps educated in Kentucky [McCutchan probably is referring here to José María Alderete, but confuses him with Jose María J. Carabajal]. He read this treaty as setting forth that the Texians who would lay down their arms should receive the treatment due to prisoners of war according to the law of nations but the truth was, that by that treaty we were to be treated according to the magnanimous will of the magnanimous nation. About three o'clock the Texians, by two or three and some times half a dozen at a time, marched into the square and laid down their arms in the presence of the Mexican forces; and found themselves cooped up in rooms---crowded together, at the will and mercy of the most barbarous people that are permitted.to disgrace the name of civilization; and many of them for the first time beheld the glorious light of Heaven through prison gratings.

Honor and Glory to every Texian who will lay down his life, rather than part with his arms. Let the Battle cry of Texas, henceforth be "Victory or Death!" and let her sons go forth with the determination to Conquer or Die, then Texas need fear no foe. Would it be improper here to record again the name of Genl. Summerville in connection with the disaster just fallen upon the "Mier men?" It is to him, in part, that they owe their present imprisonment. Had he have conducted the expedition as he should---had he have crossed the river at Loredo immediately upon reaching it, the disgraceful robery of that town would not have occurred; the men, being engaged would not have become dishartened; and many of the evils which befell the army would never have been experienced. This force of near eight hundred men could have swept the valley of the Rio Grande by rapid movements, and returned home with honor and but little, if any, loss. In this engagement, the enemy lost perhaps about six hundred or more killed and two hundred wounded, but the number, however, could not be correctly ascertained by the Texians. Ampudia, in a subsequent conversation with Fisher, stated that the engagement shortened his muster rool near one thousand men; and that he suposed some of them had deserted. Ay, deserted, but most probably to enlist in the service of his Satanic Majesty. The Texian losses in killed, eleven---six of whom belonged to Capt. C. Buster's Company from Washington County, and in wounded twenty-three. These poor fellows fell bravely, and by a noble death they escaped great suffering. It is not known that they were allowed a grave. But Their spirits are now with the glorious dead, While their bodies are among the enemy, And base and vilanious reptiles oer them tread Unwept, unmourned lie the sons of Liberty. Unwept and unmourned, save by the remnant of their companions, who must ever remember them with animation and pride. The Mexican forces consisted of about two thousand regular Infantry, one thousand or there abouts of Cavalry, and the citizens of the place, making a whole force of not less than three thousand men at the lowest calculation. Canales, a Mexican well known to many persons as the famous traitor of the Federation, commanded the rancherro Cavalry. To oppose the Mexicans, there was a force of two hundred an[d] sixty one or two Texians---not more, at any rate. The fight lasted about Eighteen hours. An account of this engagement justifies somewhat the great antipathy of Mexicans to anything like a contest with Texians. After the engagement, it was ascertained that Joseph Berry was most barbarously murdered. One of [the] Texians--an old ship Captain when out with a guard found the body of Berry's which was naked and pierced with fourteen lance holes. This act, as subsequently ascertained, was perpretrated by Capt. Elduret with the cold blooded ferocity of a coward and barbarian. Berry's thy [thigh] was broken by his fall on the previous evening, and when the enemy found him in the house, he was unable to raise himself up; and in this situation Elduret was dastardly enough to murder him. This act was boasted of by Elduret's friends as a feat of bravery! but the world will not call it thus."
According to the Handbook of Texas, Joseph Berry came with his father and brothers, John Bate and Andrew Jackson Berry, to Texas in 1826 and settled near the mouth of Buffalo Bayou in what is now Harris County. In 1834 John Berry, with his third wife and children, moved to Mina (Bastrop), where Joseph Berry, a gunsmith like his father, joined John Jackson Tumlinson's rangers, composed largely of citizens of Bastrop County. At the surrender at Mier, John Bate Berry was taken prisoner, survived the black bean incident by the draw of a white bean, was imprisoned and participated in the escape and recapture at Salado and was imprisoned in Perote prison in Mexico City and released 16 Sep 1844. A.J. Sowell in Texas Indian Fighters says in referring to Joe Berry's death and John Berry's capture at Mier:
"In making the run and fight through the Mexicans, John Berry recognized the lieutenant in command as a man whom he knew in San Antonio. The fate of poor Joe was sealed. The Mexican officier went into the room where he lay helpless and killed him with his sword. He then came out flourishing the bloody weapon and bragging about the deed. He was afterwards killed in Texas by the Berry boys."
In a footnote added in his editing of McCutchan's diary, author Joseph Nance suggests that "Lt. Elduret" was Trinidad Aldrete, an interpreter, who had contact with Texans during the Federalist Wars or had lived in Texas. There is no evidence that the Trinidad Aldrete, who was son of Texian patriot José Miguel Aldrete, and who died after 1874 and who served the Confederacy in the Civil War was at the battle of Mier. Trinidad's brother, José María Alderete, who left Texas early in the Republic years to serve the Mexican Army was at the battle, but is thought to have lived and died in Mexico thereafter.
A Texas State historical marker was placed in 1977 in the Grit Cemetery (SH 29 W) near Mason in MasonCo, TX in honor of John Bate Berry: (1813 - 1891) Forefathers resisting America's foes on many frontiers inspired John Bate Berry, who came to Texas from Kentucky in 1826. He fought (1835-36) in the Texas War for Independence and in the 1842 Mier Expedition to stop Mexican raids on the Republic of Texas. Captured, imprisoned, then freed in 1844, he scouted for the American army in 1846, during the Mexican War. Later he married, lived in this locality, and fought to make frontiers safe for settlement.
---
John Bate Smeathers (I) (Sr.) was born in 1793 in OhioCo, KY according to the 1880 census and died 20 May 1846 in LavacaCo, TX. John served in the War of 1812. He apparently had a first wife Elenor (b. abt 1800, d. bef 1828 in IN) which he married abt 1819 in possibly MonroeCo, IN. John B. Smeathers is listed on the 1820 census of MonroeCo, IN in the same area as John and Betsy Berry. He apparently left KY abt 1815 for Indiana. J.B. Smeathers married Mary Harris Ashby (b. 8 Aug 1815 in ShelbyCo KY; d. 21 Jul 1893 in LavacaCo TX) on 25 Jan 1836. Mary was the second wife of Smeathers. Family stories describe Smeathers as a man of questionable reputation who died during divorce proceedings. He is said to have suddenly died either from smoke inhalation fighting a grass fire on his land or a heart attack while fighting the fire. Archival records suggest that Mary had a son, Charles Ashby (b.1833; d. 1918) born out of wedlock. There is a record indicating that the children of John Smeathers Sr. by his first wife forced their stepmother to legally declare that Charley was a son born to her in 1833 prior to her marriage to John Smeathers. The affidavit states that Mary Ashby had been violated by a man from Cuero named Smith. This sworn statement was made so that Charley would not be in line for any of the land or other pieces of property belonging to John Smeathers. Mary was crippled, born with one leg bent up at the knee. She was admired by all for her ability to care for her family. She died from cancer caused by smoking a small clay pipe which often burned her lip. John B. Smeathers (I) left no will in 1846 which caused considerable trouble among his children and in-laws. His estate was not completely settled for 12 years after his death. A LavacaCo court order of 1848 read:
January term 1848. On the allegation and petition of William Smothers Administrator for Archibald and John Smothers decd. It is ordered, and recorded by the court that the League of land known as John Smothers league shall be divided into two parts or halves equable to quality and quantity. One half to the estate of Elenor Smothers decd and the other half to belong to the heirs of John Smothers decd. and Elenor Smothers half to be divided into three equal parts or shares equable to quality and quantity and to be drawn for and the third be drawn as Archibald's shall be divided into three equal parts drawn for by the heirs, and one third to be divided between John, Tobies [Tobin] Smothers minor heirs of John Smothers decd.
The children of John Smeathers and first wife Elenor were William (II) (1820-1863); Mary Ann (Polly) (b. 1822 IN; d. 30 Sep 1878 TX; m. Elijah Kelly), and Archibald Jacob (1824-1838). The children of John and Mary Ashby Smeathers were Charles Carroll Ashby (1833-1918; m. Rebecca Stuart; stepson of John Smeathers); John Bate (II) Jr. (1836-1913); Tobin (b. 8 Aug 1839, GonzalesCo TX; d. 14 May 14 1858, LavacaCo TX); Martha Ann (1841-1870, m. Jefferson Butler). (Foregoing information courtesy of Nena Smothers).
John B. Smothers (I) received a league of land in the DeWitt Colony west of current Hallettsville near current St. Marys community. He is listed as arriving in Sep 1828 with family of 4 and a widower when the title was passed on 8 May 1832. On 25 Jan 1836, John Smothers (I) and Mary Harris Ashby (b. 1815 KY) were married by alcalde Andrew Ponton under bond of $10000 until the marriage could be confirmed by Mexican law by a Catholic priest. Mary Ashby was the second child of John Miller and Mary Garnet Ashby who were also early Lavaca River settlers living near the Smothers. Her older sister was the much written about and colorful Sarah Ann Ashby McClure Braches. John Smothers (I) was a voter in the Precinct of Upper Lavaca on 1 Feb 1836 to elect a delegate to the Mar 1 Texas Independence Convention at Washington-on-the-Brazos. Anecdotal information and county histories relate that soon after John and wife Mary Ashby Smothers were forced to flee east in the Runaway Scrape after the Alamo defeat in early Mar 1836, they stayed at Groces Retreat in current WallerCo for a period, then Hempstead and Columbus where son John Smothers (II) was born on 8 Nov 1836. In 1839 they returned to the Smothers homestead three miles west of Hallettsville where John Smothers (I) died in 1846. Sons John and Charles became freighters based in Halletsville and making runs to Austin, the Gulf coast and LaGrange. They hauled in the parts for the first cotton gin west of the Colorado River.
William Smothers (II) and his younger half-brother John Bate Smothers (II) were Lavaca River minutemen under Capt. "Black" Adam Zumwalt and participated in the company's response to the Ponton and Foley killings by Comanches on their way to Linnville and were with the company when the Comanches were engaged and routed at the Battle of Plum Creek. William Smothers may have been the "old Texan from the Lavaca" that daringly shot down one of the armored, gaudily dressed chiefs. This precipitated the rout of the Comanches by the settlers. William Smothers was one of twelve men from the Lavaca serving with Capt. Hay's Spying Company which ranged west of the Medina River watching for Mexican troop movements from the south into the Republic. He was in Capt. Zumwalt's Company at the Battle of Salado which responded to Gen. Woll's invasion of the Republic and capture of San Antonio in 1842. William Smothers (II) was born 6 Feb 1820 in Indiana and died 19 Aug 1863 LavacaCo, Texas. He married on 9 Jun 1844 Cynthia Kelley (b. 22 Jul 1822 on the way to Texas; d. 12 Jan 1889 in Hallettsville). She was the daughter of John and Sarah Fisher Kelly. They had children Sarah Jane (b. 1845; m. William d. McGonagil), Archibald (b. 1846, LavacaCo; m. Jennie Rhodes), Mary Ellen (b. 1850; m. James A. Bradley), Margaret Ann (b. 1852; m. John Alexander Clark II), James E. (b. 1852; m. Katie D. Morgan), John K. (b. 1855), William (III) (b. 1858; m. Katie Thigpen), Frank Knox (1859-1935; m. Mary Ella Johnson).
As described by author Paul Boethel in his works on the history of LavacaCo, TX, the half-brothers William and John Smothers were two of the more colorful characters in LavacaCo politics and life throughout the latter part of the 19th century. William maintained two stores in Hallettsville and was a militant in having Hallettsville established as the county seat rather than Petersburg (early Zumwalt Settlement) to the south. When Petersburg lost the election for seat and refused to give up the county records, Smothers formed a posse, seized the records in Petersburg and escorted them to Hallettsville to the temporary county seat buildings he had provided for the new officials. William Smothers was a "hell-raiser" who loved to drink and gamble and in 1850 operated a liquor store in Hallettsville which contained a pool hall and gaming room in the establishment, indicted at least 9 times for breaking local liquor laws and over 17 times for gambling. Multiple times he was either on the receiving or giving end of local assault cases, acquitted in some and paying fines in others. After all that he was elected sheriff in 1860 and active in recruiting companies of local men for frontier service as rangers and later the Civil War. He was in the freighting business and finally killed in a shootout with a Union agent in 1863. His son A.J. Smothers was Sheriff of LavacaCo in 1882-1888. The hard-drinking, hard-playing Butler, Kelly and Smothers "young bucks" were the source of extensive encounters with the law, both due to disputes among themselves and others which at times became violent and felonious in the Hallettsville area through the close of the 19th century, contributing significantly to the reputation of "The Free State of Lavaca."
William Smothers' (II) younger sister Mary (Polly) Smothers was born in Indiana in 1822 and died 20 Sep 1878 in Texas. She married Elijah Kelley (1823-1878), the brother of William's wife Cynthia Kelley on 12 Aug 1845 in GonzalesCo. They had children John W. (b. 1849; m. Sarah Davis), James (b. 1851), Jane (b. 1851), William (b. 1855), Mary Ann (Mollie) (b. 1856-1949), Edward (b. 1859; m. Georgia Ann Harless). She was the last to die of John B. Smothers (I)'s natural children, she gained control of over 2000 acres of land acquired by either dowry or inheritance from the original John Smothers land grant. Elijah Kelley was the son of John and Sarah Fisher Kelley, according to Judge Paul Boethel, Elijah Kelley was in Texas prior to 1836, in the 1850 census he is listed as born in Texas. He applied for 320 acreas of bounty land for service in 1849 witnessed by Hosiah Dowling and Thomas Chaudoin. In 1848 he sold land to Phillip Howard that was granted to his father, John Kelley. He made numerous transfers of parts of the original John Smothers league.
Archibald Jacob Smothers (b. 1824, IN; d. 1838, LavacaCo TX), son of John Smothers (I), and a Mr. Nunnelley were surprised and killed by Indians by night in their camp on the Lavaca River where they were cutting trees and making boards.
Charles Carroll Ashby Smothers, a stepson of John Smothers and son of second wife Mary Ashby prior to her marriage, was born 6 Nov 1833 in GonzalesCo and died 23 Feb 1918 in LavacaCo. He married Rebecca Stewart (b. 1842 in FL) in Mar 1860 in LavacaCo. They had children Charles Samuels (1863-1939; m. Nannie Volentine), Emma (b. 1867, m. Robert Robbins), Joe (b. abt 1870, m. Mae Tilley), Mary Frances (Fanny) (b. 1878, m. George Munson).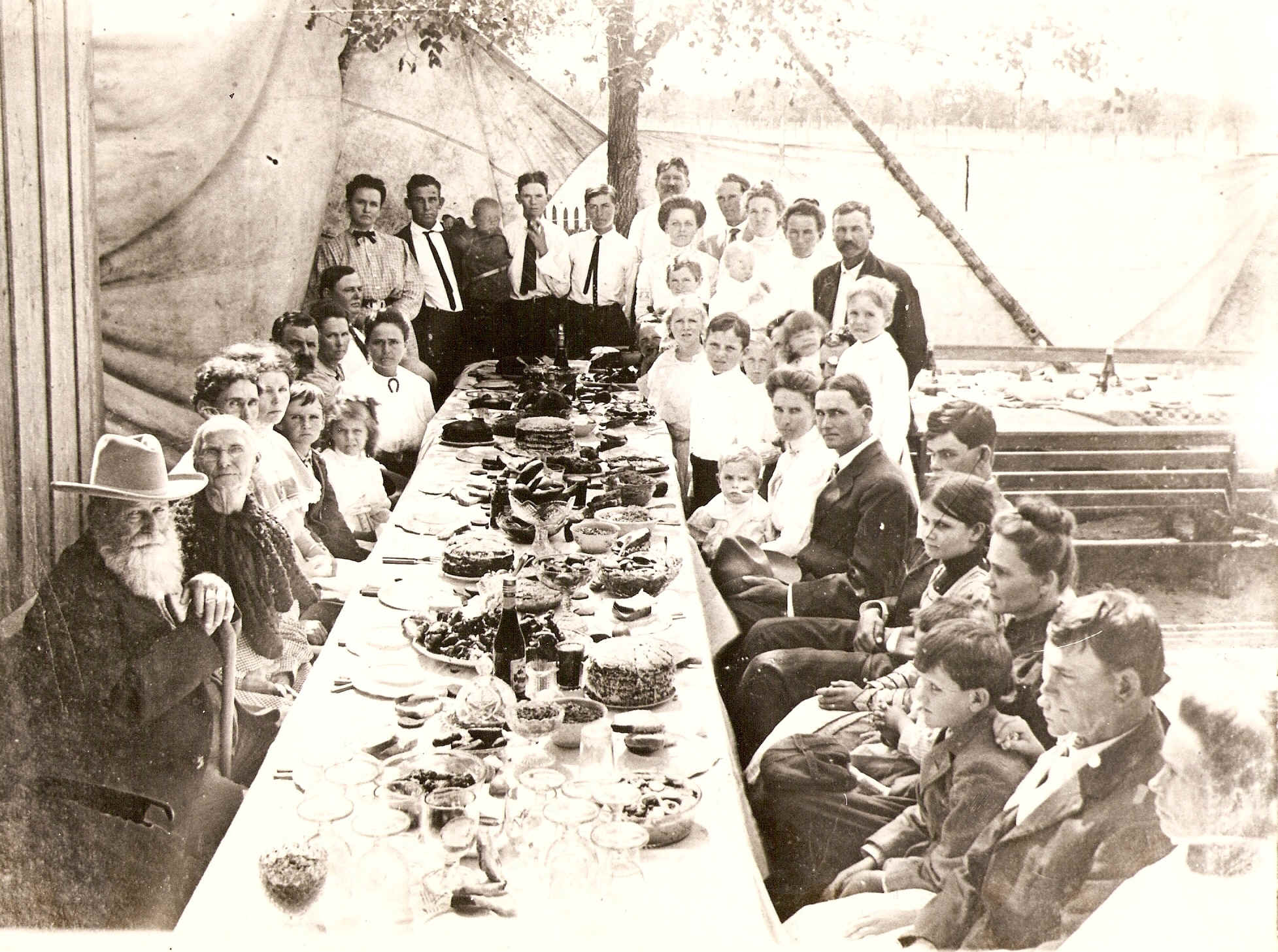 John Bate Smothers (II) (b. Nov 1836 LavacaCo, TX; d. 1913, Hallettsville, LavacaCo, TX) was living on the Smothers homestead near St. Marys in 1860 with his widowed mother and wife Mary Hinch Smothers (1842-1926; m. 13 Oct 1859) near sister Martha Ann and her husband Jefferson Butler. John was a successful freighter and stockraiser providing beef and shipping for the Confederate troops in the 1860's. John and Mary Smothers had children John Wesley (1861-1894; m. Cora Kelly), Elizabeth (Lizzie) (1866-1933, m. Robert Kelly, later John McElroy), Ginny (1868-1927, m. Bird Kelly), Lucy (1871-1955, m. C.C. Tuck), George (1873-1933, m. May Smothers, then Carrie Williams), Fanny (1875-1936; m. Eugene Alphonse Tuck), Henry Stoner (1878-1939, m. Lilly Ann Streetman), Robert (1881-1947, m. Ida Miller), and Maggie (1884-1957, m. Oscar Karney). John Bate Smothers (II) is the "patriarch" of the Smothers family of the "Free State of Lavaca" in the days of the Republic and State of Texas described in his treatise on the family "When the Dust Settled on the Patriarch's House."
[Click on photo for enlargement]
Martha Ann Smothers was born 18 Dec 1841 in GonzalesCo, TX and died 3 Mar 1870 in LavacaCo. She married Jefferson Butler (1840-1889) on 4 Mar 1858 in LavacaCo. Children were Jefferson Jr. (b. 1862), Fannie (b. 1864, m. Dufner), Sarah Ann (b. 1867; m. Greer), and Martha Ann (1870-1870). Jefferson Butler Sr. later married Kathy (Kate) Buckley abt 1874. In 1889 Jefferson Butler was killed by his former brother-in-law, John B. Smothers Jr. (II).
Next page "When the Dust Settled on the Patriarch's House"
---
SONS OF DEWITT COLONY TEXAS
© 1997-2008, Wallace L. McKeehan, All Rights Reserved