SONS OF DEWITT COLONY TEXAS
© 1997-2003, Wallace L. McKeehan, All Rights Reserved
---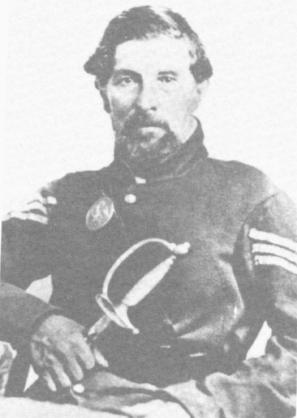 KOKERNOT. David Levi Kokernot, younger son of Levi Moses and Elizabeth Cohen van der Beugel Kokernot, was born in Amsterdam, Holland December 28, 1805 and died in Gonzales County December 10, 1892. He arrived at New Orleans with his father in 1817 and was apprenticed to a pilot at the Balize downriver from the city. As a youth he made several voyages to Europe and was shipwrecked in the Caribbean when his life was saved by a Haitian revenue cutter. He lived for about a year near Port-au-Prince. In the late 1820's he joined in the family mercantile business in New Orleans and on May 30, 1829 married Caroline Josephine Dittmar (1815-1898), daughter of Mrs. Julia Ann Maley, natives of Hesse Cassel, Germany. In 1830 he was commissioned warrant officer in the United States Revenue Cutter Service and in that capacity was reconnoitering smugglers near the Sabine estuary when his ship was wrecked. He was eventually rescued and taken to Anahuac. In 1832 he moved his family, comprised of his wife, infant daughter Elizabeth, mother-in-law and her two sons, William and George Maley, to Anahuac and participated in the Anahuac disturbances. In the same year he purchased a labor of land near what was later Baytown, Texas. There he established his family and engaged in farming. He also had several boats for trading along the coast and in the nearby bayous. Kokernot first went to Gonzales in October, 1835 with other men from the eastern settlements and joined in the Siege of Bexar. A private in the Battle of Concepcion and the Grass Fight, he was commissioned second lieutenant November 29. In April, 1836 he was sent by General Sam Houston with an express to Harrisburg to warn ad interim President David Gouverneur Burnet of the approaching Mexican troops. The President gave him leave to see his family, and he succeeded in evacuating his own family and that of ad interim Vice-President Lorenzo de Zavala to Galveston Island where the women and children found passage to New Orleans.
Probably reaching the San Jacinto battleground after the victory, he was ordered by General Houston to recruit a company and take into custody a group of Anglo-Americans who were settled on the Trinity River and its tributaries and were reputedly opposed to independence. President Burnet later countermanded Houston's orders, and Kokernot was sent to sea for the summer aboard the privateer schooner Terrible. Immediately after Houston's inauguration as President in October, Kokernot was put in charge of a ranger company on the Sabine River with orders to halt the flight of livestock eastward into the United States. From 1838 to 1849 when he moved to Columbus, he was a resident of Liberty County, bitter years when he had to contend with harassment from those neighbors against whom he had been sent by General Houston.
---
Archival letters from Jenkins, Papers of the Texas Revolution
Houston to Kokernot. Lieutenant D.L. Kokernot. San Jacinto, Texas, April 30, 1836.---You will drive all the horses and cattle back that you find to the east of this, except those that belong to honest citizens. Do the best you can. Sam Houston Commander in Chief. [Endorsed:] The within order was received on April 30, and in obedience ot its commands I drove up to the San Jacinto about 300 head of horses and reported my acts to the commander in chief and got a hell of a cursing. Expenses during the scout, eight dollars.
Whiting to Morgan. Goose Creek, May 3d 1836. Col. Com. Jas. Morgan........I hear Kokernot says I have plundered his house that I am an old thief---& for all which I shall look to the civil laws for redress. This scoundrel has been through the army doing his utmost to create & excitement against me and I hear has now got command of a party near Trinity. I expect a visit from him tomorrow. the men he has sent for may deserve what they get but I have heard from Mr. Lynch to day as I returned from the camp that he is desolating the homes of deserted families and grossly insulting women & children. this surely ought to be looked to---was he commissioned to do it?---at my house he shall not do it with impunity.......Hervey Whiting.
Burnet to Kokernot. Lieutenant D.L. Kokernot. Velasco, Texas, June 9, 1836.---Sir: Inasmuch as you find it impossible to procure assistance to return the horses and cattle you have taken from the citizens of the municipality of Liberty, you will immediately return and advertise the owners of that property, that each one may come and receive his own agreeable to my previous order. You will endeavor to place the property at the most convenient point for this purpose. David G. Burnet, President Republic
Somervell to Kokernot. Navy Department. Velasco 30th June 1836. Lieut David L. Kokernot has permission to go on board the Privateer Schooner Terrible on a cruise of three months. A. Somervell Acting Sec. of the Navy.
---
Kokernot moved to Gonzales County in 1853. His eldest daughter Elizabeth and her husband John Barber had lived at Peach Creek for several years but were soon to move to Aransas County. Also at Peach Creek were Mrs. Kokernot's brother George Maley and his wife Melissa, Barber's sister. They moved to Refugio County and later to County. The second Kokernot daughter, Julia Ann (Mrs. James E.) Lang, never lived in Gonzales County, and the third, Blume Amanda (Mrs. Edward) St. John, lived there only a few years. The Kokernots arrived in the county with their elder son, Levi Moses June 6, 1836, New Orleans with their younger son John William August 19,1853, Columbus and with four daughters all born in Liberty County: Blume Amanda (1838); Clarissa (1840); Rebecca (later Mrs. Leon D. Kendall) (1843); and Caroline Augusta (later Mrs. Milam M. Fitzgerald) (1846). A seventh daughter, Mary Melissa (June 25, 1856 Gonzales County - July 6, 1937), married Hutson Bishop Littlefield Jr. in 1875. The son John William first married Fannie Elam April 18, 1877 and the couple had three children before her death. Secondly he married Mary Harper January 5, 1893 and they had one daughter. John W. Kokernot lived most of his life in Brewster County and in San Antonio where he died, October 24, 1924. During the Civil War D.L. Kokernot served briefly in Louisiana and later in a Lavaca County home guard. His son L.M. Kokernot served with Terry's Texas Rangers. L.M. Kokernot's first wife whom he married in 1866 was Sarah E. Littlefield, daughter of Hutson Bishop and Martha Ann Wiseman Littlefield. They had five children: Herbert Lee who married Elizabeth Vanham; Frances Genevieve who married James Colwell Dilworth; Josephine who married Benjamin Nicholas Peck; Rufus who was killed in an accident at the age of ten; and Walter Hutson who married Virginia Smith. Mrs. Kokernot died in 1874 at the birth of Walter whose grandparents Kokernot reared him. In 1876 L.M. Kokernot married Hulda Jane Carnes, daughter of William J. and Jemima Cole Carnes. They had three children: Leonora who married Coke Emory Dilworth; Alma who married Robert L. Brothers; and Frederick David who married Ruth Spooner. In the years following the Civil War L.M. Kokernot gathered cattle and herded them on the trail to Kansas. In 1871 he and George W. Miller of Newtonia, Missouri established the LK Ranch at Baxter Springs, Kansas. By 1880 when Kokernot withdrew from the partnership, the enterprise had grown into the vast 101 Ranch of Oklahoma. During those same years he continued to enlarge the acreage at his home in Gonzales County until the Big Hill Ranch became one of the largest in the area. In the last two decades of the century he accumulated in partnership with his brother the nucleus of the 06 Ranch of Jeff Davis, Pecos and Brewster Counties. In 1897 he withdrew from the 06 Ranch in favor of his eldest son. L.M. Kokernot died June 4, 1914 and was buried in the Kokernot family cemetery near the village of Kokernot in southeastern Gonzales County. Mrs. W.B. Denman (From The History of Gonzales County, Texas. Reprinted by permission of the Gonzales County Historical Commission).
---
NEILL. John A Neill and his wife Hester R. Humphreys arrived in the DeWitt Colony 20 Feb 1831 from Tennessee with one child, Robert Elijah (b. 1827 in TN). [The Neills came to the colony with group under contract with the Tennessee-Texas Land Company]. Neill received a sitio of land on Plum Creek in Caldwell County. Neill was also deeded two outer lots on the San Marcos River just north of Gonzales town center. He voted in the election of Gonzales delegates to the Texas Consultation of 1835.
John Alexander Neill was born in 1803 in Wilson County, Tennessee to Robert A. and Mary Alexander Neill. Mary descended from the Alexanders of The Mecklenburg Constitution renown and was born July 4, 1776. John's grandfather and four uncles served in the American Revolution. His father Robert served in the Creek Indian War in 1816. John married Hester R. Humphreys and a son Robert E. was born in 1822. The route the immigrants took for Texas in 1830 was not known, but it appeared that John Neill and family were on the 1830 Tipton County, Tennessee census, which was on the Mississippi River and were probably there to join a wagon train. They arrived at Gonzales February, 1831 and were granted 4428 acres and Gonzales town Lots 3 and 4, Block 17, Range 7 West. Four more children were born in Gonzales: Marcos Aurelius (1833-1853); Mary Jane (1835-1880's) married C.L. Witter; Sam Houston (1837-1888) married Martha J. Bell; Benjamin F. (1839-1878) married Sallie Kelso.
Audited military accounts gave certification December 31, 1835 for John Neill as having furnished the committee of safety of Gonzales, between the time of troops leaving October 13 and the appointment of a contractor, for the use of the provincial government of Texas, corn and services to the value of $21; October 25, five bushels of corn at $1 and November 1, eight days' service for self and oxen at $2 each day. January 22, 1836, John assigned this money to be paid to H. Eggleston "for value received." Republic of Texas Bounty Land Warrant #7049 for 320 acres was issued at Houston, Texas January 25, 1839 to Neill for three months' service from July 6, 1836 to October 6, 1836 Gonzales county surveyed on county line. In Houston on December 14, 1837 quarter master's department, P.W. Humphreys certified that John Neill was entitled to $10 for a long chain taken in the service by James S. Vaughn, adjutant of the Texas army. Barnard Bee approved it and on May 7, 1841 John appointed Arthur Swift, his attorney, to collect the money. Gonzales County Deed Records listed the following: 1837, Neill sold 2928 acres for $1900 to Wrn. Mankins (about 65 per acre); 1839, "Miguel" paid his taxes for 1837-38 to John Neill, sheriff; January 2, 1840 Neill gave his Republic of Texas bond for $10,00 for sheriff pro-tem, with Francis Berry and Alonzo B. Swisher, securities. In 1840 he sold his Gonzales town lots to W.O. Burnam; in 1841 177 acres to Geo. W. Davis.
In 1846 he and James C. Holmes entered into an agreement to build a mill on Plum Creek on John's land. On May 27, 1846 Neill's home was to be the voting place for people in District Number 2 which included the Plum Creek Settlement and all the portion of land north of Mule Creek. John died September 1, 1846, the burial place unknown. The January 15, 1847 issue of the Texian Advocate carried notice of probate of Neill's estate. C. L. Neill (From The History of Gonzales County, Texas. Reprinted by permission of the Gonzales County Historical Commission).
Hester R. Humphreys Neill was believed to have been born in 1808 near old Nolensville, Williamson County, Tennessee to Captain Benjamin and Jane Lawrence Humphreys. Her mother died at her birth or very soon after and her father died when she was six years old. Her father served from North Carolina in the American Revolution. Hester married John A. Neill a boy from a neighboring county, about the first of the year in 1826. They had a son, Robert E. (1827). This family of three arrived in Gonzales in February, 1831 where four more children were born in the midst of Texas' struggle for independence. In 1846 she was widowed and in 1853 her oldest Texas born son died. By 1849 the family was looking more westward although still living on part of their original 1831 land grant. She and her sons were shown on the 1849 Bexar County tax list and were probably taxed on land that was later in Atascosa County. One of Hester's granddaughters said that Hester had a slave she bought for $1500 from a man named Penn and that the woman said her name was "Mary Ann Elizabeth Yankee Doodle Kelso Mattie Mattie Bo Mo Shay Neill Thomas." In 1853 Hester sold her old homeplace consisting of 187 acres, excepting 3/4 of an acre around some graves, part of the original 1831 land grant, to Greenville W. Penn of Fayette County for $1200. This cemetery, about four miles southeast of present day Lockhart, was unmarked and it was not known who was buried there. It was odd to note that in his will Hester's father also reserved one acre for a cemetery that was also unmarked and it was not known who was buried there. Hester died before 1870, possibly about 1867, when there was a cholera epidemic in Texas. C.L. Neill (From The History of Gonzales County, Texas. Reprinted by permission of the Gonzales County Historical Commission).
Listed in the 1850 census of CaldwellCo is the household: NEAL: Hester R. 41 f TN; Robert E. (Soldier) 23 m TN; Marcus A. 18 m TX; Mary J. 17 f TX; Benjamin F. 9 m TX; Samuel F. 12 m TX.
Robert E. Neill was born January 6, 1827 in Williamson County, Tennessee to John A. and Hester Neill and went to Gonzales County February, 1831 with his parents. On November 14, 1850 he married Elizabeth Shelton in Caldwell County. Her parents were Johnson and Sarah Ferguson Shelton who married in 1811 in Adair County, Kentucky. They moved to Morgan County, Illinois circa 1820 where Elizabeth was born in 1828 and moved with her family to Texas between 1840-50. Robert died in 1878 and Elizabeth in 1894 in Atascosa County. They had five children: Andrew J. married Dicey Neatherline; Adaline E. married Basil Hayden; Robert E. Jr. married Delia Rose; John J. never married; and Anna E. married Daniel Williams. The Texas Archives contained a petition by Robert Neill to the Legislature, made in January, 1850, concerning land. He stated that he arrived with his parents in Texas in the fall of 1830. His parents settled in the Old County of Gonzales where he resided with a widowed mother and family. He further stated that he and his father, John A. Neill, participated in the struggles of Texas for liberty for several years. Robert was quite a boy at the time, but such were the necessities of the frontier West for military force during the Texas Revolution. In the spring of 1836, he and others were detailed by Captain Matthew Caldwell, who was then acting contractor for the Texas army, to procure meal and other provisions for the army. In pursuance of his duty he was by accident permanently disabled in his left arm, which was badly broken in the machinery of a mill, mangled and torn from the elbow to shoulder so much so that it had been ineffective ever since. Robert was probably grinding corn for the army at nine years of age. The petition further stated that he was awarded a league of land June 26, 1839 by the board of land commissioners for Gonzales, but that his certificate fell into the hands of others and was never acted upon, and requested issuance of another certificate for that amount of land. Soon thereafter Robert E. and family moved to Atacosa County. C. L. Neill (From The History of Gonzales County, Texas. Reprinted by permission of the Gonzales County Historical Commission).
Samuel Clinton Neill, the son of Colonel James Clinton and Margaret Harriet Neill, was born circa 1815 in middle Tennessee and went to Texas in 1831 with his parents, a brother George Jefferson and a sister Mary Harriet. Colonel J.C. Neill first had a command in the War of 1812 in Tennessee [wounded in Battle of Horseshoebend]. John Holland Jenkins stated that in 1835 John Sowell made a cannon ball for the little Gonzales cannon and Colonel James C. Neill fired a trial shot October 2 at Gonzales [it is said that Neill essentially fired the "first shot of the Texas Revolution, the shot heard round the world"]. He was in command of the Alamo until he turned the command over to Travis while he attended to some business; later he joined the Texas army at Gonzales where Houston put him in charge of the artillery. Colonel Neill was in command of the artillery at San Jacinto but was wounded and left on the battlefield until he could be moved and Colonel Hockley took over his command. Colonel James C. Neill and John A. Neill, one of DeWitt's colonizers, were first cousins. Samuel Clinton married Nancy B. Fitzgerald June 13, 1841 in Washington County, Texas where his father received a land grant. Nancy perhaps died at the birth of a daughter Maranda or soon after. Maranda probably married Bennett Tomerlin, lived near Luling, Texas for many years and later moved to Frio County. In 1847 Sam married Lourahama Berry Neal, daughter of Francis and Sarah Berry, early settlers of DeWitt's colony. Lourahama was the widow of Anson P. Neal whom she had married in Gonzales July 17, 1838. The 1850 census of Gonzales County listed Sam and Lourahama as living at Peach Creek with daughters Sarah age five, Jane age two and Jemima age one. It was believed that Sam C. Neill died circa 1856 as Lourahama and their two sons were living in Caldwell County in 1860. The sons, Francis T. and Milton, were both shown on the census as soldiers. Francis T. died in the service of natural causes after May, 1862. His wife Sarah E. Neal probably married James S. Callihan in 1866. Sam and Lourahama had one other child, Mary, born in Gonzales County circa 1855. They may also have had a daughter, Mary A., who married Robert C. Stuart October 2, 1851. Lourahama and two daughters were still living in Caldwell County in 1870 but it was believed she moved to Gillespie County by 1880 and probably died soon after. C. L. Neill (From The History of Gonzales County, Texas. Reprinted by permission of the Gonzales County Historical Commission).
The 1850 census of GonzalesCo lists living in the Sandies Creek Districts: Neill, Samuel, 35, m, $5,000, Tenn; Neill, Ruy, 34, f, Tenn; Neill, Sarah, 5, f, Texas; Neill, Jane, 2, f, Texas; Neill, Jemima, 1, f, Texas.
A Francis Neal was living with Francis and Sarah Berry in the 1850 census of CaldwellCo: BERRY: Francis 88 m VA; Sarah 60 f SC; James 30 m MO; Sarah Ann D. 7 f TX; NEAL: Francis 11 m TX
---
SONS OF DEWITT COLONY TEXAS
© 1997-2003, Wallace L. McKeehan, All Rights Reserved