SONS OF DEWITT COLONY TEXAS
© 1997-2007, Wallace L. McKeehan, All Rights Reserved
David Burket-Index | DeWitt Colony Expansion | Burket Land Grant
Sarah Ann Burkett (1840-1919)
Little Berry Green (1834-1900)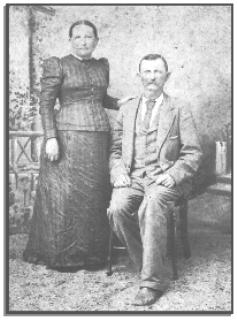 On 12 Jul 1855, David and Mary Ann Zumwalt Burket's youngest daughter Sarah Ann Burkett at age 14 and 21 year old Little Berry Green (1834-1900) from Bedford County, Tennessee were married by the Reverend Thomas J. Pilgrim. According to a granddaughter:
"grandmother [Sarah Ann Burket Green] was a fiery, pert young lady and known for her quick temper. She was pretty and very small. At the time of their marriage, she could stand on tiptoe under grandfather's outstretched arm without touching it. He could span his hands around her waist. She was always called 'Ann'."
On 15 Aug 1855, widow Mary Ann Burkett transferred the last 368 acres of the old Burket homestead on the Guadalupe River to Little Berry Green and daughter Sarah Ann Burkett (the author's 2nd great grandparents) for one dollar with the stipulation that they would not take possession until her death.
---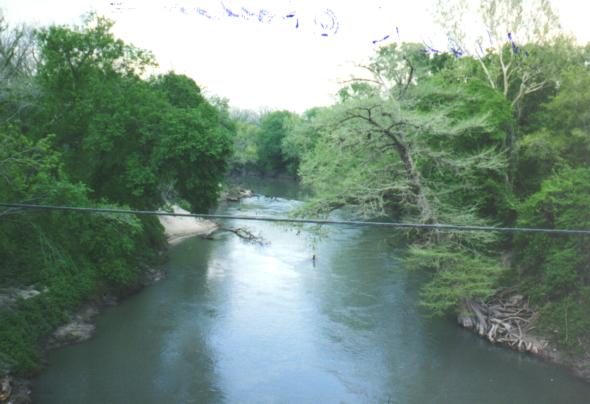 [Photo: Guadalupe River near Hochheim. Click on picture for enlargement]. COUNTY OF GONZALES THE STATE OF TEXAS Know all men by these presents that I, Mary Ann Burkett of said county and State, for and in consideration of the natural love and affection which I have for my daughter, Sarah Ann Burkett, the wife of Little Berry Green of same County and State and for the further consideration of One Dollar, to me in hand paid by the parties to whom this Deed is made, and the receipt of which is hereby acknowledged, have this day given, granted, bargained, sold and conveyed, and by these presents do give, grant, bargain, sell and convey to them the said Little Berry Green, and my daughter, Sarah Ann Burkett Green, the following described tract or parcel of land, situated lying and being partly in the County of Gonzales and partly in the County of DeWitt, State of Texas, and on the East Bank of the Guadalupe river and embraces a portion of the Quarter of a league of land, originally granted to James Hughes and a portion of the Quarter of a league of land originally granted to Jesse McCoy. And the particular tract of land hereby intended to be conveyed, is all that portion of the Jesse McCoy Quarter of a league, and all of that portion of the James Hughes quarter of a league which I now own, and which remains to me after having deeded to my son Nathan Burkett, three hundred and forty acres of land, out of same Hughes quarter, and said McCoy quarter, and which tract hereby intended to be conveyed contains three hundred and sixty eight acres more or less. To have and to hold the herein before described 368 acres of land (more or less) unto them the said grantees, and to their heirs and assigns in fee simple forever together with all the rights, privileges and appurtenances thereunto belonging and the right and title to which I will warrant and forever defend unto said grantees, against the legal claims of any and all persons whomsoever, and for the consideration aforesaid, I also give bargain and sell unto the said L. B. Green and Sarah Ann Green, all the household and kitchen furniture, which I now have or may have at my death. Hereby reserving a life time estate in the tract of three hundred and sixty eight acres of land herein before described, and also reserving to myself the use of the said household and kitchen furniture during my life. Hereby intending that this deed shall take effect as soon as I shall depart this life and not before. Witness my hand and scrawl by way of seal this 15th day of August A.D. 1855. Mary Ann Burkett (seal) [The document was witnessed and transcribed by F. Chinault, Clerk Gonzales County]
---
Little Berry and Sarah Ann Burkett Green periodically lived on the property presumably with Mary Ann Zumwalt Burket until her death on 8 Mar 1887 and Little Berry, Sarah and family continued to live on the homestead from time to time until his death in 1900. Little Berry Green was born 13 July 1834 in Shelbyville, Bedford County, Tennessee. His parents were David Green (1781-abt 1851) and Tabitha C. Huckaby Randle Burton (d. abt 1839). Tabitha Huckaby married Willis Randle in DallasCo, AL on 18 Apr 1824. They had a daughter Ann Roseanna Randle (b. 1824 AL-d. 27 Dec 1851 GonzalesCo, TX). Willis Randle was one of at least eight children of James and Rosanna Randle of HancockCo, GA. Willis Randle died before Jan 1826 when his will written Dec 1824 was proved which mentioned a widow and child under 12 months old in AL and children by a first wife Millie Moore. Those children were named Emaline, 16, and Edmund, 14, who were living with Willis Randle's brother Edmund and his sister Caroline, the wife of William E. Jones. Tabitha Huckaby Randle married Charles W. Burton from Green County, Alabama in about 1816 in either Green or DallasCo, AL. Charles Burton, probably with Tabitha, had a daughter Louisa Burton (b. 1827 in TN; m. Charles W. Lewis). In 1828 probably after the death of Charles Burton, William E. Jones' wife Caroline (sister of Willis Randle) was made guardian of Ann Roseanna Randle on 1 Sep in JacksonCo, GA. Tabitha Huckaby Randle Burton married David Green after 21 Feb 1833 in Shelbyville, BedfordCo, TN (This David Green has been confused with others of the same name and period. Some records refer to the father of Little Berry as a Davis Green which is a transcription error of David). A prenuptial agreement concerning the marriage which included Tabitha's presumed business partner Kenneth Anderson was recorded in Deed Book CC, BedfordCo, TN, pg. 399 on 11 Dec 1832:
DAVID GREEN and Tabitha C. Burton and Kenneth L. Anderson. Whereas a marriage is shortly intended to be had and solemnized between DAVID GREEN AND TABITHA C. BURTON, they desire on both parties that the property now owned by one should not become responsible for the debts or contracts of the other. In addition to denouncing future debts, Tabitha is excluding certain specific property from the marriage contract by placing her powers to own such property with her trustee Kenneth L. Anderson. The specific property is Lot No. 90, part of Lot No. 75 and also part of Lot No. 74 all within the town of Shelbyville. Further, Tabitha is excluding her grocery and confectionery store carried on by Tabitha in the same town, along with it's "Book of Accounts". Witness: William Gilchrist for Green and Burton, J. Cunningham and William M. Nelson.. Dated December 11, 1832 and registered February 21, 1833.
A letter written by oldest daughter, Mary Ann Roseanna Green Rae, of Little Berry and Sarah Burket Green, to her sister Margaret Mahala Green Braud Woodrome in about 1927 indicates that David Green was a widower with at least six sons and also had a son Burton who came to Texas in addition to Little Berry. A Burton Green described as a full brother of Little Berry Green in the letter (below) has not been identified in records of Tennessee, Georgia or Texas. It has been speculated that "Uncle Burton" may refer to Anthony J. Burton who along with Louisa Burton (Lewis) and Little Berry Green had an interest in Tabitha Green's estate in the 1850's.. A.J. Burton was born after the marriage of Tabitha to Charles Burton but before the 1833 marriage to David Green. Thus it is conceivable that "Uncle Burton" was indeed a son of Tabitha, but half-brother to Little Berry Green. An A.J. Berton, age 21 born in TN appears in the 1850 census of GonzalesCo, TX in the household of Ann Roseanna Randle (Little Berry Green's half-sister) and Capt. Augustus Jones. [A comprehensive documented history of the Green families of BedfordCo, Tennessee is in preparation for publication by author David T. Green of Sandy, Utah]
Mary Ann Roseanna Green Rae's letter describes her version of Little Berry Green's origin and appearance in Texas:
Dear Sister Maggie: Our grandfather's name was David Green. Granmother's name was Tabitha. I do not know what her maiden name was. I do know she was of Scotch descent and very wealthy. Daddy's father was an Irish gambler--therefore her wealth went. Daddy had only one full brother. His name was Burton. I have his razor. He had six half brothers. His father was a widower when he married Mrs. Tabitha Randal, who was a widow with one girl. They were married in Shelbyville, Tennessee. Father, Little Berry Green, was born in Shelbyville on July 13, 1834. He died December 5, 1900. Mother, Sarah Ann Burkett, was born October 20, 1840 at Hochheim, Texas. She died December 17, 1919 at Burkett, Texas. Father and mother met and were married at Gonzales, Texas, on July 12, 1855, by the Rev. Thomas Pilgrim, a Baptist minister. Mother told me this. Aunt Roseanna Randle was the lady I was named for. She and Uncle Burton came to Texas with Daddy. Daddy was a carpenter and made lots of money in those days. Aunt Roseanna met and married Captain Gus Jones. They went to the old Jones homestead, had four children: James, 1st; Will, 2nd; Sophy, 3rd; and Charlie, 4th. Aunt Roseanna took pneumonia when Charlie was 8 days old and died. Grandmother mostly raised the children. Now, dear sister, I hope I have made this plain. With love, Roseanna."
According to the above account, Little Berry Green came to Texas with half-sister Roseanna Randle and brother Burton. Precisely when and how Little Berry Green arrived is unclear although it is likely he came sometime after the death of his father in Bedford County, TN about 1851 rather than as a 5 year old boy on the trip with the Jones family from Georgia described in a letter of 1841 from Sophia Jones, the mother in law of Ann Roseanna Randle Jones. It was probably through contact with his half-sister Ann Roseanna Randle Jones who came to Texas in 1839 or early 1840 with her new husband, 27 year old Captain Augustus Harris Jones, who she married at age 15 on 8 Oct 1839 in JacksonCo, GA . At the time of their marriage, Rosanna was thought to be living with her guardian aunt and uncle, W.E. and Caroline Jones, the brother of Capt. Gus Jones in GA, but it is conceivable that she lived with her mother at least part of the time in BedfordCo, TN that linked the Green and Jones relatives together between the two areas. By 1841 the Jones had established residence in Texas on a homestead on the Guadalupe River.
When 21 year old Little Berry Green married Sarah Ann Burket at 14 in 1855, it is likely that widow Mary Ann Burket and Sarah were the only remaining of the David Burket family living together although it is unclear whether 16 year old Bart (married in 1860) had left home by that time. Since Little Berry's uncle by marriage, Capt. Gus Jones, assisted Mary Ann Burket's settlement of the Burket estate in 1845 and widow Mary Ann Zumwalt Burket is said to have helped raise the orphaned children of Ann Roseanna Jones after her sudden death from pneumonia in 1851, it is likely that the Jones and Burket families knew each other well from 1845. Little Berry was probably introduced to Mary Ann and Sarah Ann Burket through the Jones relationship and the proximity of their homesteads. It is likely that a 21 year old male was a welcome entry who quickly took control of the ranching and farming activities on the Burket's Guadalupe homestead.
Click on photos for enlargements and more pictures.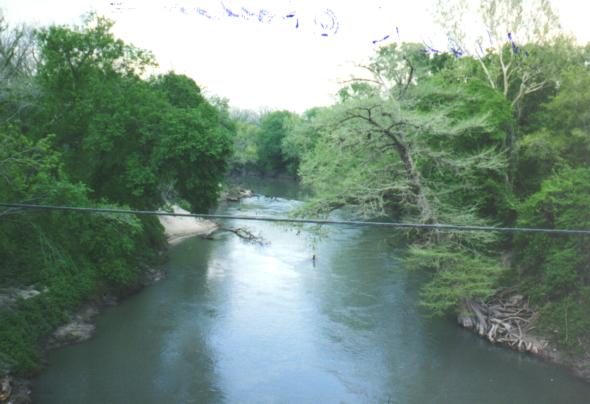 Little Berry and Sarah Ann Burkett Green, presumably at the Burkett, then Green homestead on the Guadalupe River near Hochheim (photo left) on the Indianola-Austin Road from the coast, ran a ferry and stagecoach stop on the river at one time. Area legend was that a Mexican army pack train carrying payroll gold was driven into the river at that point by Indians and it was the object of periodic search by local residents. At one time during a low point after he had just returned to the poverty of the area caused by the Civil War, Little Berry with his head between his hands while seated on a stump on the river bank found a $20 gold piece lying in the mud, but nothing after that.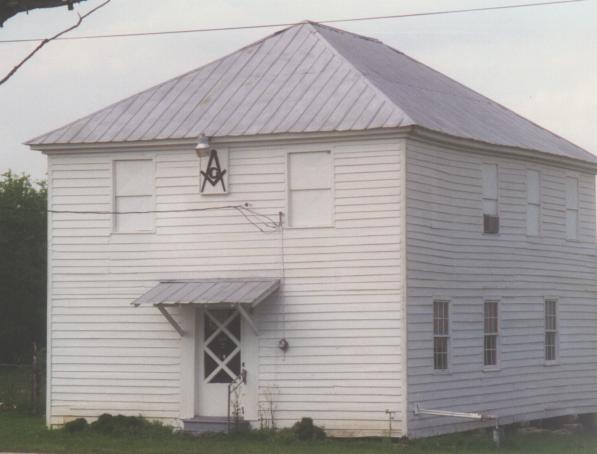 Little Berry Green was a skilled carpenter, wagonmaker and mason who served in the Civil War from 1861-1865. The Green family lived in Moulton, Concrete and Yoakum and sometimes leased out the farm at Hochheim. In 1876 Little Berry Green, James L. Crawford and J.A. Cunningham were named the first trustees of Hochheim School (photo left) when land was donated by Rachael and John A. Crawford on 16 May. The Green homestead on the Guadalupe River was four miles from the school which the Green children attended when the family lived on the river. In 1976, the Green home or original parts of it about a mile from the Guadalupe River was still standing according to descendant and researcher Mina Mae Woodrome Giesler (now deceased) who visited the site.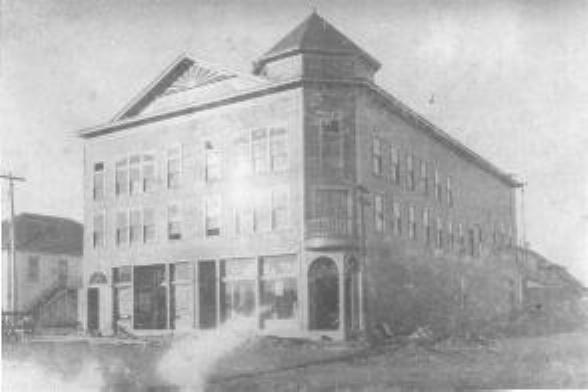 In Yoakum he ran the L.B. Green Grocery Store and Green's Opera House (photo left) which opened on 16 Dec 1897 with "Braving the World". Little Berry Green helped build the Concrete School in DeWitt County near Hochheim where he sustained an injury he carried with him until his death in Hochheim on 5 Dec 1900. Little Berry Green and Sarah Ann Burkett Green are buried in the Hochheim Cemetery beside her mother, Mary Ann Zumwalt Burkett. Sarah Ann Burkett and Little Berry Green had 11 children.
---
David Burket-Index | DeWitt Colony Expansion | Burket Land Grant
SONS OF DEWITT COLONY TEXAS
© 1997-2007, Wallace L. McKeehan, All Rights Reserved