SONS OF DEWITT COLONY TEXAS
© 1997-2008, Wallace L. McKeehan, All Rights Reserved
New Spain-Index | War of Independence-Index | Hispanic Tejano Patriots
For additional biographies, Search Handbook of Texas Online
THE MEXICAN TEXANS AND THEIR ACTIVITIES
Chapter IV of Viva Tejas by Reuben Rendon Lozano written in 1936 at the Texas Centennial
"My name stands first in the Constitution of Mexico---And today I am a colonist of the Province of Texas."---Zavala.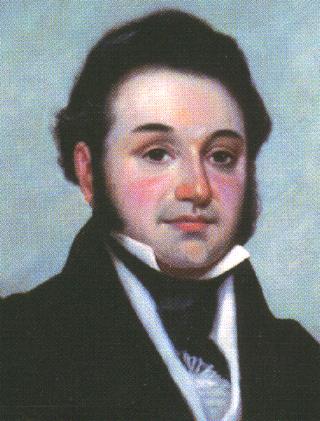 Of even the most prominent leaders of the Texas revolution the names of Juan N. Seguin, Lorenzo de Zavala, Sr., and José Antonio Navarro, should stand out amongst the most active. Don Lorenzo de Zavala, Sr., the first vice-president of the Republic of Texas, was born in the State of Yucatan, Mexico, on the 3rd day of October, 1788. He started his political career by being elected Secretary of the City Council of Wrida, Yucatan, which post he filled from 1812 to 1814. Being a Liberal since youth he was placed in San Juan de Ulua prison for political activities until 1817, at which time he was released and decided to stay out of politics. Thus he took up the practice of medicine until the year 1819. In 1820, again in politics, he was elected deputy of the Cortes of Spain. In 1822 he was elected congressman to the Mexican Congress; and served as such during the years 1823---1824. In 1825 he was elected Senator to the Mexican Senate and served until 1826. In 1827 he was governor of the State of Mexico, and served until 1830. He also held such positions as Minister of Finance, and member of the Junta of Electoral Censors in Mexico. In some pages of his diary we find,
"Is a man, I would ask, who has invited these trusts from his fellow citizens a vagrant and a wicked man? I have been President of the general Congress and my name stands first in the Constitution of Mexico. I have been president of the Senate and today I am a Colonist of the Province of Texas."
In 1834 he was appointed minister to France, but resigned in 1835 to come to Texas, as he had always planned. While in Texas, Zavala's advice to the colonists was as influential as Austin's himself, and during the absence of Austin for any reason, Zavala assumed the leadership. His spirit of love for liberty brought him to Texas and of this, Mirabeau B. Lamar says in his inaugural speech,
"Gentlemen, I should be doing an injustice to my own feelings if I were to resume my seat, without paying to my predecessor in office that tribute of respect to which he is justly entitled by his public as well as his private virtues. Through a period of a long life the ex-vice-president, Governor Lorenzo de Zavala has been the unwavering and consistent friend of liberal principles of free government. Among the first movers of the revolution he has never departed from the pure and sacred principles upon which it was originally founded. This steady and unyielding devotion to the holy sacred cause of liberty has been amply rewarded by the confidence, of the virtuous portion of two republics. The gentleman, the scholar and the patriot, he goes into retirement with the undivided affections of his fellow citizens; and I know, gentlemen, that I do not express only my own feelings when I say that it is the wish of every member of this assembly that the evening of his day may be as tranquil and happy as the meridian of his life has been useful and honorable; a gentleman, a patriot, a scholar and one who loves his fellow man."
This wonderful speech of Lamar's about one of Texas' most active patriots speaks loudly through the pages of history, for Zavala's reputation was as one of the outstanding men of principles of that era; his home was where liberty was shorn of its glory, and his nationality was mankind; he was thus attracted to Texas. He was one of the signers of the Texas Declaration of Independence, and played an important role in the entire war of independence. General Lorenzo de Zavala died November 17, 1836 and was buried on the banks of Buffalo Bayou in the County of Harris, where the City of Houston has grown and flourished, and his resting place seems to be still guarding the principles he stood for, almost opposite the battle ground where he fought alongside of Houston, and saw Santa Anna captured, the field of San Jacinto.
"I have sworn to be a Texan. I shall not forswear."---Navarro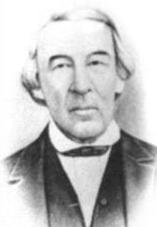 The grandfather of José Antonio Navarro was an army officer of the armies of old Spain, and his grandmother was a Corsican lady of Agaccio. After their marriage they resided in the island of Corsica for some time, and it was there that Don Angre Navarro, father of one of Texas' great men, was born. The County of Navarro was named after Don José Antonio, and the County seat of the same was called Corsicana, as a tribute to this great hero's ancestry. Sr. Navarro was born in San Antonio de Bexar, Province of Texas, in the year 1795, his parents having moved here from Corsica. During his boyhood, Santa Anna then a lieutenant in the service of Spain visited the Navarros whenever his army duties would call him to San Antonio, and became a close friend of the family. These visits however, did not acquaint the future president of Mexico with the young Texan, as Antonio was away in school, having been sent to New Orleans when very young.
He was educated in the profession of law, and was considered an authority in the civil law of Spain. He was made land commissioner for De Witt's Colony on the Guadalupe River, and later was elected representative to the legislature of Coahuila and Texas, and it was while serving in that post that he assisted Austin in passing legislation favorable to the colonies. On March 2, 1835, he was elected to serve as deputy to the National Congress, but resigned his post, owing to the impending revolutionary movement of Texas, of which he constituted a leading part. In March 2, 1836, Don José Antonio's name went down on that famous document, the Declaration of Texas Independence. He was later elected Senator to the Congress of the Republic of Texas and held that office until the young republic was annexed to the American union.
In the year 1841 while the Republic of Texas was still young, the idea of winning over to the Texas cause other parts of the Mexican territory and thus procuring their secession from Mexico and their annexation to Texas was inaugurated. With that in view, an expedition was organized under the leadership of General Hugh McLeod. This expedition was accompanied by two commissioners, one being Don José Antonio Navarro. He had been chosen for the office on account of his knowledge of Mexican law, the Spanish language and his ability as an orator. As a matter of fact, part of the plan was to win over the native population by persuasion, and Don Antonio had a splendid speech ready to be delivered at the opportune time. A copy of this speech is in possession of his grandson, José Antonio Navarro of San Antonio.
This expedition was captured by the Mexican army, and the Saxon element was leniently dealt with, but Don Antonio was given an opportunity to change his mind, at which he remarked, that he had sworn to be a good Texan and that he would not forswear. At his trial in Mexico City, he was sentenced to be shot as a traitor, the Mexican authorities, weighing the fact that he was a born Mexican. Gen. Santa Anna made him several peace offers, but he declined them all. His own family from San Antonio petitioned for mercy and Santa Anna stated that if Navarro himself signed the petition he would consider it, to which Don Antonio answered that he would rather be shot.
In the year 1845 a revolution headed by Paredes, deposed Santa Anna from office and the army stationed at Vera Cruz sided with the revolution. Thus it was that Navarro, with the aid of the army officials of Vera Cruz, succeeded in escaping aboard a British steamer sailing for Havana. From Havana, Sr. Navarro proceeded to New Orleans, thence to Galveston, where he was given a reception that his courage and patriotism merited.
He was elected a member of the Convention that framed the State Constitution prior to its acceptance into the Union. He was elected to the first Texas State Senate and served for three terms. He declined a re-election on account of his age. His children were: José Antonio Jr.. Angre, Sixto, Celso, Arturo, Carmen, Gertrudes, and Josefa.. He died in his native San Antonio in the year 1870.
The son of Lorenzo de Zavala, Sr., served as aide de camp to Sam Houston from April 1st, to May 5th, 1836. His service record was No. 8315. For his participation in the battle of San Jacinto he received 640 acres of land May 26, 1839, by virtue of Certificate No. 219. General Sam Houston in some correspondence to Secretary of War Thomas H. Rusk, said among other things, "Mr. Zavala has arrived and reported for duty. I am glad of it. He informed me that I should have the pleasure of seeing you; and indeed it would give me great pleasure to do so." Young Zavala held the rank of major in Houston's army.
One of Austin's staunchest friends in San Antonio, was Don Erasmo Seguin, son of Santiago Seguin and father of Capt. Juan N. Seguin of Houston's army. Don Erasmo furnished horses and provisions to Fannin at the battle of Concepción and from a letter by Guy M. Bryan to the editor of Texas State Gazette dated August 7th, 1852, we quote the following:
"Austin arrived at San Antonio de Bexar with his little party in company with the Commissioner, Don Erasmo Seguin, on the 15th of August 1821. In justice to the name of Seguin, I must add that no Mexican ever did more for Texas and the Colonists than did that true-hearted old man, Erasmo Seguin. In the infancy of Texas---in the days of her weakness---and his strength, he was the faithful friend of the American; (would that I could say the same of the Americans towards him.) A man of intelligence and position, having the confidence of his government, through him Austin obtained many favors for the colonists. In San Antonio whenever an American got into difficulty, Seguin was the first and best friend he had, and those who lived here in early times when the Mexican was strong, know well how valuable such a friend could prove."
He was an advocate of peace and was appointed co-commissioner with Stephen F. Austin to interview the Mexican government in behalf of preventing war.
"Texas shall be free, independent or we shall perish with glory in battle"---Seguin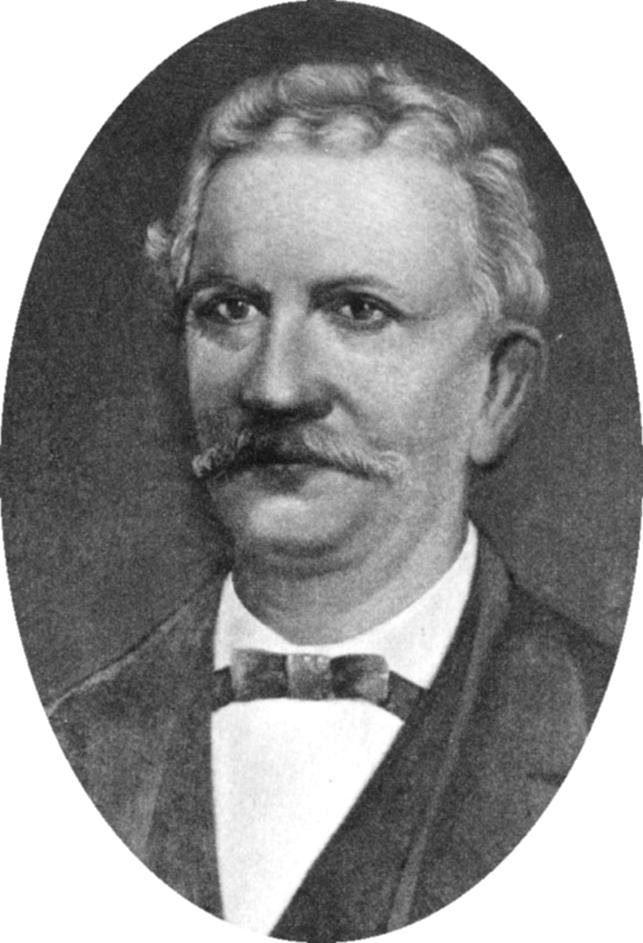 Captain Juan N. Seguin, son of Don Erasmo Seguin, organized a company of Texas-born Mexicans to aid in the defense of the Alamo. The native population of San Antonio repeatedly warned Col. Travis to retreat, warning him that he was certain to be overwhelmed, but evidently his hope of receiving aid from other sources caused him to remain. Seguin's men not only assisted in the storming of Bexar, in the preceding December, but some were then serving as scouts for Houston's army at González. Seven of this company fell at the Alamo; namely: Juan Abanillo, Gregorio Esparza, Antonio Fuentes, Toribio Losoya, Andres Nava and Juan Antonio Padilla, all natives of San Antonio, and José Maria Guerrero called "El Tuerto," from Laredo.
Being sent by Travis to obtain help from Goliad, Captain Seguin, with two of his men, Antonio Cruz y Arocha and Alejandro de la Garza, were unable to get back into the Alamo. On the 29th of February the war council in the Alamo resolved to send an officer to obtain aid. It should be someone who, in addition to bearing dispatches, might make his own influences and information valuable enough to accomplish the object of his mission. All eyes turned to Captain Juan N. Seguin, and all officers, except Travis himself, were in favor of sending him. The officers argued that he was a Mexican, could talk the native Spanish, knew the surrounding territory better that anyone there, having been born and raised in this part of the country, and his chances of passing the enemy's line were better than those of anyone else.
Travis did not wish him to go, and argued for retaining him in the garrison, but at a night meeting of the war council Travis yielded to the majority. That night Seguin and his orderly, Antonio Cruz Arocha, prepared for the trip. Another of the Mexican recruits, Alejandro de la Garza, had already been sent as a courier to the provisional government. Having no horse nor equipment, Captain Seguin requested and procured Bowie's horse; Bowie willingly giving it to him, although too sick to recognize the borrower. Seguin then bade Bowie and the rest what proved to be a last good-bye.
The Alamo sentinel complained about Captain Seguin wanting to leave the garrison, but upon Seguin producing the order allowing him and the orderly to pass, and then explaining to the sentinel the possibilities of relief if his mission was accomplished, the guard not only was glad to allow them through but bade them God speed. The road of the two horsemen necessarily passed near the enemy's cavalry camp; and where they had to cross, a company of dragoons was stationed, at this time dismounted, and making ready to rest for the night. Seguin and his orderly rode as though unconcerned, and reaching the crucial spot, responded in Spanish to the sentinels' hail: "We are countrymen."
No doubt they were taken for Mexican rancheros, riding up to report, but when near enough for a swift dash, they rode fast and furiously past the guard at full speed. The hurried fire of the troopers being ineffective, they escaped on their mission, The next day Seguin met one of Fannin's officers, who had escaped from Goliad, and who informed him that his message was useless, and advised him to join the main body of the Texan army which was being gathered at González, which he did.
Others listed as messengers from the Alamo, and also belonging to Captain Seguin's men, are Juan M. Cabrera, Jacinto Peña and José Maria Jiménez. All of these men of Seguin's Company, had joined the Texan cause through his influence. Many of the men of this company fought in the battle of San Jacinto, and we find their names in the land certificates of the State, as receiving land for their services. Captain Seguin served gallantly at San Jacinto, in the rank of Captain and was later promoted to Colonel being in command of a regiment. The names of the men in Seguin's company are as follows:
SECOND REGIMENT OF TEXAS VOLUNTEERS NINTH COMPANY
Arocha, Antonio Cruz
Arocha, José Maria
Arocha, Manuel
Arreola, Simón
Bárcinas, Andrés
Bueno, Manuel
Cabrera, Juan M.
(First Corporal)
Casillas, Gabriel
Cormana, Cesario (orderly)
Curbier, Antonio
Curbier, Matias
De La Garza, Alejandro
Flores, Manuel (First Sergeant)
Flores, Nepomuceno
Herrera, Pedro
Jiménez, José Maria
Maldonado, Tomás
Mancha, José Maria
Menchaca, Antonio
(Second Corporal)
Navarro, Nepomuceno
Peña, Jacinto
Ramirez, Eduardo
Some of the privates in this company were promoted to officers and will be discussed later.
To Juan Seguin also fell the honor of burying the remains of the heroes of the Alamo, and this solemn duty was brought about by an order issued while he was still Colonel in the Texan army and we again quote from old documents.
"In conformity with an order from the general commanding the army at headquarters, Colonel Seguin with command stationed at Bexar, paid the honors of war to the remains of the heroes of the Alamo. The ashes were found in three places. The two smallest heaps were carefully collected, placed in a coffin neatly covered with black, having the names of Travis, Bowie and Crockett engraved on the inside lid, and carried to Bexar and placed in the parish church, where the 'Texan flag, a rifle and sword were laid upon it for the purpose of being accompanied by the procession, which was formed at 3 o'clock on the 25th of February. The honors to be paid were announced in order of the previous evening, and by the tolling knell from daybreak to the hour of interment. At 4 o'clock the procession moved from the Church of Bexar in the following order: Field officers, staff officers, civil authorities, clergy, Rodriguez, Ambrosio (Second Corporal); Seguin, Juan Nepomuceno; (Captain); Tarin, Manuel Enriques, Lucio; Flores, Manuel María, military not attached to the corps, and others. Pall bearers, coffin containing the ashes, pall bearers, mourners and relatives, music, battalion and citizens. The procession then moved through the principal street of the city, crossed the river, passed through the principal avenue to the other side and halted at the place where the coffin was then placed upon the spot, and three volleys of musketry were discharged by one of the companies. The procession then moved on to the second spot where most of the ashes in the coffin had been taken and where the same honors were paid. The procession then proceeded to the principal spot, and placed interment when the grave had been prepared. The coffin had been placed on the principal heap of ashes. Colonel Seguin made the following address, in his native tongue, the Castillian:
Compañeros de armas: Estos restos que hemos tenido el honor de conducir en nuestros hombros son los de los valientes héroes que murieron en el Alamo. Sí mis amigos, ellos prefirieron morir mil veces a servir el yugo del tirano. Que ejemplo tan briIlante, digno de anotarse en las páginas de la historia. El genio de la libertad parece estar viendo en su elevado trono de donde con semblante halagueño nos señala diciendo: "Ahí tenéis a vuestros hermanos, Travis, Bowie, Crockett y otros varios a quienes su valor coloca en el número de mis héroes.---Yo os pido a que poniendo por testigo a los venerables restos de nuestros dignos compañeros digamos al mundo entero. Texas será libre, independiente o pereceremos con gloria en los combates.
Translation: Comrades in arms: These remains which we have had the honor of carrying on our shoulders are the ones of the brave heroes who died in the Alamo. Yes, my friends, they preferred a thousand deaths rather than surrender or serve the yoke of the tyrant. What a brilliant example. Worthy indeed of being recorded in the pages of history. The genius of liberty seems to be witnessing from its high throne, from whence with praising look points out the deed saying: "Here you have your brothers, Travis, Bowie, Crockett and a few others whose valor, places them in the number of my heroes.---The worthy remains of our venerable companions bearing witness, I ask you to tell the world, Texas shall be free and independent or we shall perish with glory in battle.
Colonel Seguin was senator from the Bexar District in the third and fourth Congress of the Republic of Texas, serving in that capacity from September 25, 1837 to February 5th, 1840. He was elected mayor of San Antonio in January 4th, 1841. Being disappointed because Texas joined the Union, and did not continue as an independent State, Seguin went back to Mexico, where he served in the Mexican army against the American invasion, having the grade of Colonel. In his later years he visited Texas, returning through the aid of some American officers, who had not forgotten his services to the State. He published an open letter justifying his actions. He returned to Monterrey, Mexico, however where some of his children lived, and died there at the home of his son Santiago, about the year 1888.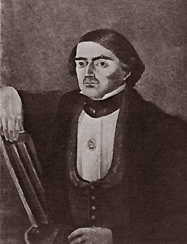 Don Francisco Ruiz, a prominent politician in San Antonio was very active in the Convention of 1835, and in the Convention that drew up the Declaration of Independence. He was exceptionally zealous, as he always favored annexation of Texas by the United States. He was one of the signers of the Declaration and was mayor of San Antonio during the fall of the Alamo. His father and the mother of Don Antonio Navarro were brother and sister, making Don Francisco a first cousin of Don Antonio Navarro. James Bowie was a nephew by marriage of Don Pancho's, as he was commonly known.
[Lozano mixes the biographical sketch with José Franciso Ruiz (1783-1840), the signer of the Texas Declaration of Independence and that of his son, Francisco Antonio Ruiz (ca. 1804-1876), the alcalde of San Antonio at the fall of the Alamo, who was known as Don Pancho. The latter opposed the annexation of Texas to the United States. Portrait from With the Makers of San Antonio by Chabot, 1938. Chabot states the painting is in possession of the Herrerra family and was provided courtesy of the League of United Latin American Citizens---W.L. McKeehan]
Born in Texas; enlisted with Captain Seguin on October 11, 1835; fought in the siege of Bexar; discharged November 4th, 1836. His headright and labor of land was sold in San Antonio on February 2nd, 1836. He died at San Antonio, Texas in 1841.
The Bexar County board issued to this soldier a headright and labor certificate for one third of a league of land. On May 31, 1851, he was issued donation certificate for 640 acres of land for services at the battle of San Jacinto. The Arocha descendants in Bexar County are many.
Born in Mexico, reared in Texas, served with Captain Seguin's Company. Left the Alamo with Seguin the night of February 29th, 1836, to procure aid for the garrison of the Alamo. He joined Houston's army at González immediately thereafter, and fought at San Jacinto. Bounty Warrant No. 927, for 1280 acres of land, for serving in the Texas army from January 1835 to December 1837. On November 6th, enlisted as second sargeant in Lieutenant Manuel Flores' Company. He was granted a labor and league by Bexar County Board March 6, 1838. He is listed in Seguin's company as Antonio Cruz.
Born in Bexar, Texas. According to Service Record No. 6669, Arreola, joined Captain Seguin's Company February 23, 1836 and was discharged at Nacogdoches, July 31, 1836. The Bexar County Board of Land Commissioner's granted him a league and labor of land on February 2, 1838. In 1842 he was still to be found in San Antonio, but on November 1850, according to a deed record in the County Clerk's record of Bexar County," he was either dead or out of the state."
Born in San Antonio de Bexar, Texas. His services were recognized by the granting of a headright certificate of land. He died in San Antonio in 1839, and Colonel Juan N. Seguin was appointed administrator of his estate May 27, 1839.
Native Texan, born in Bexar. Enlisted in Lieutenant Manuel Flores' company November 5, 1836; served until February 3, 1838. He was granted 1280 acres of land by the Bexar County Board. Died in Bexar, 1841.
Native Texan, born in Bexar in the year 1814, enlisted in Captain Seguin's Company November 5, 1836 and served as third sergeant of the company. He married Irulella Garza November 11, 1837. He was a member of the Texas Veteran's Association. Died in San Antonio in 1877.
Native Texan, born in San Antonio, Texas, service record No. 8760; served in Seguin's Company from March 5, 1836 to June 5, 1836. (The dates of enlistment like the above show some of these men rallying to Houston's army just before the battle of San Jacinto, April 21, 1836.) He later enlisted in Lieutenant Manuel Flores' Company and was Second Sergeant. He was granted a third of a league of land by the Bexar County land board and received his allotted 640 acres for service at San Jacinto. On April 21, 1852, he was given more land, consisting of 320 acres, for services in the Texan army from February 22, 1836, to July 15 of the same year. On May 24, 1852 his widow sold 960 acres of land to one John James.
Flores was born in Bexar, his service record No. 4220 shows him as serving in the Texan army from October 1st, 1935, to October 1st, 1836, as first sergeant under Captain Seguin; as First Lieutenant in Second Regiment of Cavalry, Company "B", and as Captain from March 1st to October 12, 1837. He was credited with urging the Texans forward, after their first fire upon Santa Anna's men. The Texans having fallen on their stomachs, waiting the reaction, he shouted: "Get up you cowards. Santa Anna's men are running." This man was also disappointed by the fact that Texas was deciding to annexation, and while residing in Matagorda he attempted a revolution against the established Texan authorities. General Canalizo of the Mexican army procured his services to incite the Indians in Texas to uprisings. On May 14, 1839 Texas Rangers under Lieutenant James O. Rice discovered him and his band on the San Gabriel river in Williamson County, and in the encounter Flores was killed. Much too sad an end for his splendid record.
[It is likely that both the Flores' above and below were the loyalist Hispanic Tejano patriot who participated in the Texas rebellion who died in 1868 and served with Seguin's company during and after the war for independence. The incident referred to above happened at San Jacinto and was related by Ambrosio Rodriquez to his son who related it in his memoirs. It is unclear if the centralist agent Flores served in early battles for Texas independence on the side of the Texians---W.L. McKeehan]
This man was granted a headright certificate for one third of a league of land, for serving in Captain Seguin's company from January 15, to June 10, 1836. Born in San Antonio, Texas in 1808. Died at the same place on December 3, 1868.
Born at Bexar, Texas, in the year 1811. Service record 4223. Served as corporal in Juan N. Seguin's Company from January 1st, 1836 to October 11 of the same year, and as first lieutenant from October 14, 1836, to October 14, 1837. He took part in the storming of Bexar in December 1835. His father was José Flores de Abrego, and he was a brother of Captain Manuel Flores. He served at San Jacinto. He was a brother of Colonel Juan N. Seguin's wife. Died December 2, 1878.
Born in Bexar; served in Captain Seguin's Company from February 23, to July 1836. His service record is No. 565. Re-enlisted November 5, 1836. In Captain Manuel Flores' Cavalry Company on November 4, 1837.
TOMAS MALDONADO (Listed as Maldonart)
Served in Captain Seguin's Company. This man is among the many Mexican-Texans whose records do not appear in many places. Having performed their duties as soldiers, they were never heard of again except, perhaps, through some friend, or kinfolks.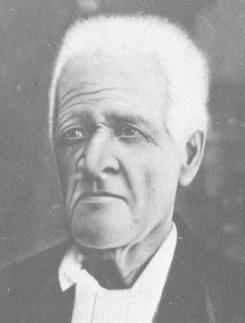 Born in San Antonio, Texas, in 1800; served gallantly in the storming of Bexar, in December 1835; served under Captain Juan N. Seguin as second sergeant, and as such took part in the battle of San Jacinto, it being said about him that he was ordered by Sam Houston to cook a Mexican dinner for the prisoner of war, Santa Anna. During Manuel Flores' uprising in Nacogdoches, President Lamar appointed a commission to deal with him, hoping to win Flores back to the Texan cause, and Antonio Menchaca was a member of the Commission, He made all possible efforts to convince Flores of his error, but was unsuccessful. He made a full report of his mission to President Lamar.
He later was elected city alderman in San Antonio, and became mayor pro-tem July 20, 1838. He was a member of Texas Veteran's Association. He was a very close friend of Colonel James Bowie, with whom he had taken a trip to the United States, and had learned to admire Americans, and their customs. The Congress of Texas, in recognition of his services and his injuries, for he had been wounded, granted him a house and lot at San Antonio, from properties confiscated from those who gave aid and comfort to the enemy. However, the confiscation never took place and he got only the recognition. He was wounded during the battle with General Woll at San Antonio. Don Antonio was the father-in-law of the one time County Treasurer, J. B. Lacoste. Died in San Antonio on November 1, 1879, and is buried in San Fernando Cemetery No. 1.
Born in San Antonio in 1811. Another one of Captain Seguin's men; received land from the Bexar County Land Board in recognition of his services. He also was a member of the Texas Veteran Association. Died at San Antonio, April 8, 1877.
Born in Mexico, reared in Texas, served in Captain Seguin's Company until June 10, 1836. On December 31, 1836, he is again shown as second corporal in Captain Manuel Flores' Cavalry. On January 29, 1838, he was granted a headright certificate for a third of a league of land by the Bexar County Land Board. Fought at San Jacinto.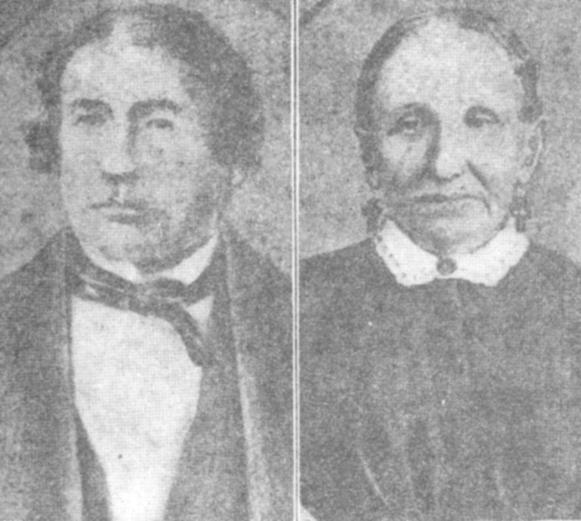 Born in San Antonio, his father was Don Manuel Ignacio Rodriguez and his mother was Antonia Curbiere, of the early Canary Island families, which settled San Antonio; he was married to Miss Maria de Jesús Olivarri on January 16, 1828. He joined Captain Seguin's Company on the 23rd day of February, 1836. The muster roll of Captain Seguin's Company, at Victoria, shows Rodriguez as a second lieutenant on May 29, 1836. He was paid tribute by General Thomas J. Rusk who said that he deserved the kind treatment and friendship of all Texans. At Houston Captain Seguin certified that a saddle, bridle, and mountings valued at sixty-five dollars had been pressed into service, being the property of Lieutenant Rodriguez, and General Houston endorsed the certificate of payment to him. He served gallantly at the Battle of San Jacinto. He enlisted November 5, 1836, for the duration of the war in Lieutenant Manuel Flores' Company. He was promoted to second lieutenant of the company, the Texas Senate confirming his appointment on May 22, 1837. He died in San Antonio in 1848. His son Judge J. M. Rodriguez, of Laredo and San Antonio, carried on where his father had left off. In 1858 he was elected assessor and tax collector in Bexar County, on the same ticket with General Houston, who was running for governor. He was later elected county clerk of Webb County and later county judge of the same county; an office which he held for thirty-five years, or until his death. [Photo from Rodriquez Memoirs of Early Texas]
According to his service record, No. 194, he was born in Mexico, served in Captain Seguin's Company from February 22 to July 15, 1836. On January 25, 1838 the Bexar County Land Board granted him a headright certificate for one third of a league of land. He lived in San Antonio.
OTHER PROMINENT TEXANS OF MEXICAN BIRTH
On October 18, 1836, Captain Placido Benavides, alcalde of Victoria, organized a company of thirty Mexican rancheros, known at that time as the best horsemen in the world, and this fine gentleman and his men joined General Austin's army for the attack on Bexar. Benavides' men distinguished themselves as soldiers, horsemen and marksmen, in the storming and taking of Bexar. It is conceded that the battle that caused Santa Anna to give real importance to the situation in Texas was the taking of San Antonio, which Austin had planned but that was carried out by others, and I submit some names of the men that took part in this battle and ask that the number of Spanish names be noted:
Alamedo, José
Arrocha, José Maria
Barbo, Juan José
Benavides, Plicido
Blair, Samuel
Bowie, James
Brugmeins, John
Bustillos, Clemente
Cain, John
Cárdenas, Francisco
Casillas, John
Casillas, Mateo
Casillas, Pablo
Castinon, Louis
Cavazos, Albino
Cervantes, Agapito
Chacón, Carlos
Contes, Ciriaco
Cooke, Wm. G.
Cronican, Michael
Cruz, Antonio
Curbelo, Fernando
Curbelo, Matias
Daily, Michael
Dashalier, P. B.
De La Garza, José Maria
De La Garza, Marcelino
De La Garza, Paulino
DeLeon, Silvestre
Diaz, Domingo
Dimmitt, Philip
Duval, Andrew
Escalera, Manuel
Espinosa, Ignacio
Flores, Manuel
Flores, Manuel María
Flores, Salvador
Gallardo, Manuel
Gaona, Pedro
Garcia, Clemente
Garcia, Jesús
Gaytón, Agapito
Gómez, Francisco
Gómez, Máximo
Hernández, Antonio
Hernández, Eduardo
Hernández, Gregorio
Herrera, Pedro
Herrera, T.
Jiménez, Juan
Laso, Carlos
Leal, Manuel
Lynch, Jos. P.
Malone, Wm.
Mansola, Pablo
McNelly, P.
McNelly, R. D.
Menchaca, Antonio
Miranda, Francisco
Mora, Estéban
Nolan, James
(husband of a Mexican)
Rodriguez, José de Jesús
Rodriguez, Justo
Ruiz, Antonio
Ruiz, Esmerigeldo
Salinas, Francisco
Salinas, Miguel
Salinas, Pablo
Seguin, Juan N.
Silva, Miguel
Tejado, Agapito
Valdéz, Francisco
Villareal, Steven
Zuníga, José
Many old instruments have been found in which Spanish names have been lost because of misspelling, due to efforts by English-speaking recorders to spell names in accordance with their pronunciation. For instance, the name Padilla is sometimes spelled Badilla or Badille and the first name has been lost or forgotten, but there was one Juan Antonio Padilla sent as delegate from Victoria to the Convention of the Declaration of Independence, and only flooded streams prevented his name from being on that instrument. There was another Padilla who appears, by his actions to have been friendly to the Texans. Some have him as originating from Saltillo, then capital of Coahuila and Texas. I am giving this as an example of the many names to which honor is owed in Texas history, but which like this one, have been mixed up or forgotten.
Since the time of early wars the Mexican of Texas has readily responded to the first duty of a citizen, the one that calls him to make the supreme sacrifice, and many Spanish names from Texas are numbered in all of the wars and lists of the Lone Star State as an independent nation, a Southern State and as part of this great Union. May the progress made in these one hundred years of Texas freedom carry us even farther in the direction of Americanizing this native population, and train them to be the ambassadors of good will in North America between the English speaking and the Spanish speaking countries for God made them to understand the Spanish temperament and their place of birth enables them to understand the equally difficult, to the Latin temperament, temperament of the Anglo-American.
To the Mexican-Texan there has been left a heritage as proud as that borne by the American Texan. Side by side their ancestors won Texas' independence and built the republic that was destined to become a great state. Today, on the hundredth anniversary of the events which created history, the descendants of those patriots whether Mexican Texan or American-Texan, share equally the glory of a resplendent ancestry.
Ruben R. Lozano
San Antonio, 1936
---
SONS OF DEWITT COLONY TEXAS
© 1997-2008, Wallace L. McKeehan, All Rights Reserved