SONS OF DEWITT COLONY TEXAS
© 1997-2006, Wallace L. McKeehan, All Rights Reserved
Sylar Family--Index
Allied Families: McKeehan | Adams | Hartley | Schaff |
The Sylar Family
Alsace-Lorraine to Maryland, Virginia &Tennessee
The German origin of the surname Sylar was derived from Sėyler (modern spelling Seiler) which literally means "ropemaker" in German. The following variations have been noted in American records: Sailer, Saylor, Seyler, Seiler, Seiller, Siler, Silor, Syler, Seilor, Seylor, Saylor, Sciler and Sylar.
Johann, George and Dietayler Seiler were well-known painters and engravers around 1680. George Friedrich Seiller (1753-1807) was a philosopher and religious writer. The English surnames Sailer, Saylor, Seiler, SEiller and Seyler are thought to be derived from the old French word sailleor and saillur (a dancer). Herbert le Sayllur, Hugh le Saylliur, Robert le Salyour and John Sayller are individuals in records as early as the 13th century. One of the earliest Siler spellings in America appeared in James City, VA in 1636 and in GloucesterCo in 1637 (from Theodore E. Siler, The Siler Family, 1982).
The Alsatian line here which emigrated eventually to Roane and Hamilton counties and surrounding areas in Tennessee adopted the relatively unique spelling Sylar. The first American Sėyler immigrant family of this line came from Birlenbach, Wissembourg, Alsace-Lorraine and probably landed in the Port of Baltimore about 1755. A significant portion of the following comes from the research of descendant Roy M. Sylar (now deceased).
Sarah Maria Sylar (1833-1901)
Parents: Peter Hartley & Sarah Adams Sylar
Photos: Sarah Maria, left & mother Sarah & brother H.H.
Spouse Charles Coffner McKeehan (1821-1877)
---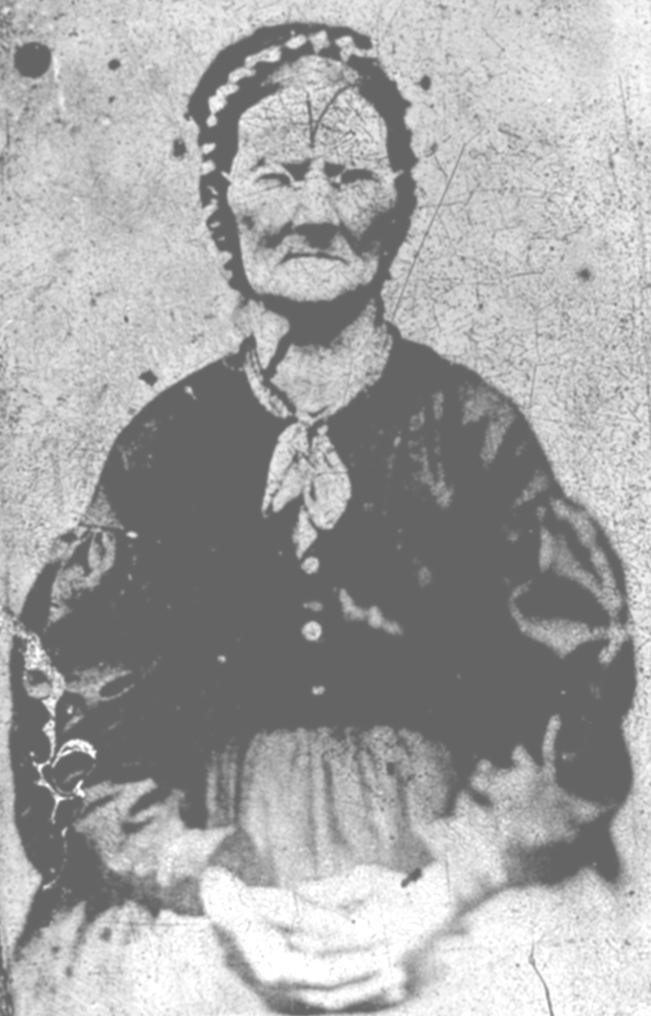 Peter Hartley Sylar
(Parents: Jacob & Mary Hartley Sylar)
b. 15 Jun 1796 Natural Bridge, BotetourtCo, VA d. 4 Sep 1876 Ooltewah, JamesCo, TN
Married 1. 16 Dec 1820 KnoxCo, TN Mary (Polly) N. Arnold
Married 2. 20 Sep 1826 RoaneCo, TN
Sarah Adams
Parents: Asahel & Elizabeth Adams
b. 14 Nov 1808 South Carolina d. 30 Jan 1888 Ooltewah, HamiltonCo, TN
Arriving with his parents families in RoaneCo, TN from BotetourtCo, VA in 1807-1808, Peter likely grew up and lived there most of his life before moving to the area around Ooltewah where his many descendants cluster to now. His first marriage to Mary Arnold recorded in KnoxCo, TN may indicate he lived there or simply got married there. The fate of Mary Arnold is unknown. Peter married Sarah Adams in 1826, the oldest daughter of Asa Adams and Pherity (Elizabeth) Barfoot. According to descendants, Asa and wife always lived near their daughter, Sarah Adams Sylar.
Ooltewah in the Ocoee District was located in Indian lands in 1824. The western part of the district, in which was Ooltewah, became part of HamiltonCo in 1835, the eastern part of the district became BradleyCo in 1836. In 1870, a strip between Hamilton and Bradley counties containing Ootewah became JamesCo. In 1920 JamesCo was dissolved and merged back into Hamilton and Bradley counties leaving Ootewah in HamiltonCo. The Sylar and Adams families likely moved into HamiltonCo soon after its formation in 1835. In 1839 Peter Sylar received the piece of land for service on which he build the Sylar cabin which has been restored and remains in the family today. Peter Sylar was a blacksmith as was his son Houston Hartley and kept detailed records for which there are examples from his journal.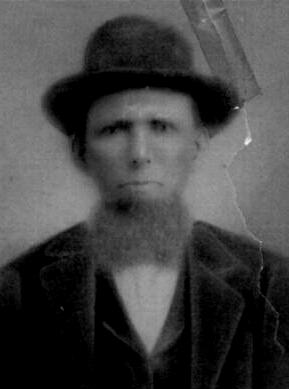 1812: Peter Hartley Sylar is on the roster of Capt. Alex Campbell's Virginia Militia in the War of 1812.
1820: Peter H. Sylar married Polly N. Arnold 16 Dec. in KnoxCo.
1826: RoaneCo, TN marriage records record that Peter Sylor wed Sally Adaems, 20 Sep 1826 John Loyd, BM, officiating.
1830: RoaneCo Census indicates that households of widowed mother Jane Hartley Sylar and Peter Hartley Sylar were living nearby. Jane Sylar-46 00001-00010001 1 male 20-30; 1 female 15-20, 1 60-70 Peter H. Sylar-51 000101-00002 Males 1 15-20, 1 30-40; 2 20-30 female
1839: 9 Dec. Peter H. received a grant of land for service from the state of TN, 160 acres in HamiltonCo,TN witnessed by Governor James K. Polk 4 Jun. In 1840, Sylar built a log house with two rooms and a sleeping loft on the land.
1841: HamiltonCo, TN records: Peter H. Sylar purchased 78 acres from William Reed for $400.
1860: Census of HamiltonCo, TN recorded household 142, pg. 62: H.H. Syler 25, Sarah 19
born in Georgia, J.C. 1 yr. and household 143: P. H. Syler 66 $1800 and $500 assets born in Virginia, Sarah 49 born in TN.
1864: 10 Feb. Peter H. Sylar (spelled Siler in this record ) signed oath of allegiance to the USA to the Provost Marshal's office, HamiltonCo, TN.
1875: 19 Dec. Last record in Ooltewah, JamesCo, a tax receipt from Peter H. Sylar.
1876: 2 Oct JamesCo court document giving H.H. Hartley authorization to administer estate of Peter H. Sylar who died intestate.
1879: 6 Jan. pension granted to Sarah Sylar, widow of Peter H. Sylar, of Ooltewah, JamesCo,TN of $8 per month beginning 9 Mar 1878, certificate from Dept. of Interior, Pension Office.
---
b. abt 1775 North Carolina d. aft 1860 Ooltewah, HamiltonCo, TN
Married 23 Feb 1801 North Carolina
*Pherity Barfoot (Elizabeth)
*Pherity Barfoot is the name on Asa Adams marriage record in NC. Descendants have speculated that the name may have indicated that she was a native American and was changed to Elizabeth in TN. Alternatively, Pherity may have been a first wife.
According to Adam's family descendant Ann O'Connell (75 Lakeshore Ln., Chattanooga, TN), the Asahel (Asa) Adams family probably settled in RoaneCo, TN on Wolf's Creek in 1813. 1814 RoaneCo deed book D-1, pg. 291, shows a transfer dated 2 Aug, no year, from Thomas N. Clark and Nancy Williams to Asa Adams, probated 29 Jul 1814, registered 6 Aug 1814. The transfer may have occurred 2 Aug 1813. In 1814-1821 Asa Adams appears on the RoaneCo Tax List. In 1833-1837 there are more deed transfers in RoaneCo to and from Asa Adams. The Adams appear to have lived in RoaneCo in 1830 and HamiltonCo in 1840, 1850 and 1860. In 1839 23 Dec Asa Adams bought 80 acres in HamiltonCo. An 1841 record of 2 Sep shows a land transfer in the Ocoee District, BradleyCo.
---
"An old Dutchman by name of Jacob Siler....[father] hired me to the old Dutchman....arrived three miles from what is called Natural Bridge...at the house of Mr. Hartley, who was father-in-law to Mr. Siler....My Dutch master was very kind to me..."--Davy Crockett's Memoirs
Jacob Sėyler (Siler/Sylar)
Parents: Johann Jacob Sėyler & Dorothea Schaff
b. 1763 FrederickCo, MD d. 16 Mar 1826 RoaneCo, TN
Married 3 Jun 1793 BotetourtCo, VA
Jane Hartley
Parents: Peter Hartley & Elizabeth Reiter/Rider
b. 1779 WashingtonCo, MD d. aft 1831 RoaneCo, TN
Although there are uncertainties, it is unlikely that the Jacob Sylar above was the 4th child of Johann Jacob Sėyler Sr., Johann Jacob Sėyler Jr. b. 1749 in Alsace-Lorraine, who came with the family to America in 1755. It is more likely that Jacob Sėyler who married Jane Hartley was the namesake of his older Alsace-born brother who probably had died earlier. Since Feliskey Greiner refers to 8 daughters and 2 sons in the family, it is also likely that Johann Georg may have died young or on the high seas. Jacob Sėyler Jr. is referred to as the youngest son of Jacob Sėyler Sr. by descendants including researcher Roy Sylar.
1793: In BotetourtCo, VA marriage records indicate that 30 year old Jacob Siler marries 14 year old Jane Hartley:
Jacob Siler and Jane Harkley 3 Jan 1793, bonded by Henry War, witness William P. Smith, confirmed Boston Hackley father 30 Jan 1793 [2 witnesses illegible].
The "Old Dutchman" Who Hired Davy Crockett
1798: On a trading mission, Jacob Jr. acquired a herd of cattle in TN to be driven back to his home in RockbridgeCo, VA. In Tennessee, he stopped by a tavern run by the Crockett family, arranged that 12 yr old Davy Crockett be bound over to him to assist with the drive. From "Davy Crockett's Own Story" (Citadel Press, NY, pg. 22,23:
"An old Dutchman by name of Jacob Siler----made a stop at my father's house. He had a large stock of cattle that he was carrying with him.-----He hired me to the old Dutchman to go the four hundred miles on foot, with a perfect stranger that I had never seen until the evening before. I set out with a heavy heart, it is true, but I went ahead until we arrived at a place, which was three miles from what is called Natural Bridge, and made a stop at the house of Mr. Hartley, who was father-in-law to Mr. Siler, who had hired me. My Dutch master was very kind to me, and gave me five or six dollars, being pleased, as he said, with my services."
Davy Crockett stayed at the Hartley's for four or five weeks, became homesick and slipped away at night in a snowstorm to join a teamster, Mr. Dunn, for a ride back to Tennessee.
1805: Jacob was named in his father's will settled in 1805.
1806: Jacob bought 83 acres on Buchanan's Mill Creek from John Brown on 5 Oct 1806, deeded it to John D. Greiner, a brother-in-law two days later (AugustaCo, Deeds, Book 34, pg. 33).
1807-09: AugustaCo, Court Records, 1807-09, part. 11, pg. 53, a trust held for nephew, Jacob Yeaky that was deeded to John D. Greiner.
1807-08: Moved to Knox and/or RoaneCo,TN. RoaneCo was formed from KnoxCo in 1801.
1819: Tax List RoaneCo Hankins to Sylar 350 acres
1826: Obituary for Jacob Sylar appeared in the Knoxville Register 10 Apr 1826, pg. 2, where he is listed as 63 years old at the time of his death in RoaneCo,TN 16 Mar 1826.
1832: The RoaneCo records contain the will of Jacob Sylar 1832 (wb-184-ro)
---
Jane Hartley (1779-aft 1831)
Parents: Peter (Boston) Hartley & Elizabeth Reiter/Rider
Spouse Jacob Sylar
From her marriage record in marriage records of BotetourtCo, VA, 1793, Jane Hartley was the daughter of Peter (Boston) Hartley who was married to Elizabeth Reiter/Rider. Elizabeth was probably dead before 1827 at the time of Peter Hartley's will. It is unclear whether she was Jane Hartley's mother or a second wife after the death of Jane Hartley's mother. Jane's marriage record only mentions her father, Peter "Harkley". It was the Hartley's farm and ranch on the Abingdon Road near Natural Bridge, VA referred to in Davy Crockett's story. Father Peter Hartley moved with the family to RoaneCo, TN and died there about 1827 as indicated by his will in RoaneCo records. The mention of a close friend in his will named Samuel Houston may have been the beginning of the McKeehan family legend that we are kin to Sam Houston of Texas. The Houston family was centered in the same counties as were the Hartleys and Sylars in Virginia and moved to RoaneCo, TN about the same time. The Samuel and Elizabeth Paxton Houston family, which included Sam Houston, congressman and governor of Tennessee and later of Texas fame, moved to Bakers Creek, ten miles south of Maryville in BlountCo, TN in spring 1807 upon the death of Major Samuel Houston Sr. Houstons which were important in founding Tennessee and were already in the area. This included Rev. Samuel Houston, famous preacher of the High Ridge, VA Presbyterian Church who preached in Maryville as early as 1772. Robert Houston was sheriff of KnoxCo, TN in 1793 and James Houston was in BlountCo by 1783. James Houston built Houston Station near Maryville, was a delegate from BlountCo in the 1796 first TN State convention in Knoxville and a member of the first Tennessee legislature. Sam Houston was elected governor of Tennessee on 1 Oct 1827, married Eliza Allen 22 Jan 1829, split up under scandalous or mysterious conditions and resigned the governorship on 16 Apr. and left Tennessee for AR. In Jun 1830 he visited Bakers Creek coming back from Washington, was back and forth to Tennessee in 1831 on one trip in which his mother died. He arrived in Texas in 1832.
Origin of the Sam Houston Legend in the McKeehan Family?
Peter Hartley's Will RoaneCo, TN 7 Aug 1827 Probated 24 Oct 1831
In the name of God Amen, I Peter Hartley in the County of Roane in the State of Tennessee being in perfect health of body and soundness of mind and memory thanks be given unto God. Calling unto mind the mortality of my body and knowing that it is appointed that all men once to die do make and ordain this, my last Will and Testament that is to say ??? and first of all I give and commend my soul into the hands of Almighty God that gave it and my body I commend to ??? mother earth to be buried in her with a decent and Christian burial at the discretion of my Executors nothing doubting but at the grand resurrection I shall receive the lamb by the mighty power of God. As touching such worldly estate when without hath please God to bless me with in this life I give division and dispose of the sum in the following measure and fondly.

First I give and bequeath unto my beloved granddaughter Betsy Sylar my gold watch and my ??? called dimond and an obligation I have on Thomas Armstrong in Virginia for five hundred dollars and all my household and Kitchen furnishings except our bed and furnishings and our dishes. I do further give and bequeath to my beloved grandson Peter H. Sylar the plantation and tract of land where on I now live containing two hundred and fifty acres with the appreciations thereunto belonging. I do further give and bequeath unto my two beloved grandsons George Sylar and Samuel Sylar my plantation and tract of land whereon Isaac Morris formerly lived containing three hundred acres so as that when there shall be ??? over through said tract of ??? land leaving one hundred and fifty acres of land to each grandson so that the said Samuel Sylar shall have choice of said tract and I do further give to ??? Samuel Sylar the bed and furniture (five words unreadable). I do further give to my beloved grandson William Sylar my silver watch that I now so ??? in my pocket. I do further give to my beloved granddaughter Magdaline Sylar my dishes. And I do further give and bequeath to my beloved daughter Jane Sylar one hundred dollars ??? from William Burnett and all other property and articles of my Estate not herein before described of. I do hereby constitute and appoint my beloved and trusty friend Samuel Houston & Peter H. Sylar the sole executors of this my last will and testament and do hereby ??? dissolve, revoke and disavow? all other wills heretofore made by ??? ratifying and confirming this and no other to be my last will and testament, in witness thereof I have here unto set my hand & seal this 7th day of August 1821. Peter Hartley (seal). Attested by Henry Brazeale and Robert H. Brazeale. State of Tennessee, County Court of Roane County, October 24 1831.

There was the execution of the foregoing last will and testament of Peter Hartley duly proved in open court in due forum of law by the oaths of Henry Brazeale and Robert H. Brazeale as subscribing witness thereto and adjudged by said court to be the last will and testament of said deceased and admitted to record and ordered to be so certified. Given under my hand and private seal (not having ?? seal of office) at office in Kingston the 24th day of October 1831. Henry Brazeale Clk. by his deputy Henry S. Princis.
---
Johann Jacob Sėyler
Parents: Matthai & Anna Catherina Sėyler
b. bef 26 Dec 1719 Birlenbach, Alsace-Lorraine (Germany) d. bef 1789 AugustaCo, VA
Married 16 Jul 1743 Retschweiler, Alsace-Lorraine
Dorothea Schaff
b. bef 1729 Retschweiler, Alsace-Lorraine d. 13 Sep 1804 Beverly Manor, AugustaCo, VA
From 18th Century Emigrants from The Northern Alsace:
468. Sėyler, Jacob, Birlenbach 67160 Wissembourg, Birlenbach Lutheran KB: Mathias Seyler, citizen and church censor at Birlenbach, and wife Anna Catherina had a son, Johann Jacob bp. 26 Dec. 1719. Johann Jacob Seyler, cooper, son of Matthai Seyler, citizen and church censor at Birlenbach, m. 16 July 1743 Dorothea Schaff from Retschweiler.

Children:
1. Johann Philipp b. 1 May 1744, bp. 3 May 1744
2. Maria Magdalena b. 24 Jan 1746, bp. 26 Jan 1746
3. Maria Catharina b. 29 Sep 1747, bp. 1 Oct 1747
4. Johann Jacob b. 8 Apr. 1749, bp. 13 Apr 1749
5. Johann Georg b. 1 Jun 1751, bp. 6 Jun 1751
Zweibrucken Manumissions Protocoll, Clee- and Catherineburg, 1752: Jacob Seyler of Birlenbach, with wife and five children, leaves for America.
Alsatian German Johann Jacob Sėyler and family arrived in America sometime after 1752, probably 1755, as described in a letter written by grandaughter Feliskey Greiner (daughter of John David and Catherine Sėyler Greiner) of 13 Oct 1844 to nephew George Washington Points:
My Grandfather's name was Jacob Siler---They were raised in Elsas---he was independent---the reason he left---his family enjoyed no health there. On their voyage to America your grandmother [Anna Catherine Sėyler] was born three weeks before they landed in Baltimore. He left the family with relatives living there till he could suit himself, twelve miles from Fredericktown, Maryland. He bought a first rate farm. he had eight daughters and two sons. he lived on the farm till your grandmother was eighteen years old, when he sold that farm and came here [Staunton, Va.]---he bought the farm two miles from town, where Jacob Kinney lived, and laid down cash for it.

My father came from Frankfort in Germany. [blank space] he came to this place [Staunton] at the same time the corner lot up to the market house and across all that square was to be sold. My father bought it and put down cash for it. he commenced building----he boarded at the tavern. In course of time he saw my mother----fell in love with her----got her consent and her parents----and so they were married----they moved into town to their town house and opened a tavern. My father's name was John David Greiner----my mother's name was Catherine Siler [Anna Catherine Sėyler]. They lived together in harmony and love. [blank space] He died when he was quite young. I have no recollection of him. He left a widow and seven children---two dead. My mother remained a widow two or there years---when she married the second time a man, the name of John Tennant. [blank space] They lived little more than a year together, when he was drafted to go to the army to fight the British.---but. alas! He died before they got to headquarters. My mother, [blank space] married the third time and you know all about it [married Michael Seyford]. I remain your Aunt. Faliskey Greiner.
The above 1977 letter is an edited excerpt from a letter of descendant Roy Sylar to the Harless Family Association, 545 Camellia Way, Los Altos, CA 94022 in which he said:
Dear Carol After all the trouble you have gone to in writing up my family line, it now appears that the Dorothy who was wife of Jacob Seyler is not a Harless descendant. Please let me explain. After seven years of search and with some help from professional genealogists of the Genealogical Society of LDS (Mormons), I became convinced my ancestor Jacob was brother to Plikard and Philip Siler and had married Mary "Dorothy" Harless, daughter of Johanes Philip & Anna Margaretha (Preiss) Harless. Everything seemed to fit in, although there were a few unanswered questions. Then, just two days ago (23 May 1977), I received a letter from a James H.B. Points of Pensacola, Florida, that dropped a bombshell in my lap. This letter contained copy of a letter written 13 October 1844 by Faliskey Greiner, a granddaughter of Jacob & Dorothy, and cited much needed information as to where they came from, when and where they landed in America, and their moves between 1755 and 1773. Feliskey's letter was written to her nephew, George Washington Points, a part of which follows [excerpt above].
Now Carol, there can be no denying Feliskey was writing of my great--great grandparents, Jacob & Dorothy Seyler, and at long last a number of questions have been cleared up for me. I now know when and where they came from (Ann Catherine was born 5/3/1755), that they landed at Baltimore, and first settled in Frederick Co., MD., where they remained until about 1773 before going to Augusta Co., VA. (Anna Catherine was eighteen years of age when the move was made). This also explains how Emanuel Harless married Elizabeth Seylor (Seyler) of Maryland. If not mistaken, Edmund Emanuel, son of Philip & Anna Margaretha did marry Elizabeth, daughter of Jacob & Dorothy. I do truely believe this clears up that mystery. It does give me a tie to the Harless family, but not nearly as close as previously thought. On the strength of this new information it will be necessary to print a retraction of what was said about the origin of Jacob & Dorothy in your last Bulletin. It is apparent they had been married and started a family while still in Germany. Nor was Jacob a bonded servant when he arrived in America, but a man of some means to purchase a farm. As for the rest of the article on my family tree, I consider myself on solid ground, except for the bit about Emanuel & Elizabeth Harless. They were not cousins, or whatever, but of two entirely separated families, and it was Edmund Emanuel who married Elizabeth, daughter of Jacob & Dorothy Seyler. I am sorry to have cause you so much trouble, but after seven years of search I thought it all pinned down, or most of it. At least, I am now quite sure where my great--great grandparents came from. My sincere apologies. Roy P.S. I can see no way to refute what Faliskey Greiner had to say, even though her letter (1844) was written nearly ninety years after the arrival of her grandparents (1755). There can be no doubt but what her mother repeated the story of her (mother's) birth on the high seas, many, many times.
Sėyler family members in this line and others in which the given name Jacob is common are often confused because of similar migration patterns into Virginia. Three Sėyler brothers, Plikard, Philip and Jacob, emigrated from the Weimar region of Germany to Pennsylvania in the 1740's. Plikard married Elizabeth Hartzog, settled in Pennsylvania and had children before moving to AugustaCo,VA in 1755. He joined his two brothers who moved there with John Baumgartner to whom they were indentured for the trip to America. After working out the indenture, all became landowners in Augusta, Botetourt and Rockbridge counties of Virginia. Plikard and family moved to and remained in ChathamCo, NC in 1765 and founded Siler City, NC retaining the Siler spelling of the surname. Philip and wife Christian settled and remained in RockbridgeCo,VA (son Phillip Jr. had a blacksmith shop in New Lexington in 1812). Jacob Sėyler Sr. (1725-1789) of the three brothers appears to have used the spelling Seiler and is thought to have married a Mary Dorothy Harless (b. VA), daughter of Johan Philip and Anna Margaretha (Preiss/Price) Harless who emigrated from the German Palatinate in 1738.
Oldest son Phillip resided in RockbridgeCo, VA and appears in records up to 1789. On 26 Dec 1789, Phillip Seylor deeded "that part of my father Jacob's estate, he now deceased" to brother-in-law Anthony Mustoe of Staunton, AugustaCo, VA. Phillip is thought to be the father of John Siler, born in RockbridgeCo, VA 1780 and moved to FranklinCo, TN where he settled on Bean Creek in 1815-1820 (died 4 Aug 1851). A number of the living husbands of Johann Jacob Sėyler's daughters were named executors in settlement of the estate, but little is known of fate of the individual families. Youngest daughter Anna Margaret Siler mentioned in the will in 1785 was the only unmarried child at the time and received a part of the estate equal to her mother, Dorothy. She later married William Carroll who represented her at the final settlement.
1755: The Johann Jacob Sėyler family arrived in America at the port of Baltimore and soon after moved to a farm 12 miles outside Frederickstown, FrederickCo, Maryland where they lived for 18 years.
1773: The family moved to Staunton, AugustaCo, VA and bought a farm for cash two miles from town on which Jacob McKinney lived some time prior to 1844.
1777: AugustaCo, VA Deedbook 27, pg. 537, 540. Jacob Scilers purchased 245 acres of land in Beverly Manor from William Boyer on 22 May 1777 for 300 pounds. On the same day, Jacob and Dorothy Sciler sold 271 acres to William Burch. This latter tract consisted of two parts, one purchased from Stephen Loy and another from Robert Beverly of Beverly Manor. Beverly Manor was a 118,500 acre land grant to William Beverly issue in OrangeCo, VA in 1736.
1785: (Will Book 7, pg. 181, AugustaCo, VA) Johann Jacob Sėyler's will was written 20 Apr., probated in 1789 after his death, but final settlement was not made until 1804 after death of wife Dorothy. His name was signed "Jacob Sėyler" indicating he could write, but probably only in German. His name in the text was written Silar. Two sons, Phillip and Jacob, and eight daughters are named in the will. Magdalene Siler is mentioned in the will with reference to unnamed husband and children with specific instructions that she is to receive her share of the estate only after death of her husband or if her husband were to survive her, then equal division of her share among the children.
1789: Above will presented for probate after the death of Johann Jacob Sėyler. Sėyler's name is spelled variously Seilor, Seylor and Syler in documents related to settlement.
1804: Upon the death of Dorothy Sėyler, the Sėyler estate was settled in AugustaCo probate court. The name is spelled Scilor, Saylor and Sciler in various records related to the settlement.
---
Matthai Sėyler
Citizen & Church Censor Birlenbach, Alsace-Lorraine
Spouse: Anna Catherina
Child: Johann Jacob Sėyler (1719-bef 1789) (m. Dorothea Schaff)
From 18th Century Emigrants from The Northern Alsace:
468. Sėyler, Jacob, Birlenbach 67160 Wissembourg, Birlenbach Lutheran KB: Mathias Seyler, citizen and church censor at Birlenbach, and wife Anna Catherina had a son, Johann Jacob bp. 26 Dec. 1719. Johann Jacob Seyler, cooper, son of Matthai Seyler, citizen and church censor at Birlenbach, m. 16 July 1743 Dorothea Schaff from Retschweiler. Zweibrucken Manumissions Protocoll, Clee- and Catherineburg, 1752: Jacob Seyler of Birlenbach, with wife and five children, leaves for America.
---
SONS OF DEWITT COLONY TEXAS
© 1997-2006, Wallace L. McKeehan, All Rights Reserved