SONS OF DEWITT COLONY TEXAS
© 1997-2005, Wallace L. McKeehan, All Rights Reserved
The Moore Odyssey--Index
The Merrell Family
From England to Staten Island, New Jersey, The Carolinas and Mississippi
The Merrells were from Tysoe, Warwickshire, England and settled on Staten Island, New York around 1680 and were among the earliest settlers of Middleton and Hopewell, New Jersey. They founded the Jersey Settlement in North Carolina in 1755. Militia Captain Benjamin Merrell was hanged for his resistance to the British Colonial government in 1771. The Merrells were among the first into southern Mississippi after lands obtained from the Choctaws were opened for settlement.
Mary E. Merrell | Abel Merrell | Charles Merrell
Capt. Benjamin Merrell | William Merrell Jr. | William Merrell Sr.
---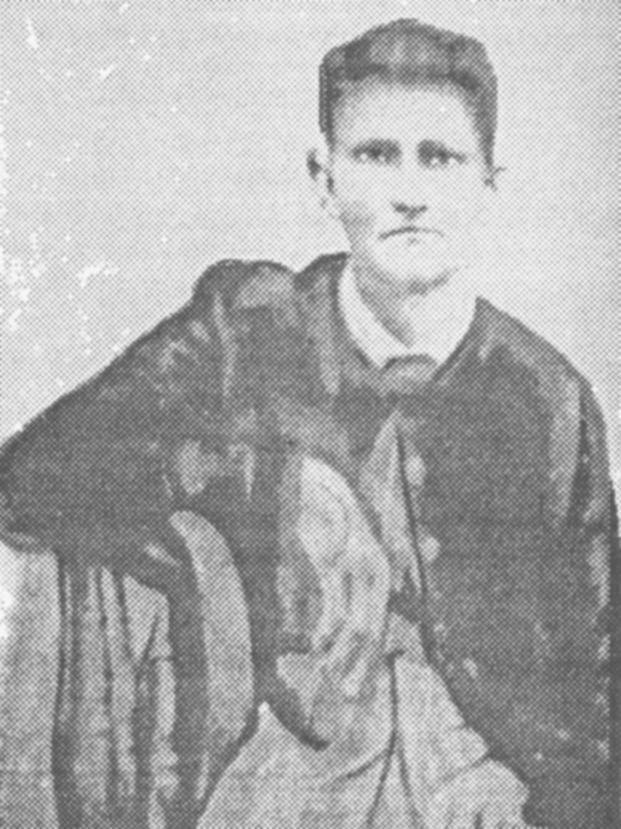 MARY ELIZABETH MERRELL
Parents: Abel and Eliza Cooley Merrell
Born 1826 in South Carolina
Died 1894 in White County, Arkansas
Married Jesse Jackson Touchstone
August 25, 1843 in Clarke County, MS
Born 1823 SC Died 1859 ClarkeCo, MS
[Photo provided by Samuel Touchstone, author Jessie Jackson Touchstone Clan]
Mary Elizabeth (Polly) Merrell (mother of Nancy Priscilla Touchstone Moore) and husband Jesse Jackson Touchstone (1823-1859/60) had eight known children (Martha A., Elizabeth Delaney, Sarah Jane, Nancy Priscilla, John, Daniel David, Green Berry and George Washington) born from 1845 to 1859. In either 1859 or 1860, Jesse Touchstone died leaving wife Polly with the eight children on the eve of the Civil War. The Federal census of Clarke County, Mississippi of 1860 lists Mary, a widow with real estate holdings worth $200 and personal property valued at $300. Jesse's death called upon all the skills and courage that the young widow could summon. According to descendant, Ned Touchstone, "the widow and family were at one time so poor they could not buy salt." By careful management of affairs of the family and some modest assets passed from her parents, she made a good life for the children and saw them grow to adulthood with families of their own. Polly Merrell can be considered a matriarch of the Touchstone, Moore and McKeehan lineages that descend from her. According to descendant, Nettie Moore Camp, Polly Merrell is listed on the Cherokee Rolls, a list of residents of Indian territories in the 19th century. Family legend persists that descendants of Polly Merrell Touchstone carry "Indian blood," but no link has been verified.
---
Abel Merrell
*Parents: Charles & Elizabeth Merrell
Born 1793 in PendletonCo, South Carolina
Died abt 1866 in JasperCo, Mississippi
Married 1. Ms. Thomas abt 1815
Child: *Charles Pinckney (b. 1816)
m. Jane Cooley
Married 2. Eliza Cooley
abt 1818 in WayneCo, Mississippi
Born 1802 DarlingtonCo, SC
Died 1873 JasperCo, Ms
*The assignment of Abel Merrell as a son of Charles and Elizabeth Merrell is based on strong circumstance in location and time and family stories passed down from multiple lines descending from Abel. In "Mississippi: Heart of the South" author Dunbar Rowland provided a biography on one of Pinckney Merrell's grandsons which referred to his grandfather as named "Charles Merrill". This may have come from Abel's father Charles, or it has been pointed out could have been a generation error and referred to the subject's great grandfather Charles. It is conceivable that Abel's name was also Charles.
1812: Abel Merrell was a South Carolina veteran of the War of 1812.
1816: Abel Merrell had a son Pinckney from his first marriage possibly to a Thomas? A Pinkney Merrill married Kinchen Cooley's daughter, Jane. Kinchen was Eliza Cooley's uncle. [
1820: Abel was probably in Misssissippi at this time where he met and married Eliza Cooley. The Cooley family was in MS by 1818 when Eliza was 14. Son Pinckney by a former marriage was born in 1816 in SC.
1833: 21 Nov A WayneCo land transaction refers to Abel Merrell as a resident. Later transactions refer to him as a resident of Jasper and Clarke Counties. All lands were near each other.
1837: The house where Abel raised his children was built by son William, son-in-law Ferdinand Pippin and a slave named Wisdom. Five generations of Merrells lived there through the 1970's when it was the home of Hendrix Merrill. The lumber to build it came from Eucutta and Heidelburg Mill near Paulding. It was the first frame house in the area.
Descendant Ned Touchstone related in 1966 that the Merrells had not been long in MS when daughter Mary Elizabeth wed Jesse Touchstone. However, they were there before Choctaws were moved northward. Abel Merrell owned 400 acres in corner of conjunction of Wayne, Clark and Jasper Counties. The Choctaws originally occupied central and south areas of MS north of WayneCo. Between 1820 and 1830, the Choctaws moved mostly to Oklahoma after ceding lands to US. In 1828, Paulding was in Choctaw lands, in 1829 the area north of WayneCo was attached to the county. In 1830, Paulding was in JonesCo, by 1833 in JasperCo. ClarkeCo was formed in 1833 from northern WayneCo.
---
Charles Merrell
Parents: Benjamin & Jemimah Smith Merrell
Born November 1761 in The Jersey Settlement, RowanCo, North Carolina
Died October 14 1822 PendletonCo, South Carolina
Married Elizabeth May 23 1783
Born abt 1769
Died abt 1843 MarshallCo, AL
1761: From Capt. Benjamin Merrill and the Merrill Family of North Carolina by William Earnest Merrill:
Charles, the fifth son of Capt. Benjamin and Jemima Smith Merrill was born in November 1761, served in Salisbury District Militia during the Revolution & received his pay in a land grant on March 24, 1784. He was not in Rowan when the 1790 census was taken. It is thought that he went to South Carolina.
PendletonCo, SC, where Charles was thought to have eventually gone and where Abel Merrell was thought to be born in 1793 was formed from Indian Lands in 1789 in the NE corner of SC. In 1826, PendletonCo was abolished and divided into Anderson and PickensCo. Pickens was divided into Pickens and OconeeCo in 1868.
1777: 7 May Jacob Wiseman and Robert Moore were asked to arbitrate a matter over the estate of Benjamin Merrill between Harmon Butner and the Merrill children, Samuel, John, Andrew, William, Benjamin, Penelope, Boyd McCreary and Anna who have interests of Charles, Elijah and Jonathan. Butner was ordered May 9, 1777 to appear in court with Charles, Elijah and Jonathan, orphans of Benjamin Merrill "to be dealt with as the law required." At the next court, Charles, age 15, was to be bound to his brother John who was to teach him the art of being a master blacksmith and to receive a set of tools when he came of age "besides what the law required." Elijah was bound to his oldest brother Samuel to learn the weaver's trade. Samuel was to give him a loom and tackle. Jonathan was bound to his brother-in-law, Boyd McCreary.
1790: A Charles, Benjamin, William were in Laurens Co., SC in 1790. Charles' household is listed with 2 males under 16 and 2 females. In 1800 he was in Mudlick Creek, Pendleton Dist, SC, age (26-45), with 2 males 2 females (under 10); 1 male
(10-16) and 1 female(16-26).
1794: Charles Merrill's grandfather Andrew Smith's will was proved (Liber 35, Folio 114, Dept. State, Hopewell,NJ.
One Spanish Pestole to her forever, if it should so happen that my Daughter Jemima Should become poor and Needy in this life I do Require my Exers to give her Reasonable Relief out of my estate. I also give and devise to my Daughter Jemima's children that she bear to Benjamin Merrill to Wit: Samuel, John, Andrew, William, Charles, Elijah, and Jonathan Merrill, Anna McCleary, and Penelope Merrill to all and each of them severally fifty pounds.
1800: US Census, Pendleton District, SC (speculated members of family): Charles Merrell Household consisted of 1 male 26-45 (1755-1774) (Charles b. 1761); 1 male 10-16 (1784-1790) (William b. abt 1785); 1 male 0-10 (1790-1800) (Benjamin b. 1791); 1 male 0-10 (1790-1800) (Abel b. 1793); 1 female 16-26 (1774-1784) (Elizabeth-dates must be incorrect); 2 female 0-10 (1790-1800)
1801: Charles is mentioned in his mother's (Jemima Smith Merrell Butner) will dated 7 May 1801. He is to receive shares in money of value of three slaves, Slager (Hagar?), Rose, James, David.
1843: According to descendants, widow Elizabeth lived with son Benjamin and family in MarshallCo, AL until her death. In the 1840s, Charles Merrill's widow, Elizabeth, filed a Revolutionary War pension claim based on Charles' alleged service. At the time she was in MarshallCo, AL and stated that Charles had died in 1822. A witness stated that Charles was a son of Benjamin Merrill who was hanged by the British. The pension was denied.
Application for Pension from the National Archives. State of Alabama. Marshall County On the 25th day of September 1843 personally appeared before the subscriber and acting Justice of the peace in and for the county and state aforementioned Elizabeth Merrill wife and relict of Charles Merrill deceased who first being duly sworn according to Law doth on her oath make the following declaration in order to obtain the benefits of the provisions made by the Acts of Congress passed 4th day of July 1838 and the 23rd August 1842 granting pensions to Widows of persons who served during the Revolutionary War---That she is the widow of Charles Merrill who was a soldier of the Revolutionary War but how long he served, she is not able to declare She only knows of one person in this county who was known to the service and marriage of her husband (viz) Peter Headrick who lives 200 miles off She also declares that she was married to the said Charles Merrill on the 23 day of May Seventeen hundred and eighty five That her husband died on or about 14 Oct. 1822 that she was not married to him prior to his Commission of Service. but the marriage took place previous to the first of January Seventeen hundred and ninety five (viz) at the time above Stated She further declares that she is still a Widow---She hereby relinquishes any claim which was to a pension annuity except to present what her entitlements is with any Pension within the acuity in any state in the Union. Sworn to and subscribed on this day and year above written before. Jessee Tipton Justice of the Peace In agitation to the above she also declares that she is befallen health from age and is sickly of attending in court of Recorder as is required if well. Elizabeth Merrill (MARK)
We Isaac Moore and William S. Sibley residing in the county and state aforesaid hereby certify that we are well acquainted with Elizabeth Merrill who has subscribed and Sworn to the above declaration that we believe her to be (blank) years of age and that She is represented and believed in the neighborhood where she resides to be the Widow and relict of Charles Merrill decd a Revolutionary Soldier as She declares and that we concur in that opinion. Isaac Moore William A. Sibley Sworn and subscribed the day and year aforesaid before me Jessee Tipton A Justice of the peace from the county and State aforesaid. Washington T. May Judge of the county and state aforesaid do herby declare my opinion officiating the making of the claim of Elizabeth Merrill
The above named applicant is the Widow of Charles Merrill died a Revolutionary soldier and who is so reputed in the neighborhood where she lives - And I do further state that Isaac Moore and William S. Sibley are credible presenters and that their Statements entittled to credit. Richard Randles clerk of the county court of Marshall county and State of Alabama do herby certify that Judge Tipton whose name appears to the above declaration is an acting Justice of the Peace and his oath and doings entittled to full facts and credit given under my hand and Seal (having no Seal of office) This the 25th day of September 1843 Testo Richard T. Randles Clerk state do hereby certify that Richard T. Randles whose name appears to the above Certificate as clerk of the county and State aforesaid is clerk of the county court and his oath and doings entittled to full faith and credit as such. Given under my hand and Seal this the 25th day of September 1843 Washington T. May Judge
Affidavit of John Cunningham: John Cunningham of the county of Cherokee and state of Alabama was personally acquainted with Charles Merrill the deceased Husband of the applicant Elizabeth Merrill in the state of North Carolina roan County. That he was always known and reported as a Revolutionary Soldier in the county in which he lived and died - and that Elizabeth Merrill was the lawful Wife of the aforesaid Charles Merrill that She has never married Since the decease of her husband - that she is Still living or was at the time this declatory was made out on the day and date above specified - that She is a very infirm and helpless old Lady and her Statements are entittled to the greatest confidence to pass so far as the recollection of her impaired memory can Swear ---Her marriage took place as Stated above in the declaration I also further declare that Charles Merrill was a Son of Benjamin Merrill who was hung by the British at Hillsboro North Carolina--John Cunningham. Sworn to and Subscribed before me R. E. Sawer Justice of the peace in for the county and State aforesaid this 22nd November 1843.
Rejected Pension NC R7126. From Records from Revolutionary War Pension & Bounty Land Warrent Application Files, National Archives. Marshall County, Alabama. September 25, 1843. Elizabeth Merrill, wife of Charles Merrill, makes declaration: That she was married to Charles Merrill May 23, 1783, and that he died about 1822. That she knows little of his service and the only man who would know lives 200 miles away. John Cunningham, Cherokee County, Alabama, knew the above applicant and husband in North Carolina in Roan County, and that Charles Merrel was known as a Revolutionary soldier. That Elizabeth Merrell is deserving of credit, is old and unable to appear at court. Furthermore, that Charles Merrel was son of Benjamin Merrell, who was hung by the British at Hillsboro, North Carolina. That Charles and Elizabeth Merrell were married in North Carolina. REJECTED (Above pension documents provided by Dorris McKinney).
---
Benjamin Merrill, son of Charles Merrill, was a blacksmith. His first wife was a Cherokee lady named Nancy Thompson by whom he had 4 children. He then married Margaret and they had children Rutha Emaline, Beverly, Morgan and Martha Jane. He acquired 640 acres of Cherokee land through his marriage to Nancy Thompson, which was called the Merrill Reservation. He was listed as being one of the population of Sims settlement and signed the petition from intruders on Chickasaw lands to President James Madison, dated 5 September 1810, Mississippi Territory, Elk River, Sims Settlement. While there was a Sims settlement of about 100 families on Elk River, the settlers who signed the petition had settled on other tributaries of the Tennessee in present-day Limestone County, Alabama, and Giles County, Tennessee and other areas. More than 50 of the original 1810 petition signers, 16 of whom had been removed from their homes in 1809, did not abandon their original intention to live in the new land and are listed in the Limestone County census. Some of them had bought land in Madison County before returning to Limestone county. Others seem to have survived all the removals and ultimately secured their place in the new county. When civil government was organized, Benjamin Merrill and Thomas Redus became justices of the peace and James Slaughter became sheriff. When the Cherokees ceded their lands in the treaty of 1835, the U.S. Government in turn gave each the option to settle on a 160 acre tract of land of their choice, or move out West to reservations. The Cherokees were given this choice before the white man was allowed to move into the newly ceded territory north of the Tennessee River. Six Indian families assumed English names and acquired the lands by right of preemption. They were: Wade, who settled the section near present Guntersville Dam; Harrison, whose land was near the Capehart place at Columbus City; Edward Gunter, who settled the Dr. L. D. Lusk farm just north of the present George Houston River Bridge; Merrell, who settled Merrell Mountain across the river from Cottonville; Orr, who settled near the Marshall-Jackson line; and Robinson whose section was near the present Guntersvill Dam. It is interesting to note that one or two full-blooded Indian families remained in Marshall County as late as World War I. Official TVA maps still list the boundaries which the original six Indian families selected. (Information provided by Dorris McKinney)
---
Benjamin Merrill
Parents: William and Penelope Stout Merrill
Born abt 1730 Hopewell, HunterdonCo, New Jersey
Married Jemimah Smith
abt 1748 Hopewell, HunterdonCo, NJ
Died June 19 1771 Hillsborough, OrangeCo, North Carolina
1750: Ben and Jemima probably moved from NJ to NC in the 1750's. Third son Andrew was born in Hopewell, NJ in 1751, fourth son William in NC abt 1757. The family may have moved from NJ via Maryland and VA according to notes in A Merrill Memorial.
1756: 24 Jan 1756. Ordered that a summons issue to Michael Myers, Dan'l Little, Benj Merril & Michael Arrand to shew reason for not going out against the Owens who it was thought committed several misdemeanors. Rowan Co NC Court Book 2:107.
1759: Appears on RowanCo, NC tax lists as Benj Merrell & negro Phyllis. Wm Merrell also appears on the lists. Benjaim Merrill is listed among Rowan County men who defended against Indians, 1759 Rowan County Militia List (Military Collection of the Treasurers and comptroller's Papers, North Carolina Archives).
1760: 9,10 Sep George Smith sold 1042 acres to Benjamin Merrell Rowan Co deeds 2:319 and 4:363-366. Deeds of 9 Sep from George Smith, Esq, to Benj Merrell for 240 ac.; same, 512 ac.; same, 10 Sep 1760, 419 ac. The property was located on the north side of the Yadkin River, St. Luke's parish. According to descendants, the property was about 2 miles north of Jersey Baptist Church, about 5 miles south of current Lexington in DavidsonCo, NC. Descendant C. Phelps Merrell related: "When I visited the old Merrell plantation in Aug 1983, now owned by Mr. Bill Sheets... An old barn stands on top of a knoll said to be the location of Capt Merrell's home. Off to one side, Abbotts Creek meanders by and the farm land rolls off in all directions."
Capt. Benjamin Merrill and the Merrill Family of NC by W.E. Merrill says he was a gunsmith using river water power for boring operations.
1761: 25 Apr court James Smith, Benjamin Merrill, Andrew Smith and Willis Ellis served on the jury under foreman George Magoune in the case of John Howard vs George Smith. Served on other juries in 1761 and 1762, threatened with a fine for absence.
1767: NC Regulators established at Maddocks Mill near Hillsborough, 4 Apr.
1771: 14 May, Battle of Alamance in OrangeCo, NC, now AlamanceCo. Gov. Tryon shoots Robert Thompson dead and two hr battle ensues, Regulators were routed. Capt. Merrill not at the battle, but on way with 300 men, took most of Gen. Waddell's men prisoner.
1771: 1 Jun brought by Col. Fanning to the Jersey Settlement, hanged in the courthouse yard of Hillsborough, Orange Co, NC on 19 Jun 1771.
King's Chief Justice passed the following sentence on Capt. Merrill and twelve others which was
"that you be taken from the place whence you came, that you be drawn from thence to the place of execution, where you are to be hanged by the Neck; that you be cut down while yet alive, that your Bowels be taken out and burnt before your Face, that your head be cut off, your Body divided into Four Quarters, and this be at his Majesty's Disposal; and the Lord have Mercy on your Soul."
A historical marker in Hillsborough, NC reads, "On this spot were hanged by order of a Tory Court, June 19, 1771, Merrill, Messer, Matter, Pugh and two other Regulators". Six were pardoned by Gov. Tryon. The six men pardoned were Forrester Mercer, James Stewart, James Emmerson, Hermon Cox, William Brown and James Copeland. Not one of the pardoned, but one of those who were executed, while standing on the gallows Captain Merrill professed his faith in Christ, sang a Psalm, described that fifteen years previously he had professed belief in Christ, had subsequently backslid, but now felt forgiven. He repented for his actions and appealed that the Crown not punish his wife and children for his actions saying
"in a few moments I shall leave a widow and ten children. I entreat that no reflection should be cast on them on my account, and if possible, shall deem it a bounty, should you gentlemen petition the governor and council that some part of my estate be spared to the widow and fatherless."
There is evidence that Gov. Tryon honored the latter request. There is evidence that Capt. Merrill was of such high moral character that he expressed a sorrow and conflict of conscience over the fact that he had committed treason to his King that were demanded by his principles and expressed sorrow as he swung free of the gallows into eternity prior to his disembowelment. In 1776 of the 47 articles of the Constitution of the state of North Carolina, member of the newly independent American nation, 13 articles embodied the principles first put forward by the Regulators under Capt. Merrills' influence. Many historians believe that the Battle of Alamance was a turning point in American History and there was a time when it was considered as important as any one other event leading up to the American Revolution. However, it lost that designation and was ignored after the Civil War when the American history books became largely written and published in the northeast and the contributions to American freedom and the revolution were suppressed.
1775: Widowed Jemima Smith Merrell married Harmon Butner, 20 Feb 1775 in Rowan County, NC.
1801: Will of Jemima Butner, Rowan County, North Carolina Will Abstracts N.C. 7 May 1801.
Sons: Samuel Meril (eldest), John Meril, Charles Meril, William Meril, Jonathon Meril, Elijah Meril, Daus: Nancy Ellien, Exrs: sons Andrew & Johathon Meril Wit: Thomas Durham, Azariah Merrell.
In the name of God Amen! I Jemima butner of the County of Rawan and State of N. Carolina being in perfect mind and memory, but weakly in body and calling to mind my mortality think proper to make and ordain this as my last will and test: knowing that it is appointed unto men once to die, do this proper to confirm my intention by these presents, and in the first place I commend my soul into the hands of Almighty God, and my body to be decently buried, at the discretion of my executors, and as touches such worldly estate, as it had pleased God to bless me with, I dispose, devise and give in manner and form following, that is, I give and bequeath to my eldest son Samuel Meril 14 pounds which I paid for the improvement whereon Meril now lives also 27 pounds, which I paid in taking up a judgment that was against him, also my sorrel horse, also and equal part of all my moveable property with the rest of my sons; my negroes except
I give and bequeath to my daughter Nancy my negro woman Slager, which is to be valued, and John, William and Charles Meril is to have an equal part of the value of said Negroe in money; also I give one half of my wering cloaths to my daughter Nancy; I give and bequeath to my daughter Ellien one negro girl named Rose, which is also to be valued and the above John, Wm and Chas Meril is to have an equal part of her value in money, I also give to my daughter Ellien the other half of my wearing cloaths. I give and bequeath to my son Sandrew Meril my Negroe boy named James, which is also to be valued and the above John Meril, Wm and chas Meril to have an equal part of the value in money, also I give to my son Andrew an equal part of my moveable property, that I do not mention in my will. I give to my son Jonathan Meril my Negro boy named David and he is to pay to my son Chas Meril 10 pounds current money 2 yrs after my decease I give also to my son Jonathan Meril and equal part with the rest of my sons of my moveable property, which is not here mentioned or given. I give to my son Elijah Meril and equal part of my moveable property which is not mentioned or given in this will - Lastly I also appoint constitute and ordain, my son Andrew A Meril and Jonathan Meril whole and sole executors of this my last will and test: I have hereunto set my hand and seal this 7th day of May, 1801. Jemima Butner, Signed, and sealed and declared in the presence of (her mark and seal. Thomas Durham, Azariah Merrell (Provided courtesy of descendant Dorris McKinney)
---
William Merrell
Parents William and Grace Merrell
Born abt 1680 in Hopewell, BurlingtonCo, New Jersey
Died 25 June 1740 in Hopewell, BurlingtonCo, New Jersey
[Possibly married 1. Anna Parke abt 1697 NJ]
Born abt 1677 Died bef 1729 NJ
Children: Ann (1707-1801; m. David Stout); Margaret (b. abt 1712); Rachel (1715-1745; m. Nathan Stout)
Married 2. Penelope Stout
Parents James and Elizabeth Truax Stout
Born abt 1700 Hopewell, BurlingtonCo, New Jersey
Died 11 July 1776
Married 1. Thomas Jewell (d. 1727)
Children: 3 sons, multiple daughters
Married 2. William Merrell
abt 1729 Hopewell, HunterdonCo, New Jersey
Married 3. Isaac Herrin (d. 1756)
in Hopewell
1740: William Merrell Jr. was believed to be a cooper by trade and a farmer at Hopewell. HunterdonCo, NJ records refer to a William Merrell killed by lightning at Burlington, NJ:
An habeas corpus being [held] before the Chief Justice at his chamber in Burlington ... ordered to be filed [that] the said William Merrell was the 25th of June ... killed with lightning at Sheriff Hunlake's door at Burlington.
Died intestate, a letter in the NJ archives from his widow:
I am informed by my brother Benj'n Stout that you desire me to take an inventory of ye estate of Will'm Merrill deceased - which I do refuse to do or concern myself about that Estate which will only be a profitless trouble for me which I am not able to undergo.
---
Born abt 1650 England
Died bef 5 Feb 1724 Hopewell Township, BurlingtonCo, New Jersey
Married Grace bef 1687
Born abt 1660
Died aft May 1724 NJ
abt 1680: Arrived on Staten Island, probably with a brother or cousin Richard.
1681: Notice served for jury service on Staten Island for a William Merrill.
1683: Survey by Philip Wells for William Merrell for 81 acres woodland and eight acres meadow, lying on the west end of Staten Island, received patent in 1686.
1687: Land deed transfer to John Reay, pipemaker from New York, on the Arthur Kill across from Perth Amboy. Mentions wife Grace for first time.
1687: Bought 120 acres in Middleton, NJ from Richard Stout Jr. and his wife Frances of MonmouthCo, NJ.
1704: Moved from Middleton to Hopewell with group of families led by Jonathan Stout. At the time this was the western frontier of settlement. It is reference to this move "he went west" that is often confused with his probable nephew William Merrill, son of Richard Merrill.
1705: Land owner and juror in Hopewell.
1716: Hopewell town constable.
1722: Tax list of Hopewell, NJ lists him and sons, all married, Benjamin and William Jr. William Sr. was taxed for 24 cattle and horses, 20 sheep, two servants, and 300 acres, William Jr. for 20 cattle and horses, 7 sheep and 130 acres, and Benjamin for 5 cattle and horses.
1723/24: William Merrell wrote his will a few days before his death. He leaves to wife Grace
"all moveable estate, including 40 cattle, two negro men, 16 horses and all my sheep." After her death all to go to "all my children by an equal division.....all the lands in my possession being about 350 acres to be equally divided between my two sons Benjamin and Joseph....if they cannot agree on dividing then it is my will that my son William Merrell and Joseph Stout shall divide the land for them equally as they can." Crop of winter corn to be equally divided between sons Benjamin and Joseph. The will was signed in a shaky hand "William Merrel."

For a comprehensive analysis of the relationships of Richard and William Merrills of Staten Island, see Bob Davidson's Merrill Research on Pat Patterson's Pages>Genealogy>Pat's Lines>Merrill.
SONS OF DEWITT COLONY TEXAS
© 1997-2005, Wallace L. McKeehan, All Rights Reserved