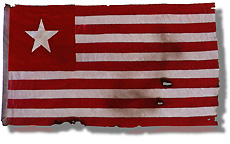 Dr. James Long Expedition
This flag was displayed by the Long Expedition and can be considered the flag of the second Texas Republic. It was the first movement for Texas independence that used the red and white stripes of the newly founded Confederation of American States and was the first to display a single Lone Star. Dissatisfaction over the "concession" of Texas to Spain precipitated the last major filibustering expedition to attempt to establish a Republic within Spanish Texas. With financial backing from uncle of his wife, Gen. James Wilkerson, and the encouragement of Andrew Jackson, former U.S. Army surgeon Col. James Long of Natchez raised arms and about 300 followers. Among his "Supreme Council" of advisors were Stephen Barker, Horatio Biglow, John G. Burnet, Hamlin Cook, J. Child, Samuel Davenport, Pedro Procello, John Sibley, W.W. Walker, Bernardo Gutíerrez, former commander of the Republican Army of the North and Vicente Tarín, the former commandant of the Alamo de Parras Company.

A participant in the Long Expedition was Col. Ben Milam, who would become known in 1835 as a leader in the Texan Independence movement against Mexico. The group is thought to have been encouraged by General Andrew Jackson and others in high echelons of the USA government. The force occupied Nacogdoches and established a government on 23 Jun 1819 with himself as President and commander of the army. Long hoped to enlist the support of Jean and Pierre Lafitte and establish Galveston Island as a port of entry for the new Republic of Texas. Royal Col. Ignacio Perez from San Antonio proceeded to Nacogdoches after destroying outposts established by the Long group on the Brazos and Trinity Rivers. Long and followers fled into Louisiana while Perez remained in East Texas and destroyed all remnants of settlement that he could find whether Long related or not. Long persisted in his attempt to establish a Republic of Texas at Bolivar Point on the coast where he in 1820 declared Jose Felix Trespalacios President and Bernardo Gutierrez as Vice-President. After a move in which Long and his men landed at the mouth of the San Antonio River in fall 1821 and captured La Bahía, Long learned that Mexico had declared independence from Spain under Emperor Iturbide. At La Bahia, superior royal forces under Col. Perez from San Antonio captured him. Long was killed in Mexico City where he was shot and killed by a Mexican soldier under mysterious circumstances. Some accounts assume an accident. Author Stuart Henry Foote in his Texas and Texans, 1841, who claimed to have in hand LongÍs personal notebooks say that Long was in Mexico City by invitation of the Iturbide regime as a champion of Mexican liberty. He came under the suspicion of the Iturbide people and was assassinated on secret orders. Long is said to have been shot by a soldier in a small squad while removing his passport from a pocket.

---

Text from The Sons of The Dewitt Colony of Texas website. Used with permission.