How the Alamo got its name
By Kevin R. Young and Randell Tarin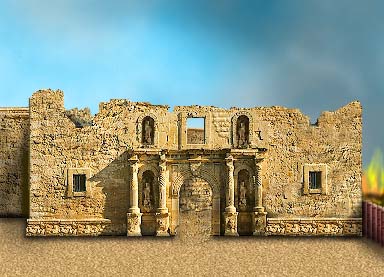 It's difficult to pinpoint when the Valero mission was first called "Alamo." Many early references address La Compañía de Alamo de Parras as "El Alamo," which was often seen as an abbreviated name form in correspondence and other official documents.
The predominant name forms used by the company from its arrival in 1803 until and after 1807 were "San Antonio de Valero" or "Bejar", referring to the Presidio de Bejar to which the company had been sent as reinforcements.
However, in January of 1807, Antonio Cordero, in his correspondence to the commandant at Trinidad wrote:
...Among the 25 men from the Alamo, who in compliance with orders of the day, must go from that post to Atascosito, you will send the gunsmith of that company with his anvil and other implements...
Again in February of 1807, Nemesio Salcedo writes,
"...Your Lordship, should give heed to the necessity of furnishing horses to the troops at Bejar, Bahia, and Alamo..."
[Spanish Archives Translations, J. Villasana Haggard. Vol.22]
Obviously, these instances refer to the Company and not the buildings. There was a never a deciding moment in history when the mission was called the Alamo, but it was rather a gradual process evolving from references such as Cordero's and Salcedo's. It is important to remember that the 1807 references may well have been before the planting of the Alameda, possibly killing any hopes by the legend lovers that the name came from the nearby row of cottonwoods.
Other documents are found to support this common usage. One such document was an agreement between the priest at San Fernando and the chaplain of the Alamo Company on December 28, 1818, regarding the saying of morning mass at the Alamo (they use that name). There is also a witness record dated April 14, 1825, for the sale of a horse at the Pueblo de Alamo de Parras.
The lack of the tag, Compañía, on both the 1807 and 1818 references is significant. They both identify the site as the Alamo, and not the military company (though these references are obviously directly due to the association with the Alamo company).
Between 1832-1835, the name Alamo gained prominence. Over time, it may have simply been forgotten that the Compañía once came from Alamo De Parras, whose origins were now in the distant past.
Among the Mexican military in San Antonio, "Valero" fell from usage altogether. This becomes more evident with the onset of the Texas Revolution and the Anglo incursion upon Bejar.
From the Anglo's corruption of Spanish we get the names: Texas from Tejas (Tay-Has), Bexar (Bear) from Bejar (Bay-Har) and if they heard it repeated enough, Alamo from "El Alamo," which, as we all know, was the shortened form of "La Segunda Compañía Volante de San Carlos del pueblo del Alamo."