UTSA Archaeologists Unearth 200-Year-Old Dam

Archaeologists with the University of Texas at San Antonio (UTSA) have uncovered what they believe is a 200-year-old Spanish colonial dam inside a city park that once diverted water from Olmos Creek to irrigate farmlands. The dam was discovered in October at Brackenridge Park in San Antonio. It is the third such structure ever found in San Antonio -- previously remains of the Espada and San Juan dams were located.

The structure, the Upper Labor Dam, was built to supply water for the Upper Labor Acequia, which was the last of seven acequias or ditches that flowed throughout San Antonio. It was constructed on Olmos Creek just below the headwaters of the San Antonio River. In the project, UTSA archaeologists exposed more than 25 feet of the eastern part of the dam and revealed two distinct episodes of construction and repair. The lower portion consisted of roughly hewn limestone block of the Spanish period. The upper portion includes squared stone that was probably added by German immigrants in 1850-60. The excavations show that the structure was designed as a diversion dam, but it did not fully span the stream. Instead, it raised the water level enough to divert water into the acequia for irrigation. Because of its design, the dam provided water to the acequia, but still allowed water to runoff rapidly after heavy rains. The excavations show that the dam's wall was about 4.5 feet thick and ranged from 2 to 7 feet high.

"It's pretty neat," said Waynne Cox, of the UTSA Center for Archaeological Research which led the excavation effort . The city has layer upon layer of history and it's all very interesting."

The acequias were built by Spanish engineers with Native American labor. The Upper Labor Acequia, which was constructed from 1776 to 1778, delivered water to farmlands owned by the villa of San Fernando de Bexar for drinking water and irrigation. Acequia water flowed along a route that began at the San Antonio River in Brackenridge Park, traveled near St. Mary's Street, moved south of San Pedro Park, crossed the San Pedro Acequia, and returned to San Pedro Creek. In 1875, the acequia was modified to become part of the Alazan Acequia, which irrigated lands west of San Pedro Creek and diverted floodwaters away from downtown. The Upper Labor Acequia was closed in the early 1900s, but a small part of it still functions as part of the San Antonio Zoo.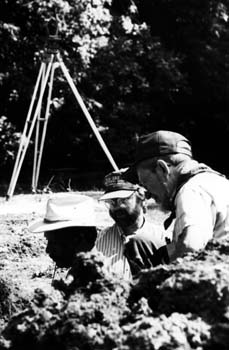 C. Britt Bousman (center), Waynne Cox, and Edgar Johnson (left) of the Center for Archaeological Research at UTSA discuss excavation techniques on the dam.
Photos by Carol Darling / UTSA CAR

Waynne Cox of UTSA clears small debris from the foundation of a 200-year-old Spanish Colonial dam found in Breckenridge Park. The dam stored floodwaters and moved water through San Antonio's acequia system.