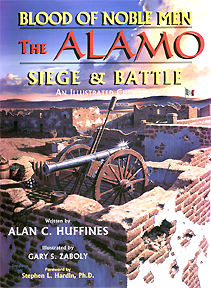 Blood of Noble Men: The Alamo Siege and Battle
by Alan C. Huffines
Rating


ALAMO DE PARRAS REVIEW
"Blood of Noble Men", Alan Huffines' first book, is an account of the siege and battle of the Alamo, told in the words of the men and women who were there. Alan quotes virtually every first-person narrative, many of them new to this reviewer, arranging them in chronological order. In addition to being an entertaining read, "Noble Men" will also prove to be a fine research tool to serious students of the Alamo.
"Noble Men" is divided into thirteen chapters, one for each day of the siege. As Alan says, "Each day of the thirteen-day siege has its own chapter. If not much happened on that day, well, then it is a short chapter." The accounts are by combatants and non-combatants alike: Mexican soldados, Texian volunteers, and Bexareño civilians. Huffines is an active duty combat arms officer, and an historical re-enactor. These pursuits give him a unique insight into the military strategy and tactics during the period of the Texas Revolution. Alan puts his knowledge to good use in analyzing the theories behind the siege and anti-siege operations prior to the final assault. Perhaps the most fascinating aspect of this book is the fresh outlook presented on the skirmishes that took place on an almost daily basis while the Mexican Army advanced the siege lines ever closer to the fortress in preparation for the inevitable dawn attack on March 6th.
"Blood of Noble Men" is a large format book, measuring 8" X 11", which provides plenty of space for Gary Zaboly's excellent illustrations. Gary's illustrations and extensive notes almost make "Noble Men" two books in one. A well-known staff illustrator for "True West" magazine, in addition to being a fine artist, Gary Zaboly is also a recognized expert on the Alamo. Zaboly's Alamo illustrations can be seen at the Alamo Shrine itself, and have graced previous Texas history books by Stephen Hardin and Bill Chemerka. For "Noble Men," Gary provided sixty-six illustrations and diagrams. For each chapter, he has a small illustration to accompany the chapter heading, and a detailed diagram of the Bexar and Alamo vicinity, showing the military operations that took place on that day. In addition, Zaboly drew forty full-page illustrations, each with a well-written explanation that complements Alan Huffines' text. Huffines' guidelines to Gary stated, "No illustration could be a repeat of past illustrations," so each drawing provides a glimpse of the Alamo from a fresh point of view. Thus, you won't see the usual mandatory illustration of Crockett's last stand in front of the Alamo chapel in "Blood of Noble Men." What you will see are battle scenes and portions of the Alamo compound never illustrated before.
Alan Huffines' own description of "Blood of Noble Men" is better than anything this reviewer could come up with:
"If the sad stones of the Alamo could have kept a journal, maybe this is how it would read."
I agree, and I highly recommend this book to anyone with an interest in the saga of the Alamo.
Regulars to this Web page will recognize the names of Alamo de Parras staff Stephen Hardin and Gary Zaboly, who wrote the foreword and provided the illustrations, respectively. In addition, Kevin Young receives mention several times in the pages of "Noble Men" for providing information and source material. In fact, Kevin provided the most important new information, in the estimate of this reviewer, to come to light in many years; namely, a newly found observation that provides evidence where the body of the Honorable David Crockett was found after the battle! Although it invalidates, somewhat, one of this reviewer's few contributions to Alamo literature, it is a welcome addition to Alamo source material.
-- Robert L. Durham

Contributing Editor
A lamo de Parras

REVIEWS FROM AMAZON.COM

The author, Alan C. Huffines , July 4, 1999 An explanation of the "Blood of Noble Men" Subject matter.
This book started out with questions: What specific events happened at the Alamo siege and battle? What was the siege chronology? To answer these questions, participant accounts are arranged by date and presumed time of day. This is to allow the people who witnessed or participated in this thirteen day siege, to finally speak for themselves. Their vignettes are supplemented with extensive footenote commentary. Hopefully, what resulted was a siege chronology, previously undefined. This book takes no sides and was approached with intellectual honesty, to get at the truth of the events. There are no socio-political axes to grind; the Mexican-Centralists are not treated as villians and, conversly, the Texian/Tejano- Federalists are not portrayed as willing martyrs. The Alamo was a battle and this book treats it as such. Included in this work are over forty pen and ink illustrations by acclaimed military artist Gary Zaboly. My guidance to Gary was that at least 50% of the illustrations must be from the Hispanic perspective and all must be of an event not illustrated before; i.e., no Crockett's last stand, no drawing of the line. Gary's work is not only fantastic art, but adds a much needed third dimension to the vignettes. Gary goes further and provides his own notations of the illustrations allowing the reader to realize the enourmous research he contributed to the book. If the sad stones of the Alamo could have kept a journal, maybe this is what it would have read like.
John Bryant (bryant@uei-houston.com) from College Station and Houston, Texas , July 22, 1999
Excellent book for Alamophile or Neophyte. Alan Huffines has done an excellent job of putting the events of the 13 day siege in context. It is a pleasure to read and have at my fingertips a reference that allows me to easily look up the events of a certain day. His approach of using the known accounts, Anglo and Hispanic to tell the story and guiding the reader through those accounts with his footnotes is informative and entertaining.The artwork by Gary Zaboly is superb, giving viewpoints of the siege never illustrated before. Gary has the ability to see things most of us dont and luckily for us he has the talent to draw those scenes so they can be shared with all. In my opinion this is an excellent book for both the most dedicated of Alamo historians as it is for those just discovering this Texian saga.
---

Gregory J. W. Urwin, Associate Professor of History, Temple University (urwin@cyberback.com) from Philadelphia, PA , July 16, 1999
The Ultimate Reference Work on the Siege of the Alamo This book is the ultimate reference to the celebrated Siege of the Alamo, February-March 1836. It is not only nourishment for the mind and imagination of every Alamo buff, but also a feast for the eyes. Alan C. Huffines has created a vivid picture of those thirteen desperate days by weaving together the accounts of actual eyewitnesses. Despite his Texan heritage, he has handled the material with utter objectivity, as seen in his treatment of the death of Davy Crockett. He also provides evidence that fifty or more Texans tried to escape the doomed fort after the Mexicans scaled the walls, only to be cut down by enemy cavalry. There are plenty of examples of Texian bravery in this book, but none of the ethnocentric cover-ups that have marred so many other Alamo studies. Among the book's many selling points are the more than 50 sketches by Gary S. Zaboly. Zaboly is not only a gifted artist, but also a widely renowned, prize-winning Alamo historian. His thorough knowledge of the weapons, equipment, and uniforms (or lack thereof) of the opposing sides, plus the Alamo and its environs, allow him the recapture important moments in the siege with undisputed mastery. _Blood of Noble Men_ will bring the modern reader as close to the fight for the Alamo -- as it actually happened and as it actually looked -- as he or she is likely to get. Bravo!


Hardcover (April 1999)
Eakin Publications
ISBN: 1571681949